Do you have a shoebox full of old photos? Or do you have a number of photo albums you want to preserve? You're probably reading this guide because you want to conserve precious photographs of family and loved ones. Or, you're tasked to do so.
Don't worry, creating digital copies of physical photographs comes easy. You don't even have to buy special devices or hire a professional to do them for you. You can even use a simple smartphone to convert photos to digital files, which means you can as soon as you're done reading this tutorial.
However, if you have no prior knowledge or experience about how to digitize photos, you might be apprehensive about doing it on your own.
In this article, we'll show you four easy ways to digitize photos, using devices you may already have at home.
Converting photos into digital formats allows you to use photo editing software and apps to enhance and touch up old photographs, helping you breathe new life into pictures that would've otherwise disappeared or damaged.
Top 4 Ways to Learn How to Digitize Photos
But first, what is digitizing? Digitizing is the process of creating a digital file out of a physical object, such as photos, with the ability to save the data in an electronic device, such as a computer, smartphone, or tablet.
The best way to preserve and keep copies of photographs is by digitizing them, ensuring you have a copy that you can store and share with family and friends.
We've come up with four easy ways to digitize photos, using devices you're using every day. These are the four devices you can use to create digital copies of physical photos:
Scanner
Smartphone or Digital Camera
iPhone
Android Phone
We'll explain how to use these devices to digitize photos in the following section.
How to Digitize Photos Using a Scanner
If you have a regular flatbed scanner at home, you can use it to digitize photos. Simply place the photos on the platen (glass-covered bed on a scanner) and start scanning them one by one. A digital file will then be generated into your computer.
You can also do batch scanning, where you place multiple photos all at once, and simply crop them out one by one during the editing process.
If you don't have a scanner at home and want to buy one for digitizing pictures, we recommend purchasing a scanner designed specifically for scanning pictures, such as an auto-speed scanner.
You can place multiple photographs on the feed of these devices, and they automatically scan the photos one by one. One example is the Epson Fastfoto FF-680W, which has the ability to scan one photo per second, allowing you to digitize thousands of photos with its wireless high-speed photo scanning system.
These types of scanners are perfect if you have thousands of photos or documents you need to scan on a regular basis. But if you don't have a photo restoration business or you don't need this for corporate purposes, you can use any regular flatbed scanner to do the job.
How to Digitize Photos Using a Digital Camera or Smartphone Camera
This method is the most convenient and budget-friendly. Statistics show that 85% of the global adult population own a smartphone, so unless you're part of the 15% who don't, then you can create a digital copy of a picture right this minute.
Take a picture of a photo using your phone's internal camera or you can also use a digital camera that has better resolution. If the image is too dark, or light, simply adjust the settings on your phone, such as increasing exposure if the image is too dark.
However, if you want quality digital files, you may need to do the following:
Place your phone or camera on a tripod to prevent shaking when taking the photo.

Use the timer feature to ensure a clean shot.

Use soft lighting to reduce shadows and glare.
Using a camera or smartphone to create digital copies of photos may take some intermediate photography skills, which are needed to ensure the copies are free from issues, such as glaring.
It takes a little bit of trial and error to get the best set-up, so you need to invest some time and a lot of patience. But you can always edit the digital copies later on if you're in a hurry.
How to Digitize Photos Using an iPhone
You can also use the Notes App on your iPhone to take pictures of photos and create a digital format. While you can simply use your iPhone's camera, the Notes App doesn't just take a picture but scans the photo.
The Notes App is designed to scan documents using your phone's camera app, but you can also use it to scan photos.
Here are the steps to using your iPhone's Notes App to scan and digitize photos: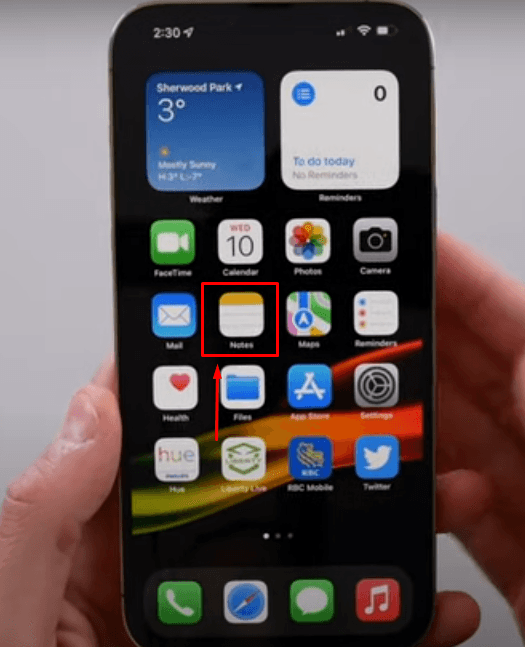 Step 1: Open the Notes App icon on your iPhone.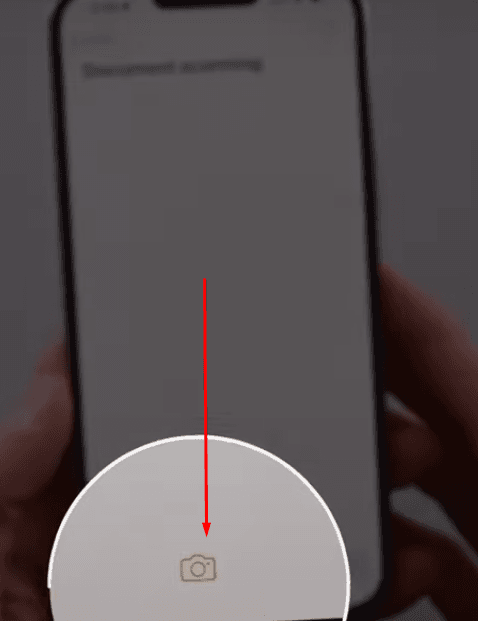 Step 2: Click on the Notes App camera icon.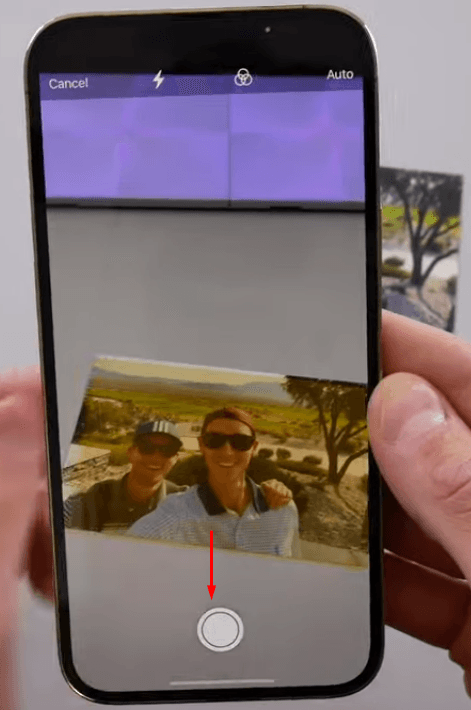 Step 3: Scan your photo. If you click on the Auto Scan feature, you won't need to click on the shutter. The Notes App will automatically scan the picture and make a copy as soon as you place the photo within the frame.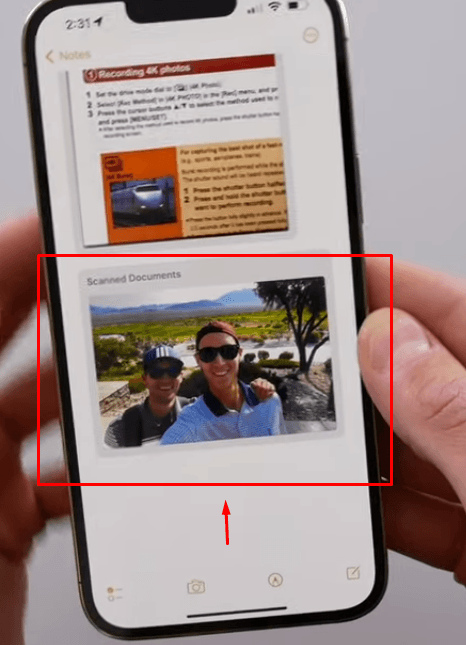 Step 4: Notes App will save your photo like this, saved under the "Scanned Documents" file name.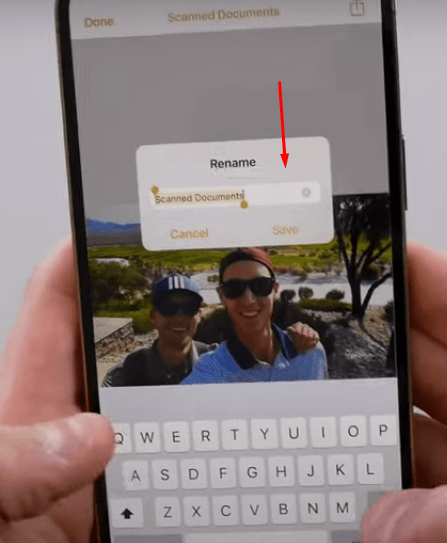 Step 5: Rename your digital file by clicking on "Scanned Documents," then click Save, which will turn your photo into a PDF file.
Scanning your photo with iPhone's Notes App is fast and easy but you might still need to do some image enhancement to have a good quality image.
For more details on this tutorial, please watch this YouTube video.
How to Scan Documents & Photos on iPhone
How to Digitize Photos Using an Android Phone
You can use your Android phone to scan photos by downloading the Google PhotoScan app. There are also other scanning apps you can use, but PhotoScan is free and can be integrated into your Google Photos tools, allowing you to access and make edits directly without having to export images on your phone.
Here are the steps to using the Google PhotoScan app on your Android phone: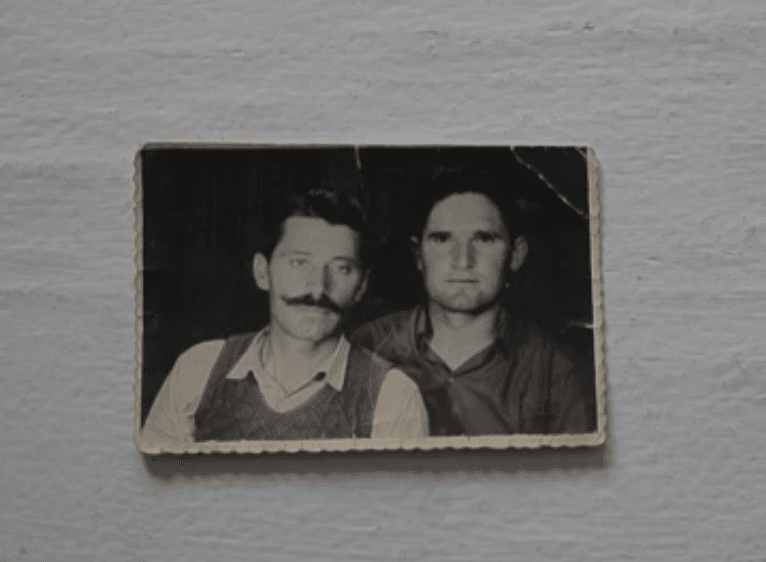 Step 1: Prepare your photo on a flat surface.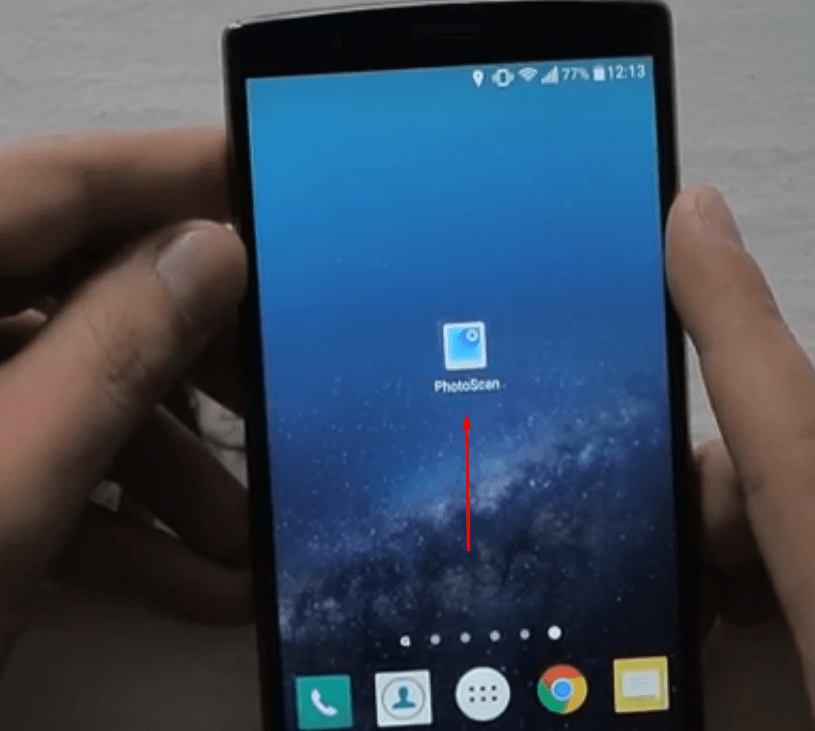 Step 2: Download the Google****PhotoScan app and click on your screen.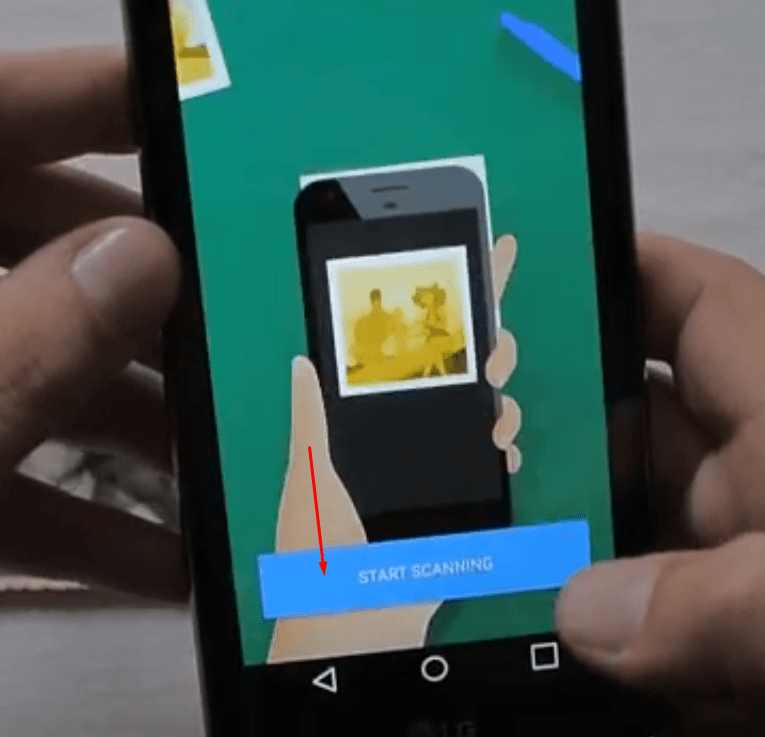 Step 3: When you open PhotoScan, the app will show a brief tutorial, but you can click on the "Start Scanning" button to skip the tutorial and start scanning.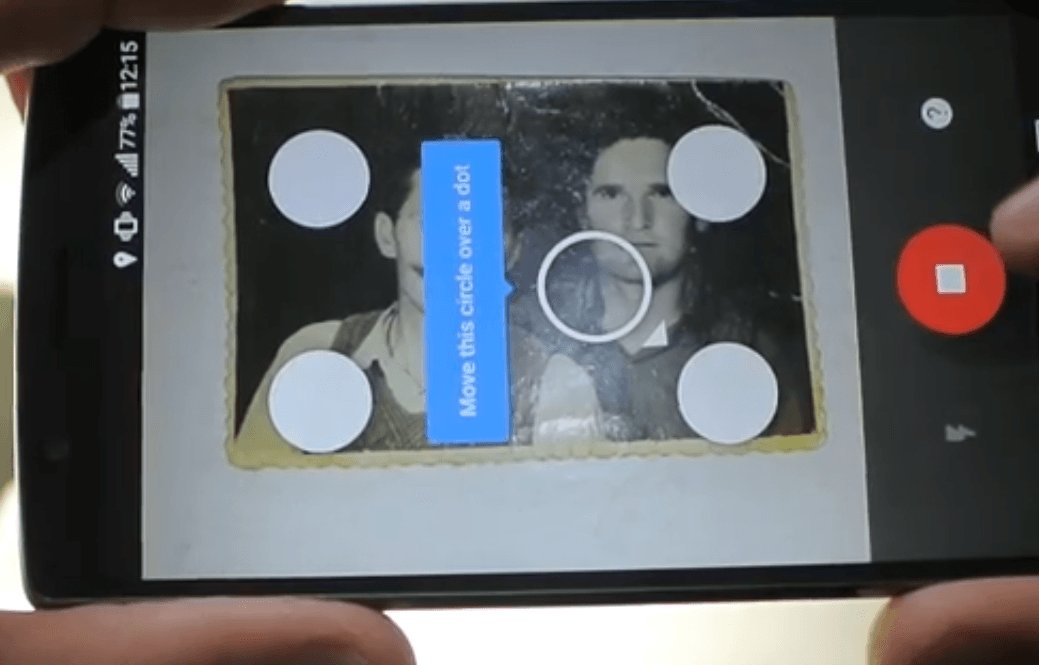 Step 4: Click the shutter button. The app will then show four circles on all four corners of the photo on the screen.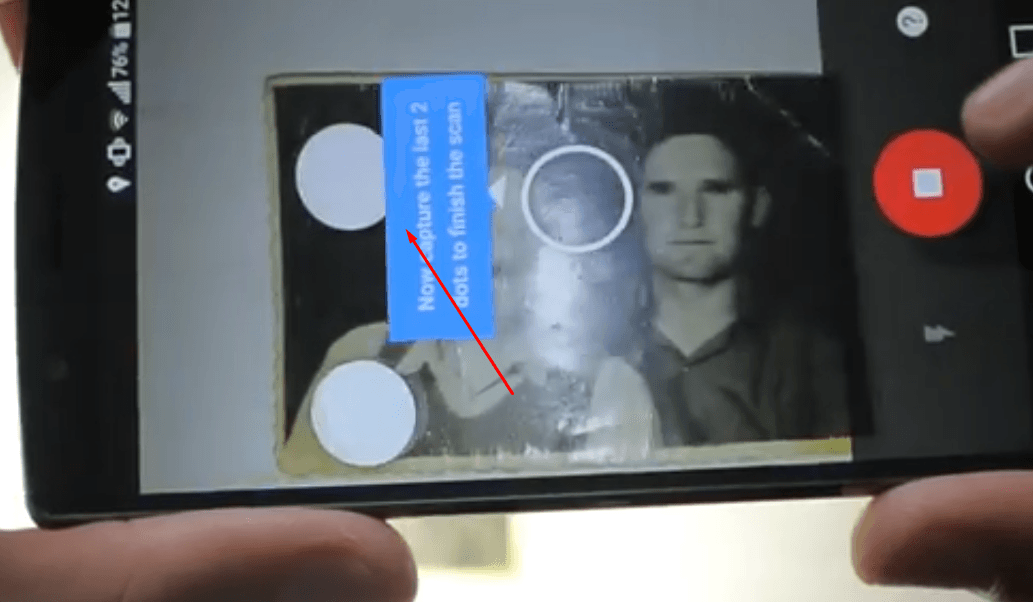 Step 5: You will need to drag the circle frame towards these four circles on the four corners of the screen to take multiple shots of the photo.
PhotoScan needs to have multiple shots of the photo to analyze the quality. It will then automatically improve quality, correct distortions, and remove glare.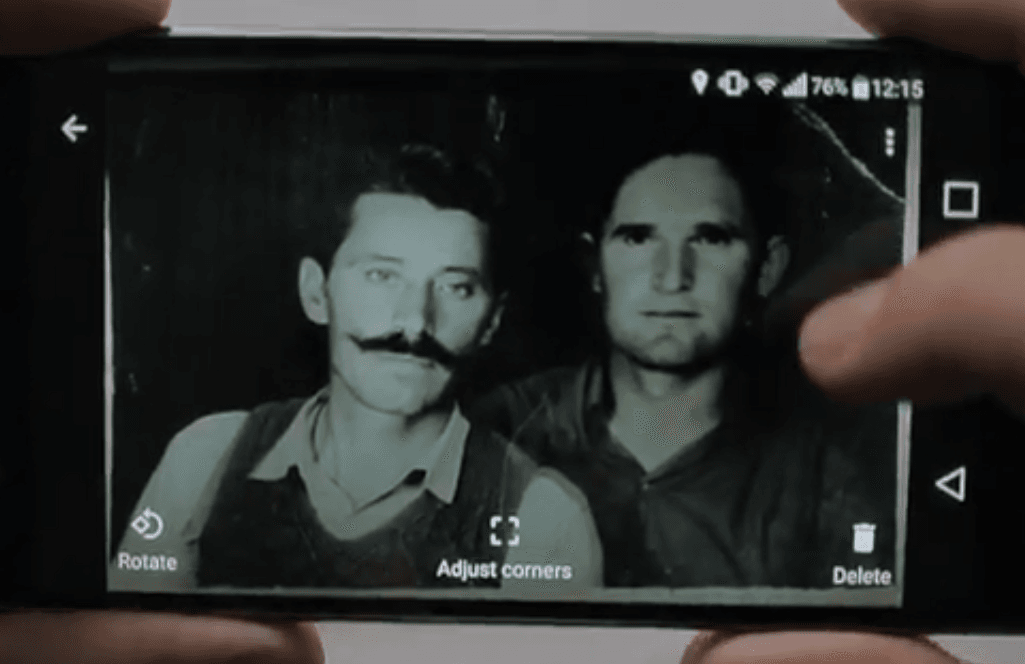 Step 6: Once PhotoScan generates your scanned photo, you have the option to rotate the digitized photo, adjust corners, or delete and scan again.
PhotoScan is a free-to-download scanning app that's compatible with both iOS and Android and provides an easy and quick way to digitize photos.
Unlike using your smartphone camera or the Notes App on your iPhone, PhotoScan analyzes the image using multiple photos to generate a good quality and enhanced image.
If you want to see more details of this tutorial, please watch this YouTube video:
Google's PhotoScan app for digitizing old photos | Is it any good?
What are the Best Settings for Scanning Old Photos?
When taking a photo or scanning your picture, there are a few things you need to know to ensure you have a proper digital file you can use for different purposes and these are the proper file format and the resolution.
You can choose to save your digitized photo as a JPEG, PNG, or TIFF. Let's discuss each one:
JPG or jpeg is the most basic image file. It is perfect for sharing on social media and it's the smallest file size due to image compression. Because it compresses your photo, some details may be lost when scanning, which means it's not the best file for printing, especially for large-size printing.
PNG is the golden standard when it comes to digital image files. It is larger than the JPG file format as it can hold more information or details of your scanned photo.
TIFF
TIFF is considered to be the best file for scanning because it can hold large information, providing the best details. It is best for printing purposes so if you plan on having your digital photo printed on a large size such as a streamer or poster, you need to save your scanned photo in a TIFF file format.
However, because it's a large file, it also takes up more storage. If you hire a professional service for digitizing your photos, you'll also be paying more for this file format.
When using a scanner or camera, you must set the resolution for your digital image. The unit for resolution is DPI or Dots Per Inch, which determines how defined you want your digital photos to be.
This is the minimum DPI to set for digitizing a photo. This is ideal for digital images you want to share online.
If you want to print small-size pictures, you need to set your DPI to 200. This is great for showing crisp photos that are full of detail. If you plan on printing your whole digital file collection of images, this is the resolution you need to set.
If you plan on printing the photos for larger sizes, you need to set it at 300 DPI. If your photo is the standard size of 4" x 6," and you want to print an A5 size photo, you need to use this resolution.
5 Common Mistakes to Avoid When Converting Photos to Digital Format at Home
Learning to scan photos and converting them into digital files is easy but it doesn't start and end with taking a picture or scanning your old photos.
There are things you need to know and keep in mind to ensure you're creating and storing files that are easy to find, safe, and applicable to their intended purpose.
Here are the 5 most common mistakes to avoid when converting photos to digital format at home:
1. Not Having Backup Storage
When digitizing photos, you need to use the 3:2:1 data storage backup strategy. Not having backup storage can increase your risk of losing the pictures due to a technical problem in your storage or losing your hardware.
The 3:2:1 backup strategy means you need to have 3 copies of your digital files, with 2 being backup storage and 1 being the primary storage.
Your primary storage might be your desktop storage, one backup storage could be in an external drive, and one copy could be stored in a cloud storage.
Having backup storage is essential if you're digitizing legacy photos of your family, business, or historical images.
2. Using the Wrong Settings
Take note of the settings when saving your files. You might plan on having your photos printed but you only used 70 DPI and in a JPG file, which might not have the details you want in your photo.
Always consider the settings when scanning your photos.
3. Not Renaming Files
If you have a large collection of photos in your storage, it could take you a while to find a particular photo, so always rename the files.
You can rename the files in alphabetical or numerical order, however you want. This is especially crucial for large files.
4. Using the Wrong Method to Scan Photos
Scanning thousands of photos will take you time. If you only use your smartphone's camera to digitize these photos, it will take you hours or days to finish. That's not even including the time it will take you to edit and enhance the photos.
If you're planning to scan hundreds to thousands of photos, we recommend using an auto-speed scanner or hiring a professional digitizing service.
5. Not Organizing Digitized Photos
And lastly, you also need to organize your digitized photos. Adding them to your Downloads or Pictures file on your desktop will make it hard for you to find these photos once you need them.
Create a zip file to store these digitized images to make it easier for you to find them.
Old photographs of loved ones are considered to be family treasures. What once was only preserved through photo albums, these family treasures can now be preserved for more than a lifetime through digitization.
Even if a family member is thousands of miles away, a digital file of a photograph can be shared online, providing a way for families to see images of their family legacies even when they're physically away.
Whether you're digitizing photos for personal or commercial use, digitizing them comes in many forms, but if you want to do it at home, you can definitely do so using the four methods we discussed above.
The downside, however, with doing it on your own is that there is a high risk of distortions, shadows, or glaring in these images, especially if you use a smartphone to scan. You will need to do some editing on the digital files to create high-quality images.
Of course, there are photo editing software like Photoshop to help you enhance images, but they require some level of skill and knowledge to operate. Yes, you can use your phone's built-in photo editing features, such as adding filters, adjusting sharpness, and other settings. But this also takes time and some skill.
A better way to edit and enhance digital images of old photos is by using an AI photo editor that does the job of Photoshop and other editing features in just seconds. Using AI machine learning algorithms, you can have high-quality, enhanced photos with just a click of a button.
In the following section, we'll introduce you to Imagewith.ai, a revolutionary and innovative AI photo editor that's perfect for volume image enhancements.
Enhance Digitized Photos to Preserve Precious Memories with Imagewith.ai
Imagewith.ai is an AI photo editor that offers multiple photo-enhancing features done in seconds. Powered by a cutting-edge and innovative AI algorithm, it provides you with fast, precise, and efficient photo enhancements with just one click.
Transform your digitized photos into high-resolution images through visual enhancement and cutting-edge AI prowess. Breathe new life into old photographs and experience improved clarity and enhanced intricate details.
You can use any file format, whether JPEG, PNG, or TIFF, and you can use any device, whether a computer, tablet, or smartphone. So even when you're always on the go, you can open Imagewith.ai on your phone, upload your digital file, click the photo enhancement button, and that's it!
Get to experience superior photo enhancement that improves the overall quality of your digitized photos.
Imagewith.ai offers three amazing photo editing features, which are:
Use Imagewith.ai's Overscale feature to improve the quality and resolution of your digitized photos. Overscale offers the following abilities to transform your digital images in seconds:
Noise Reduction and Artefact Removal

High-Quality Upscaling

Speed and Efficiency

Versatility

User-Friendly Interface
Overscale and Imagewith.ai's Clearoff and Outcut features are designed for both professionals and beginners.
For anyone who doesn't have any prior photo editing experience, this is a powerful tool that gets you upscaled images without all the complicated technicalities of using Photoshop and other photo editing software.
For professionals, the Overscale feature can help you edit large volumes of digital files quickly. With just a simple click, you get to experience transformed images in seconds, giving you more time for improved productivity with high-volume image improvement tasks.
Here are the simple steps to using the Overscale tool: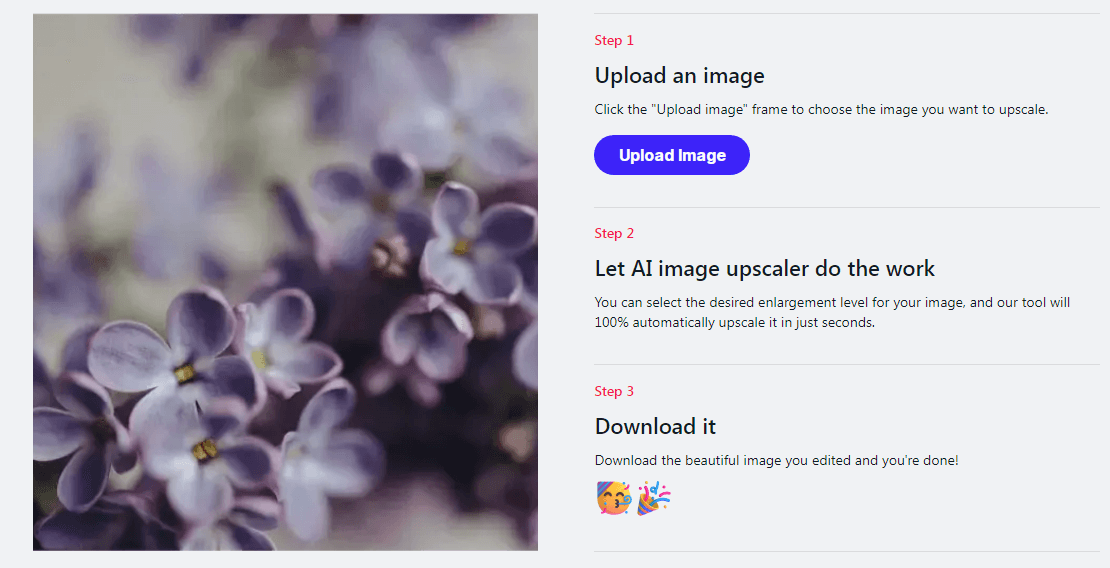 Step 1: Open Imagewith.ai and choose Overscale.
Step 2: Upload a digital image.
Step 3: Click on "Overscale."
Step 4: Download your enhanced image.
It's that simple. With only a few steps and clicks, your digitized photos are transformed into high-quality images with less noise and more enhanced details.
Old photos of family or historical photographs of your hometown can help you connect with your roots. When images of your family, home, or loved ones are preserved in pictures, you have an obligation to keep these memories alive. One way to do that is to learn how to digitize photos to preserve and conserve these treasures.
You don't need to hire professional digitization services since you can scan old photos with devices you already have at home. With a scanner, digital camera, or smartphone, you can scan and digitize photos on your own.
But the problem is, are the digital images good in quality? This is where Imagewith.ai comes in. Built for both professionals and beginners, get to transform old, low-resolution photos into high-quality images that are clear and sharp with intricate details.
Use Imagewith.ai's Overscale feature to give you photo enhancement in seconds, breathing new life to old family photos that have been digitized at home.