Did you click a selfie, a picture, or captured screenshots you ever wanted and were excited for? What if you found them to be blurry, pixelated, or they had a low resolution? Well, everyone has been through this situation, so search for the best ways to enhance the quality of a photo!
Low-quality images spoil your moments, and most of the time, you don't intend to recapture them, or it's not feasible. Whether it be personal or professional, others think that you are an amateur, unprofessional, or childish. To ease up, we have researched and mentioned the best methods to resolve the issue.
How to Enhance Quality of a Photo?
There are several softwares, methods, and tools to enhance your image quality. But finding the most suitable one is a daunting task. Therefore, with rigorous testing, we have jotted the best and most accurate methods!
Method 1: Using Windows Photos
Windows Photos has some more features than merely previewing the images. Photos does it accurately without hampering the image quality when it comes to editing and resizing pictures. Similarly, it has image enhancer features as well.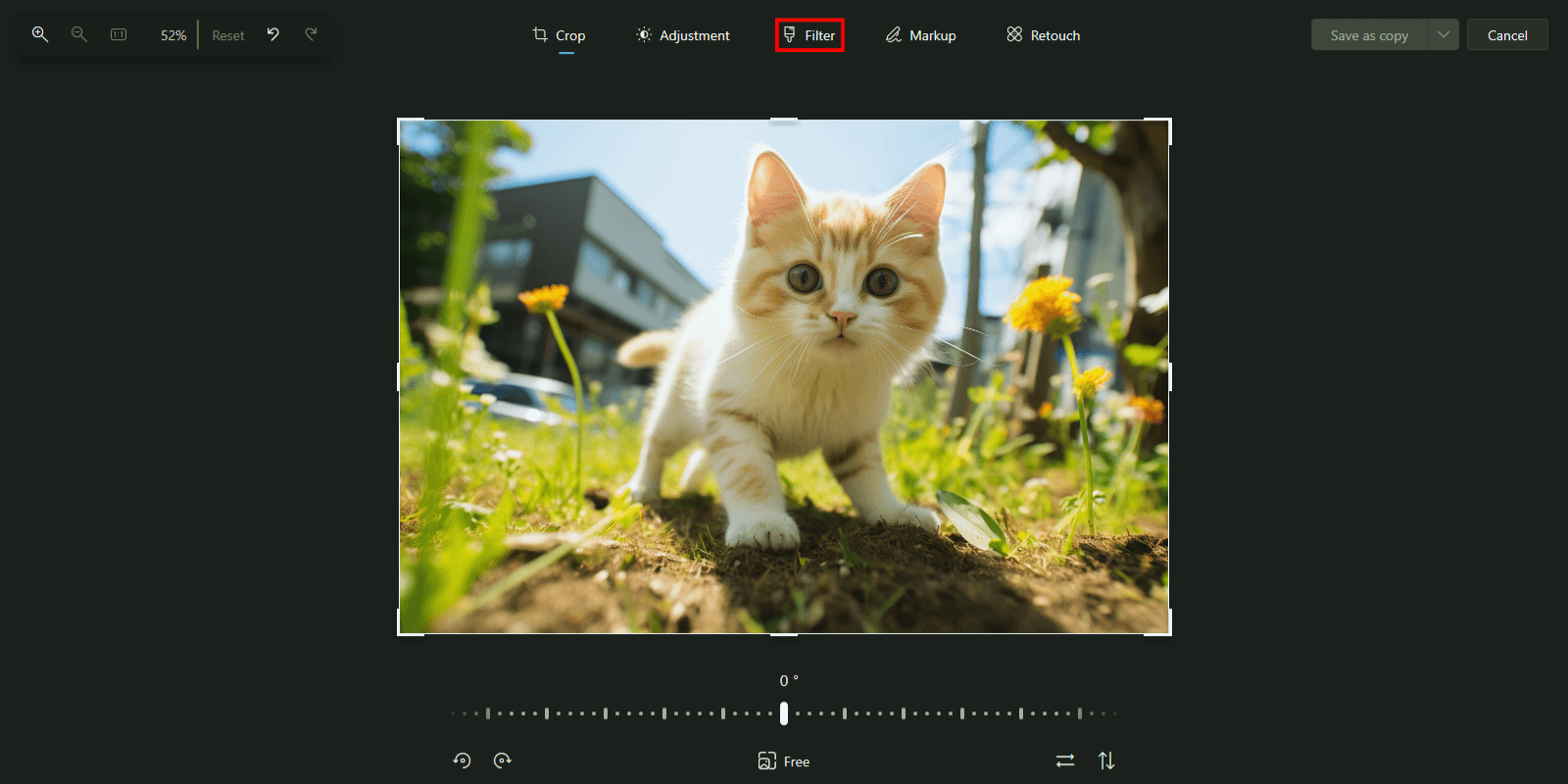 Go to the image you want to edit
Right-click the image, navigate to Open with, and select Photos from the submenu
Press the Ctrl + E keys simultaneously to edit the image
Click the Filters icon and tap the wand icon beneath Enhance to refine its colors and saturation
Click the Adjustments icon
Drag the Clarity slider towards the right to sharpen the image
Press Save or Save a copy depending on your preferences
You can then save it to your desired location and name it as you want. Further, it is noteworthy that the Photos app comes pre-installed on Windows PCs. However, you should update the feature if you don't see it. Yet, if you have a Notebook, you can download it from the Microsoft Store.
Method 2: Using Adobe Photoshop
Windows Photos wouldn't have served your task if the image had a much-diminished quality! This is when you would have started looking for an image quality enhancer, and undoubtedly, Adobe Photoshop does fix it from the core.
Open Photoshop, click File, select Open, choose your image, and press the Enter key to load it
Click File, choose Save as, rename it with the desired file type, and click Save
This ensures that you don't lose the original unedited image.
Open the Filter menu once more, select Noise from the drop-down menu, and Reduce Noise from the context menu
Click the Preview checkbox to enable it and see the changes you made
Adjust the sliders to Sharpen Details, Preserve Details, and Reduce color noise for clarity
Enable the Remove JPEG artifact checkbox to remove the image blocking that occurs while saving in a compressed format and press OK
Click the Filter option, choose Sharpen, and select Smart Sharpen from the submenu
Adjust the sliders as required and click OK to apply the changes
Go to File, choose Save As, and save it as per your preferences
Additionally, you can use additional tools of Photoshop like Red-Eye Reduction, Blur, Smudge, Burn, and such to remove objects.
Though Photoshop is an incredible tool for photo editing and accurate as well, it has some limitations. You need a computer with high-end specifications and an Adobe subscription.
Method 3: Enhancing Quality of a Photo using AI Image Quality Enhancer Free
Photoshop required greater expertise to execute image enhancement effectively, hence more cost, effort, and time. This isn't suitable for daily needs. Here's where you must have looked for a photo enhancer online free.
Well, we understand your point that there's no such effective tool, especially for free or without ads. But it is not so; you must try your hands on the Imagewith.AI Overscale tool.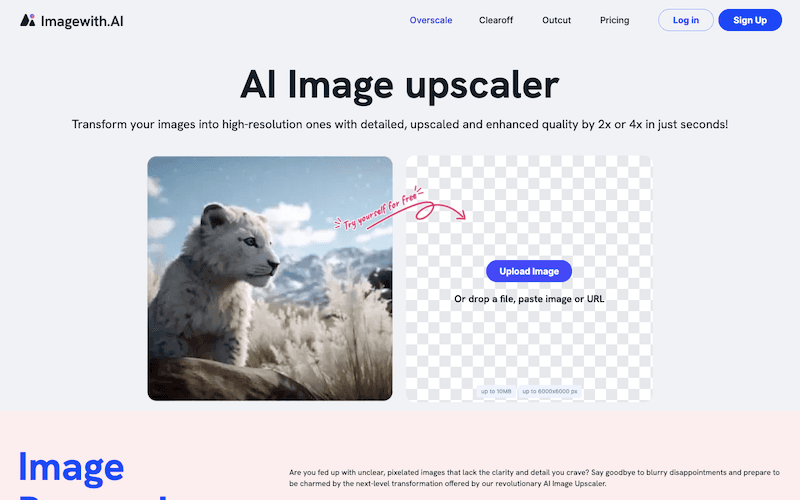 Click Upload and choose the photo/drag-drop or paste the URL that you want to enhance
Select whether you want the quality of 2x or 4x and tap Overscale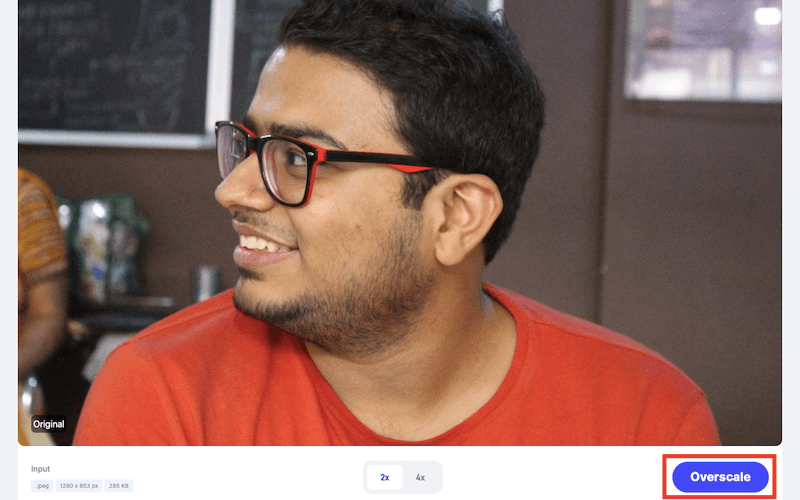 Press the arrowhead icon near the Download button to choose the format in which you want to save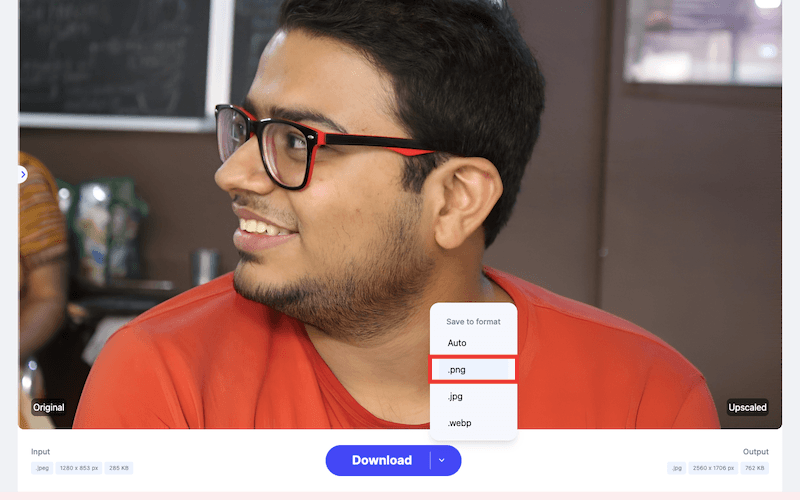 Now, tap the Download button to save it on your device
Thus, in a few seconds, Imagewith.AI refines a picture with greater pixels. You don't need any specialized device or expertise; it just takes a regular browser, an internet connection, and a fraction of a second.
Bonus Tip: Remove Unwanted Objects or Backgrounds for a Perfect Picture
How many times have you gone through the situation when you had the picture-perfect image?
Well, that's pretty awesome unless you have unwanted objects in an incredible background. Yet, in many cases, you have such stuff spoiling your pictures. This can even be another random person.
Besides, you would have tried tools for the same; some would give a watermark while others don't sharpen it to the desired quality. Here's where online tools upset you while softwares and applications can't be used anywhere, anytime conveniently. To overcome it, we will guide you through the easiest and most reliable method.
Remove Unwanted Objects from Photo Online
Imagewith.AI has a beautiful suite of tools not only for enhancing images for free but also for removing unwanted objects. Clearoff, as the name suggests, lets you do so easily. It does the task of removing objects. Moreover, if there are some minute changes, you can edit them too!
Here's how Clearoff can remove objects from the background:
Open the link given here in your browser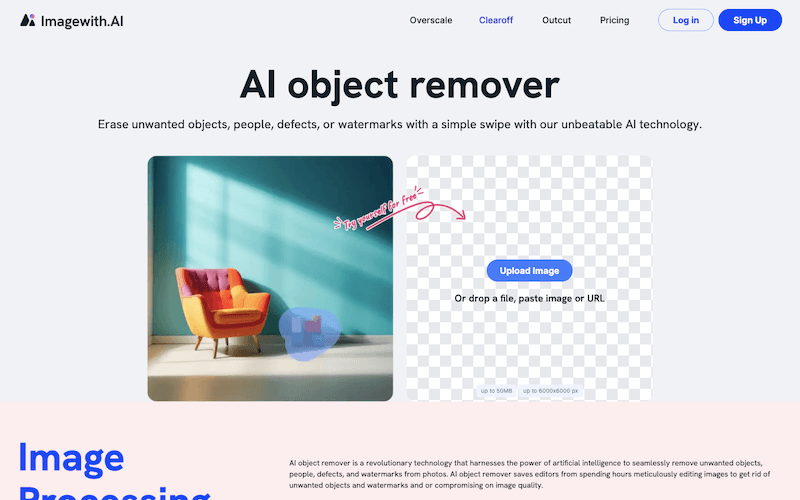 Tap Upload Image to provide input, use the drag and drop feature, or paste the image URL for it

Now tap the object/watermark/defect on the image that you want to remove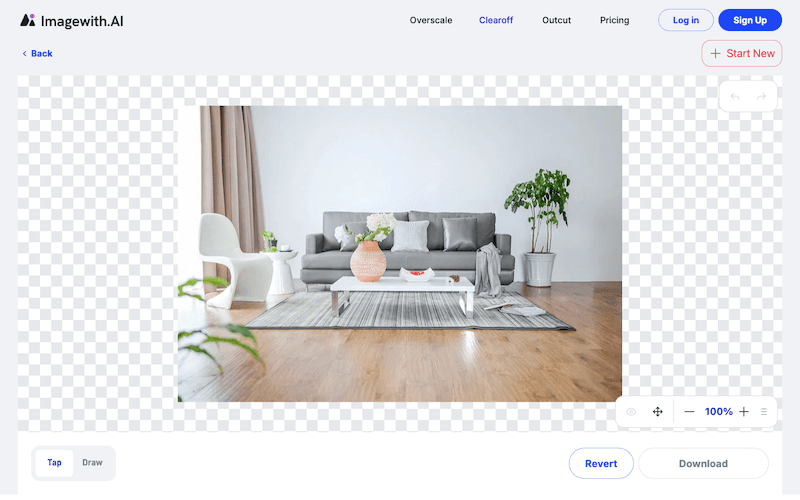 Alternatively, you can switch to the Draw option and mark the part to be removed
In a few seconds, Clearoff will do the required and process the image
Choose the image format and tap the Download button to save on your device
You can tap the eye icon to see the difference between the initial and final results. The tool will never leave you dissatisfied!
Remove Background from Photo Online
Often, you need a perfect photo, whether social, professional, casual or for other reasons, the background might not be suitable for you to use the image. Here's where you would turn to search for how to remove the background online free.
Various tools let you do so, but they don't offer HD downloads, while others don't remove the background as efficiently as the photos require.
Besides, if you want to use it as a profile picture for your social handles, you also need a good one. Imagewith.AI has Outcut AI for all your needs. It is the ideal tool regardless of the purpose you want to remove the background.
Below-mentioned is how Outcut AI works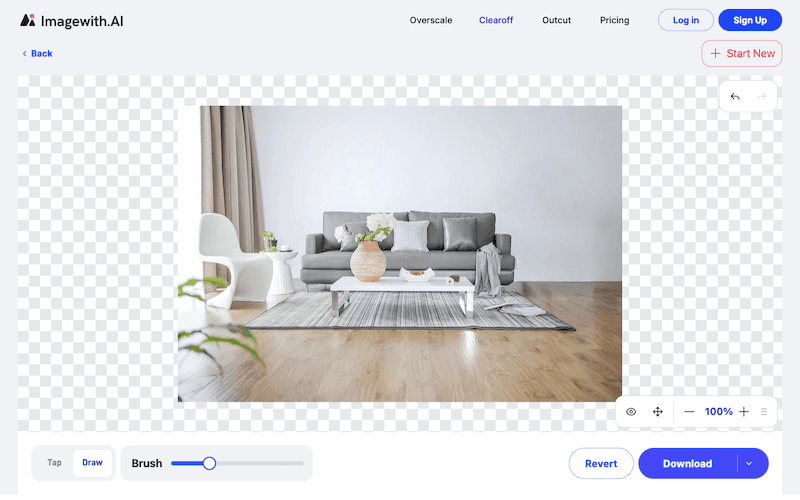 Upload the image from which you wish to remove the background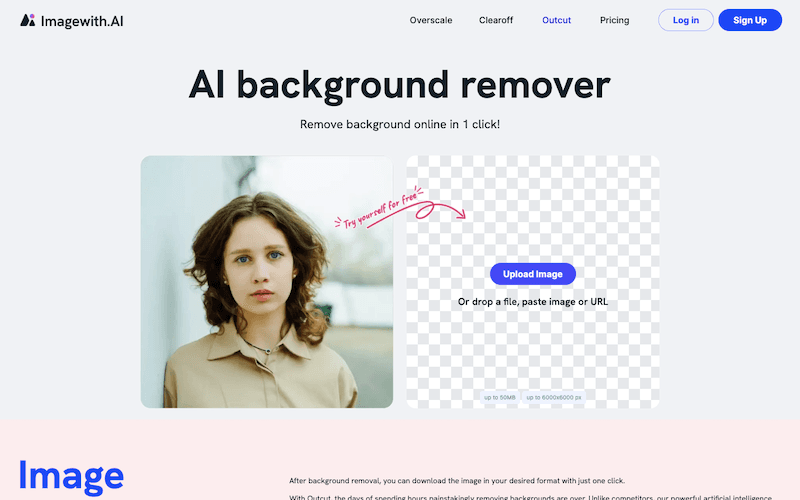 In a few seconds, the image will be previewed, eliminating the background
You can even tap the different color squares to give the background a color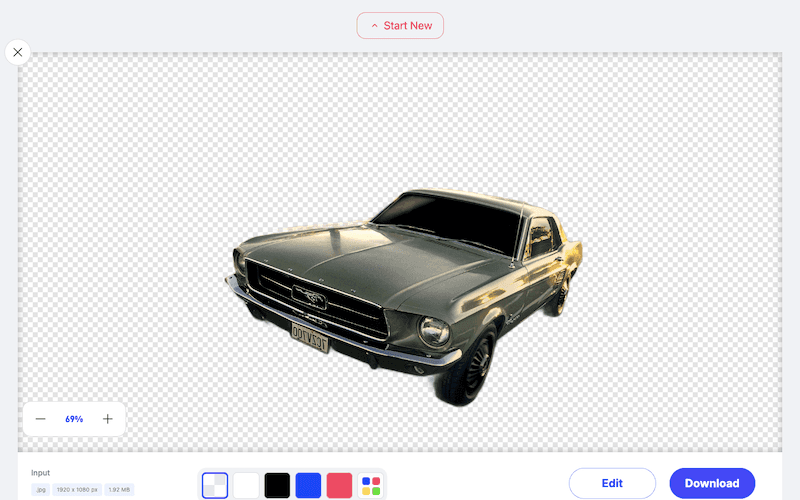 Tap the Download button to save it on your device
Thus, you can get your perfect picture within a few clicks; you don't require expertise or a high-end device. Even a mobile browser would because the tool is mobile optimized. The most significant ado is that it works with slow to moderate internet connectivity. So, what else do you need?
How To Select The Best Method to Enhance Quality of a Photo?
There are several factors that we have taken into consideration for image enhancement. We aimed to discuss the most reliable, effortless, and effective methods, tools, and hacks available!
Let's dig into the details:
Accuracy
Accuracy is the most crucial aspect to be considered while enhancing image quality. This is because several softwares like Windows Paint, PicPick, and Canva let you enhance your image. However, not all produce effective results in every situation, for instance, during screenshots and such scenarios.
Besides, plenty of online tools are available, like Pixlr and Adobe Online, yet they don't exceed expectations. Renowned tools like Zyro Image Upscaler do minimal changes, often negligible. Even Remini doesn't do well when you need to enhance screenshots or if the picture contains any text.
Here's where Windows Photos works well if the image is of moderate quality. Furthermore, Adobe Photoshop gives accurate results with its comprehensive functionality. Yet, if you struggle to use Photoshop or find Photos not working for your image, Overscale works the best in every circumstance.
Expertise and Efforts
When you are looking for ways to enhance image resolution, then it's apparent you won't hire any graphic designer. However, many tools require the expertise of such professionals.
Besides, even such professionals often turn to image enhancement tools to save time and better output.
Yet, it's noteworthy that many tools require greater expertise and efforts to enhance image. For instance, Canva, Windows Paint, Pixlr, Fotor, etc. However, their accuracy has a lot of loopholes.
Photoshop does work well, yet it requires the efforts of a graphic designer, increased efforts, and time as well. Here's where AI image enhancement comes in as it requires minimal to no manual effort, sign up, or anything similar: Overscale works!
Device Requirements
Do you want to upscale your image but don't have a laptop/computer?
Well, tools like Windows Photos, Paint, and PicPick require a desktop to enhance images. Besides, many online tools aren't mobile optimized, making it challenging to use them on a phone and need a computer.
Moreover, Photoshop is also available, yet it needs a high-end PC with a graphics card to suit your needs, which is quite costly.
Here's where you can use Imagewith.AI's Overscale feature, which works on any browser and is optimized for every device. Thus, you don't need any special device.
The Bottom Line
If you were looking for how to enhance the quality of a photo, you would have got your answer! There are several ways to do so; if you have a PC and a moderate-quality image, Windows Photos helps.
Besides, you can go for it if you are skilled in Photoshop, have a high-end device, and have an Adobe license. Yet it's noteworthy that the effectiveness depends on your skill proficiency with the tool.
However, Overscale AI is the best tool if you want to save time, effort, and costs apart from reliability.
Frequently Asked Questions?
How do I make a picture 4K?
To make a picture 4K, you must enhance your image into 4x of its resolution. To do so, go to Overscale AI, upload your photo, and select 4x; the tool will process a picture with 4K resolution.
Can we make the blurry image clear?
Yes, you can clear blurry images with the softwares and tools meant for the purpose. These tools include Overscale AI, Windows Photos, Zyro Image Upscaler, and Remini.
Which AI makes images high quality?
Overscale AI makes the image high quality and can even make it into a natural 4K definition with its 4K upscaler. Its advanced algorithms are well-optimized to increase image resolution. Apart from pixelated images, it even works well with vectors.