There are about 55.79 million active Reddit users, which means it's one of the most popular social media platforms today.
If you're one of these active Reddit users, you may notice several uploaded pictures are blurred, and there's a reason for that, which we will be discussing later in the article.
For anyone who wants to view these images, we'll show you the simplest and easiest ways on how to unblur images on Reddit using any device, whether you have an iPhone, Android device, or computer.
But first, let's understand why these images are blurred in the first place.
Why are Images Blurred on Reddit?
Images are blurred on Reddit if a user uploads a picture considered "NSFW" or "Not Suitable for Work." These images may contain the following:
Nudity
Gore or Violence
Sexual Activity
Reddit designs its content policies around NSFW to protect viewers from accidentally seeing images they may not want to see, or pictures that may cause emotional distress.
The NSFW content policy is also in place to prevent individuals from accidentally viewing inappropriate images while they're at work or when they're in a public setting, such as when they're commuting, at a restaurant, or any place where minors or children can unintentionally see these images.
All Reddit users, by default, have their NSFW content blurred. But that doesn't mean you can't view the images if you want to. You simply need to manually turn off the NSFW content blurred setting on your profile.
But should you? The answer depends on you. If you are constantly in a public setting or at work, having your Reddit NSFW content blurred is highly recommended.
But if you are using Reddit in a private setting and you don't mind seeing nudity, sexual activity, offensive content, or violence on your feed, then feel free to turn it off.
In the following section, we'll teach you how to unblur images on Reddit using three different devices: a computer, an iPhone, and an Android device.
Note: You need to manually change your settings for each device, as changing your settings on one device will not automatically apply to all of your devices.
How to Unblur Images on Reddit on Your Computer
If you use Reddit on a computer, here are the steps to unblur NSFW content:
Step 1:  Go to www.reddit.com and log in to your account.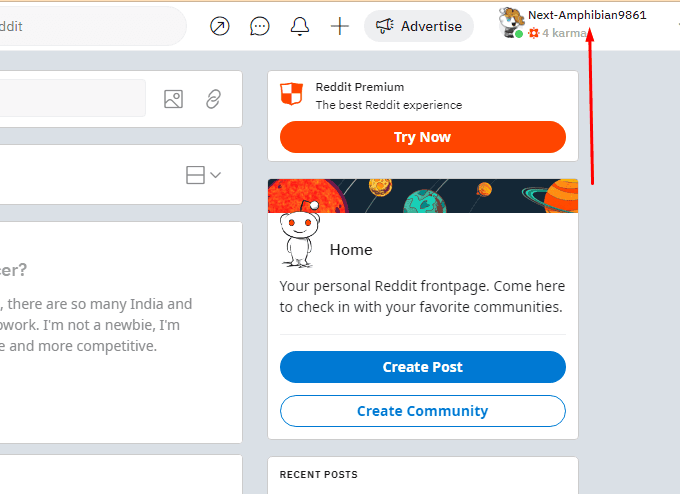 Step 2: Click on your Profile Icon.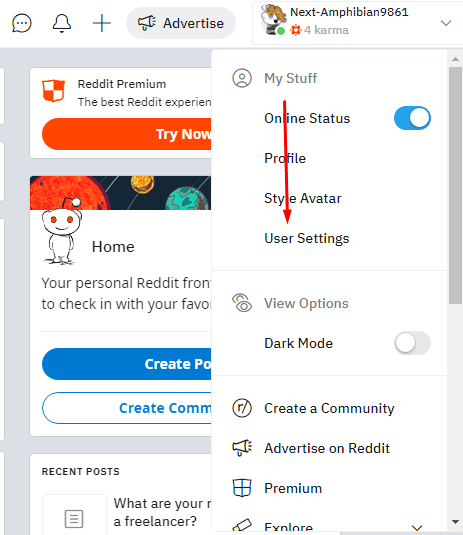 Step 3: Look for "User Settings" in the drop-down menu, and click.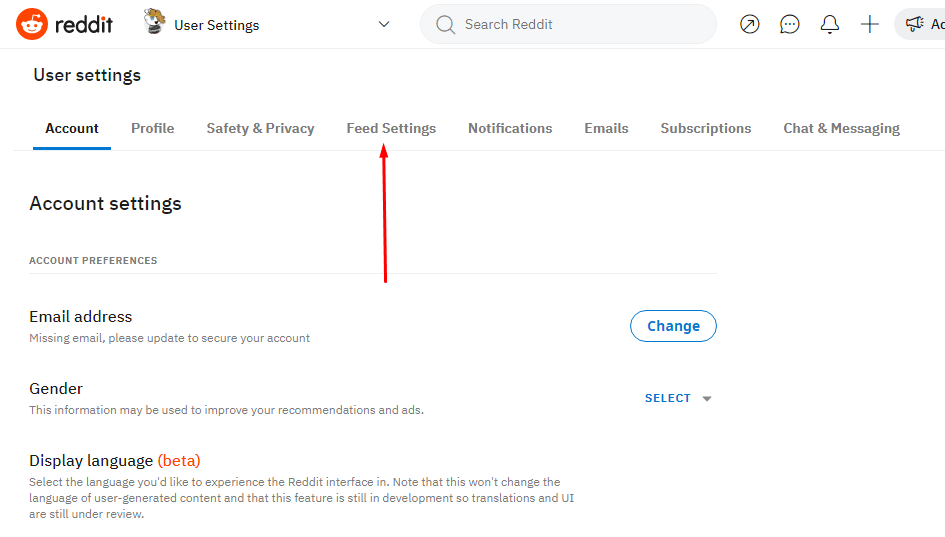 Step 4: Look for "Feed Settings" located on the upper portion of the screen, and click.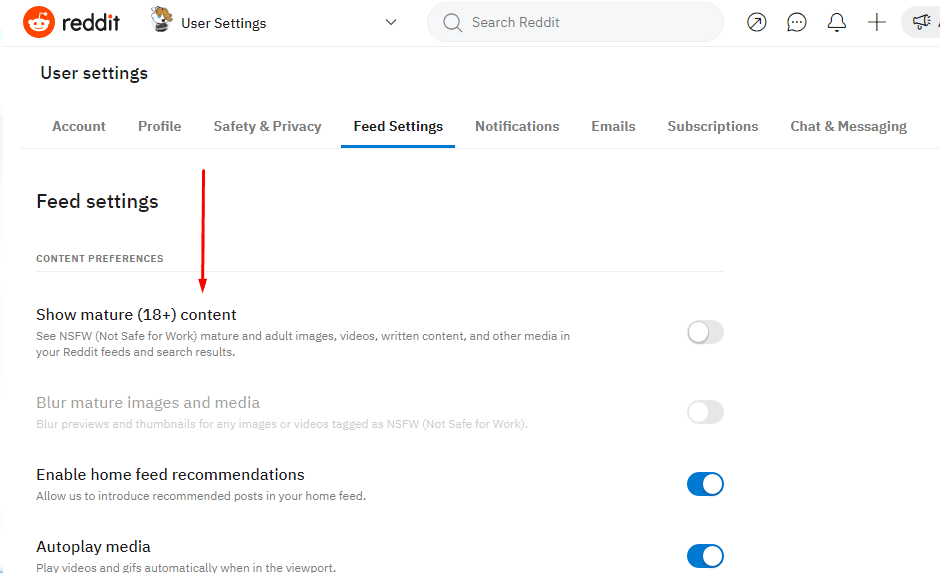 Step 5: Go down and you will see "Show Mature (18+) Content," click the slider to the right to turn it on. You also need to turn off "Blur Mature Images and Media," located right below it.
How to Unblur an Image on Reddit Using an Android Device
If you use a web browser to access Reddit on an Android device, please see the above steps on how to unblur an image on Reddit on a computer, as it follows the same steps.
If you've downloaded the Reddit app on your Android device, these are the steps you should follow to manually unblur images on the Reddit app: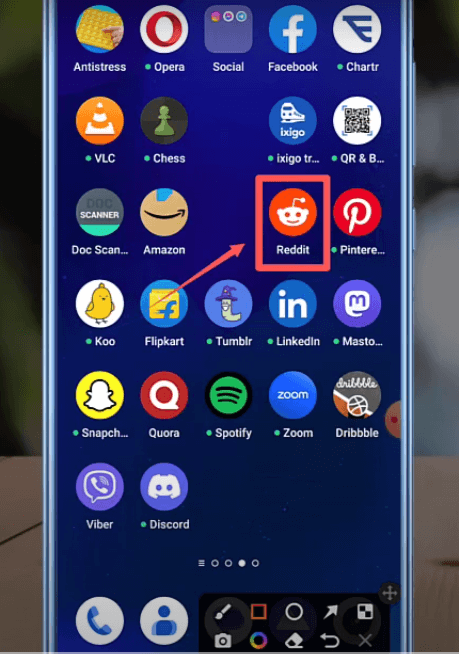 Step 1: Click on the Reddit icon on your phone and open it.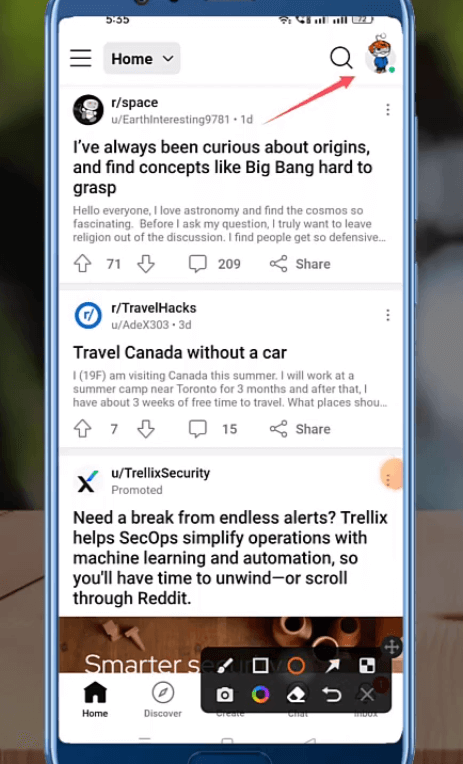 Step 2: Click on your Profile Icon located on the upper right side of the screen.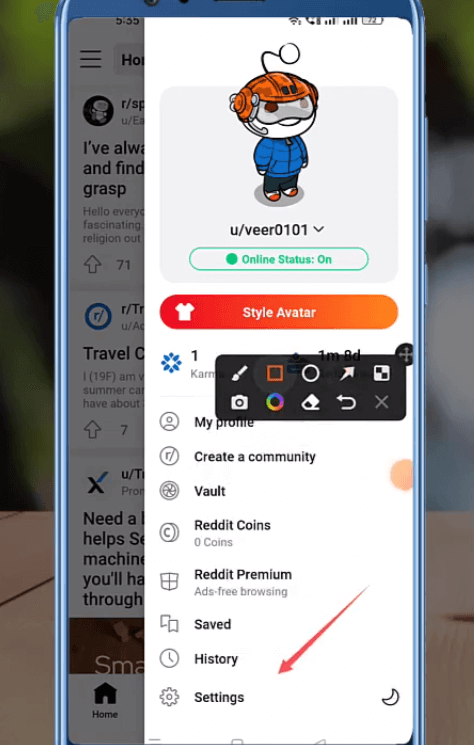 Step 3: Go down and look for "Settings." Click this and you will be directed to the settings page.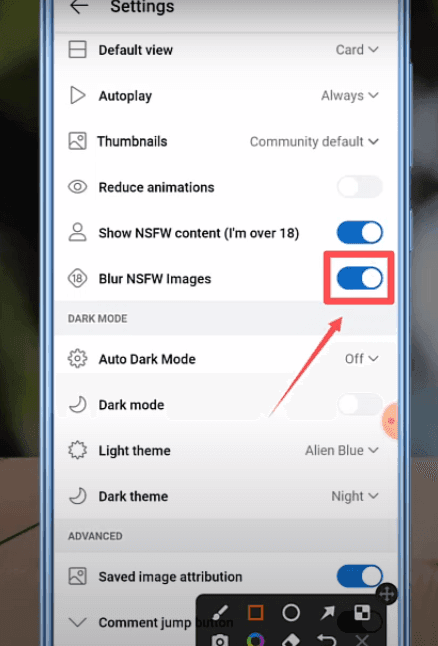 Step 4: Look for "Show NSFW Content," and turn it on, and turn off "Blur NSFW Image."
How to Unblur Images on the Reddit App Using an iPhone
If you have an iPhone and you've downloaded the Reddit app, here are the steps to unblur an image on Reddit on an iPhone: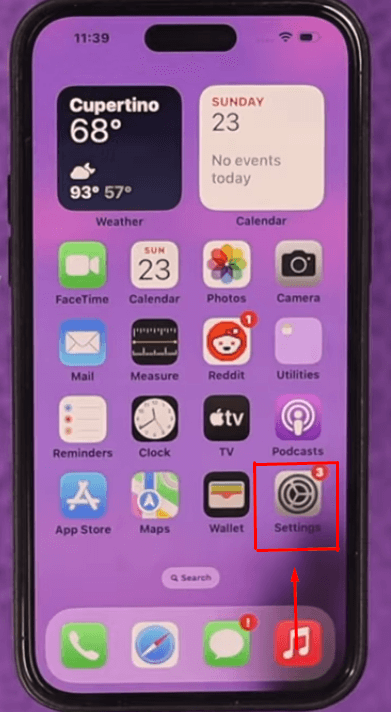 Step 1: Go to your phone Settings.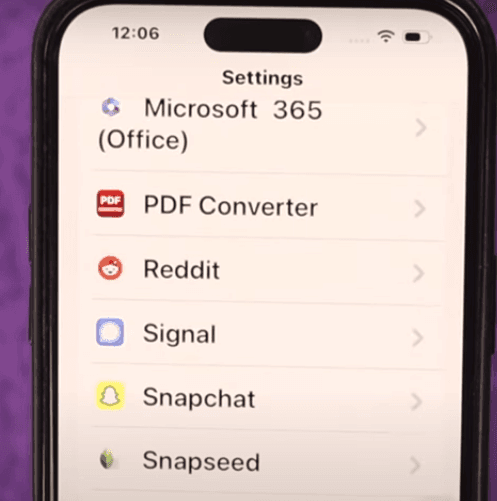 Step 2: Look for your Reddit app in the applications.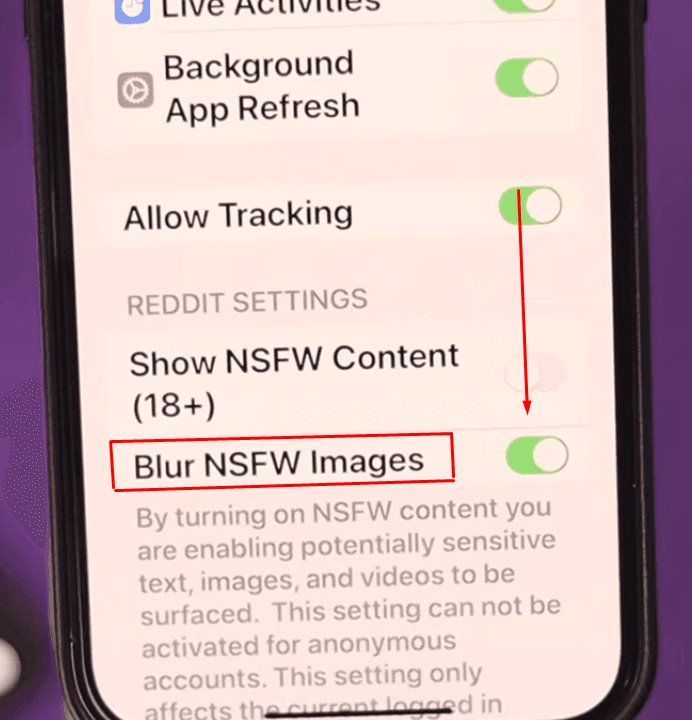 Step 3: Once you open the Reddit app through the settings, you will see "Show NSFW Content (18+)" on the lower area of the screen. Turn this on and turn off "Blur NSFW Images."
The steps to unblurring images on Reddit are quite simple and straightforward. Once you turn off the default settings for blurring NSFW content on your device, you will start viewing content on your Reddit feed and communities.
If you want to turn on the default setting again, simply follow the same instructions and turn it on to blur NSFW images.
It's simple, easy, and can be done in seconds.
Enhance Images Using an AI Photo Editor Like Imagewith.ai
If you're a Reddit user who wants to upload NSFW content in a community or a new feed, you need to use a high-quality, clean, and crisp photo to ensure audiences pay attention to your image.
Whether you're posting NSFW content or not, making sure you upload a good-quality image is key if you want to advertise your product or business, looking to hire someone, or simply want to connect with like-minded people.
To ensure you've got a great image, use AI photo editors that enhance your pictures in seconds.  You won't have to manually edit your image, as the AI algorithms do the work for you.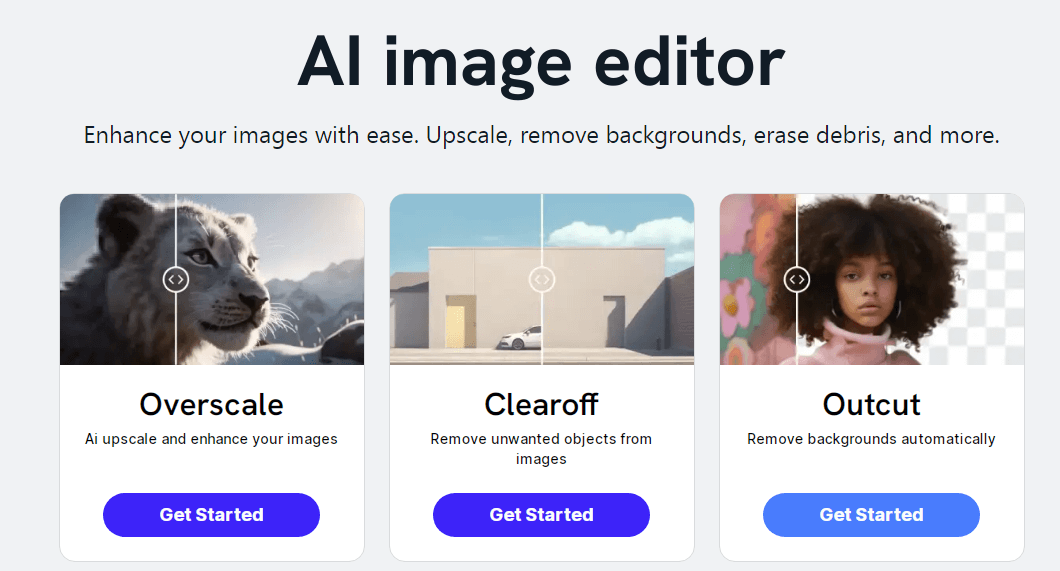 Imagewith.ai is one of the top AI image enhancers in the market, offering a revolutionary technology that transforms any regular image into a striking picture that grabs attention.
So if you want your post to go viral on Reddit, a great picture is one of the simplest ways to do just that.
Imagewith.ai Features
Imagewith.ai offers three incredible features that offer fast and easy photo editing, and these are:
For the purpose of posting on Reddit, Overscale is the best feature to enhance image resolution and quality without taking away the crucial details you need.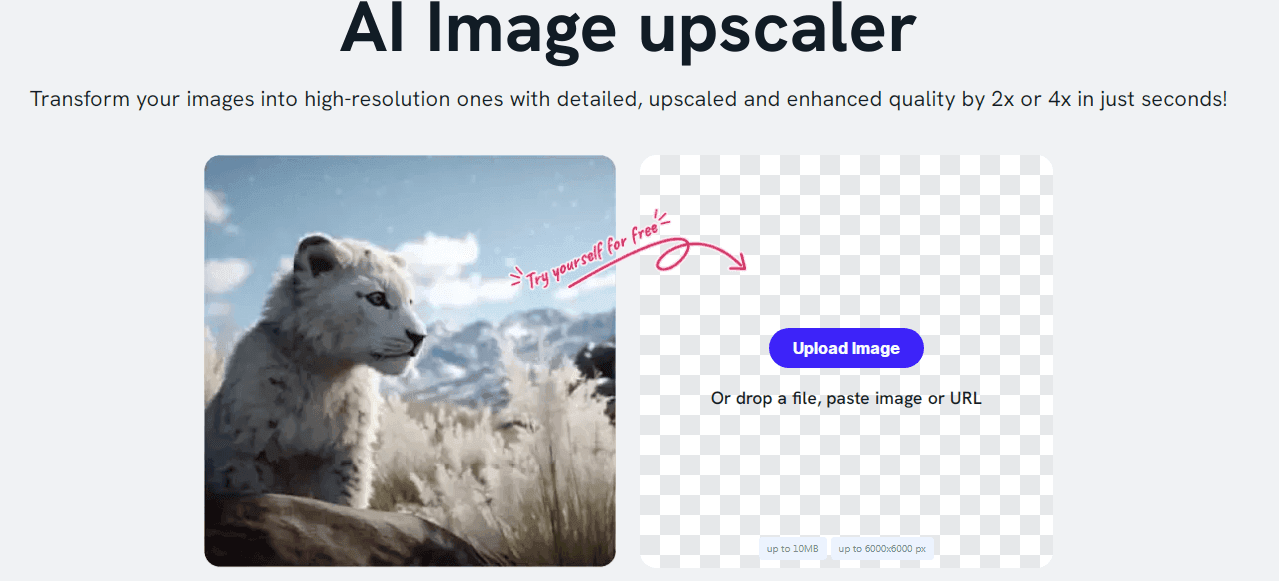 Using a state-of-the-art and innovative machine learning upscaler with advanced techniques,www.imagewith.ai analyzes any image, and then finds and fixes flaws that may minimize the quality of your image details.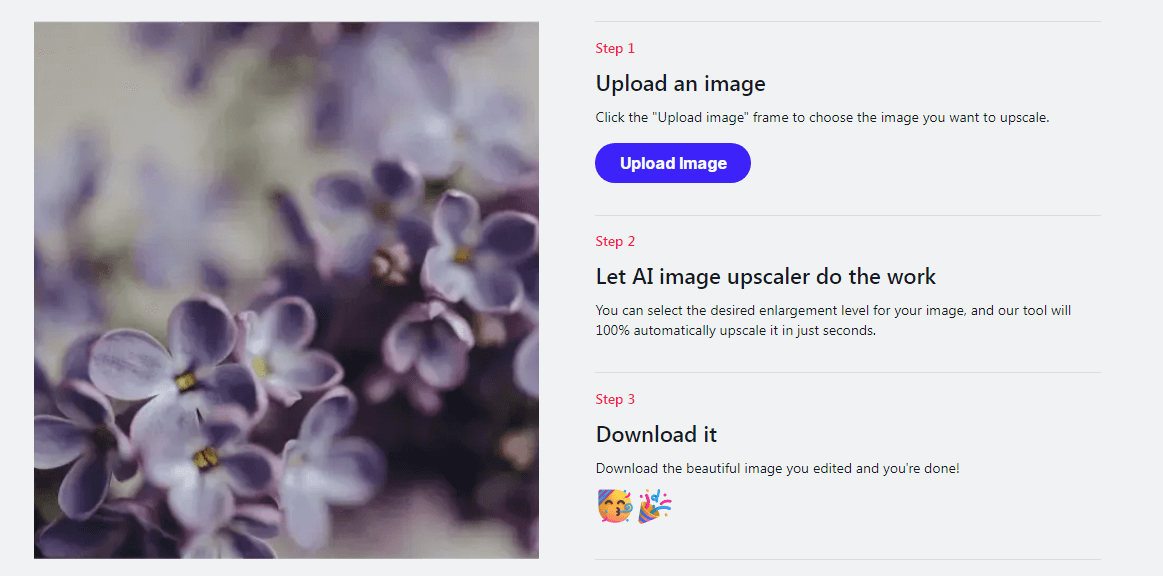 Imagewith.ai makes it possible to reduce noise, correct color, enhance detail, brighten, remove background blur, and face enhancement to make sure whatever picture you post on Reddit, you will have the ability to catch and grab people's attention.
Unblurring an image on Reddit and seeing NSFW content is a personal preference and if you don't mind, or you want to see these pictures, then simply change the settings in your Reddit account in these easy steps.
Whether you're using an iPhone, Android device, or computer, the steps to changing your settings can be done in mere minutes or even seconds.
Let our easy guide on how to unblur images on Reddit help you fix this problem, done the fastest and simplest way possible.