Course Hero is an invaluable tool for students worldwide. This educational platform gives students access to notes and lecturer documents. Homework can become a pain, and the only way to overcome this is to go to where you can get help. In this case, CourseHero is your best option as a student.
The only problem is that Course Hero blurs content such that you cannot access it for free. If you have tried to access content from the course hero, you know how disappointing it can get. So, if you are looking for ways on how to unblur an image on course hero, here are some tips and tricks.
How to Unblur an Image on Course Hero - The Official Method
As you may know, the online world has both official and unofficial ways of doing things. The official ways are those that may require money and a longer time. Unofficial ways, however, are what we like to call tips and tricks.
So, to unblur an image using the official methods, here's what you need to do.
Use Your Free Account
The course hero monthly subscriptions may cost approximately $10-$40, which may be quite expensive for some students. If you cannot afford the subscriptions, you can use the free account to access your desired documents.
Note that the free account also has some access to a few documents, but it is highly limited. The chances of getting access to the content you want are mostly very few.
However, Course Hero already knows that most users are students working on a tight budget. Therefore, there are a few methods users can turn to when they need access to content.
Here are some of these methods;
Uploading original documents
After you create your free account on Course Hero, you can unlock content for free. To do this, you need to upload original, unplagiarized content. This means that the document you upload must be originally yours and with no copyright claims. If the document has copyright claims, then you should get permission from the copyright owner.
After uploading documents, you need to wait from a few hours to 3 days to get your free unlocks. For ten uploads, a user gets five free unlocks. To unlock or unblur images, you'd have to use one unlock.
This is one of the ways to unblur an image, on course hero on Macbook. Note that the free unlocks you get from uploading original documents will expire after 30 days.
Follow these steps on how to unblur an image on course hero:
1.Login to your free account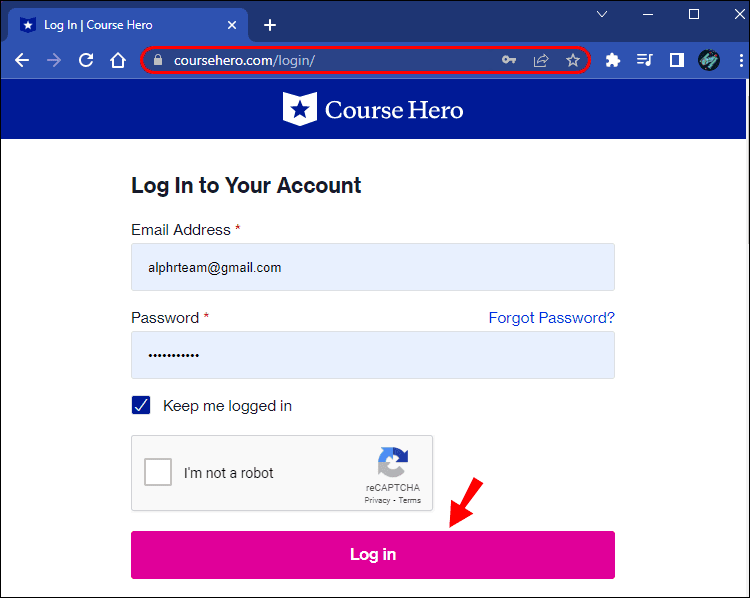 2.Search for the blurred document and click on it.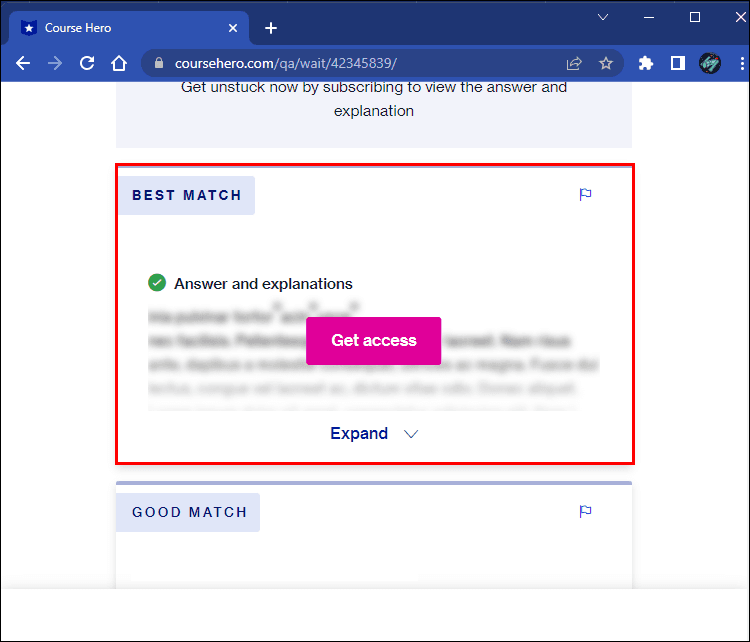 3.Click on view full document.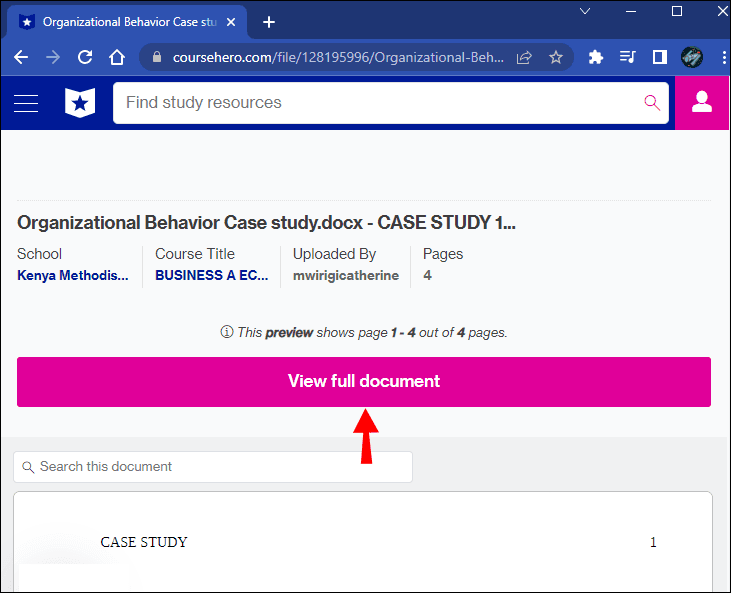 4.Click on Continue to access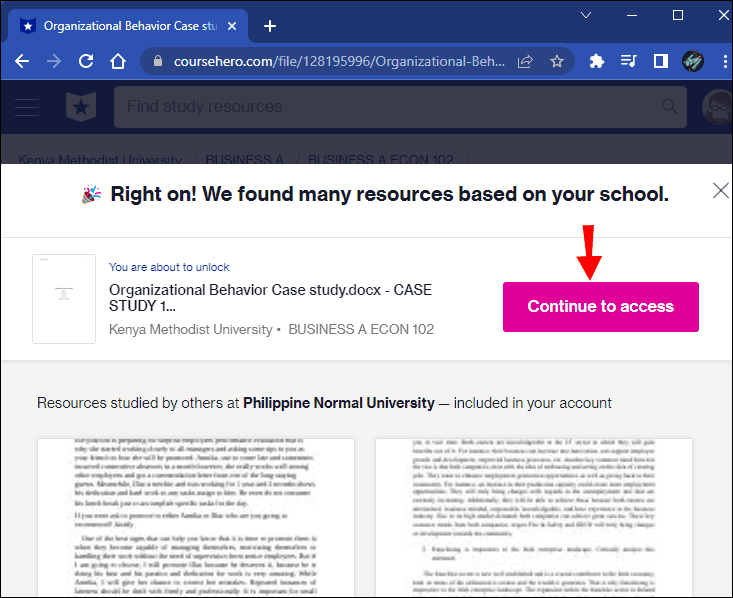 You will now see the pricing of the platform and an option to upload your study documents.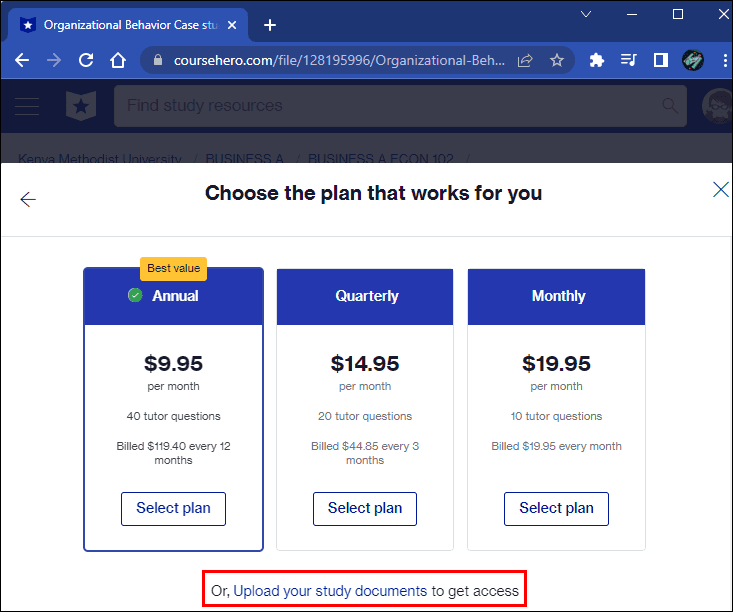 Course Hero will now prompt you to upload documents from your desktop.
Review Study Materials
This is another method on how to unblur an image on the course hero. You only need to review five materials, and you can have access to five documents. This is a great option if you don't feel comfortable to upload your documents.
Create Quizzes
This is another method you can use to unblur images on Course Hero if you do not want to pay for the subscription. The more responses you get on your quiz, the more unlocks you can get.
How to unblur an Image on Course Hero on Macbook - Use Inspect Element.
This is one of the unofficial methods you can use to unlock content on Course Hero using your PC. Note that some documents may not use the inspection method because Course Hero eliminated it earlier in 2023. However, you can still try your luck and see if it can work on your PC.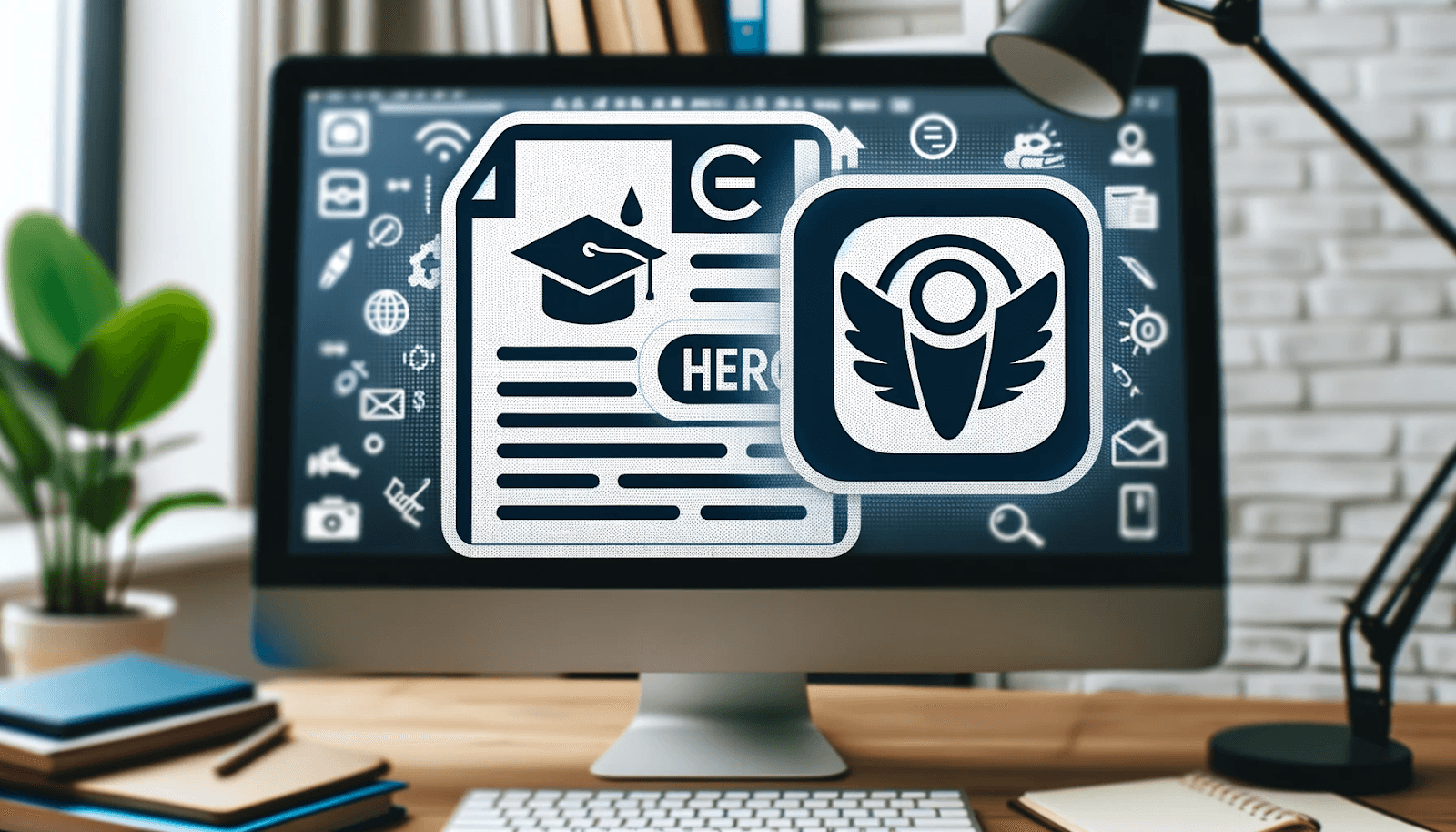 Follow the steps below;
Visit the Course Hero website and select the website that you want to unlock.

Right-click over the document and select inspect. A separate window will appear on the right side that will have the code of the page. You will see a 'div' tag with a non-hide parameter. If you don't see the tag, you can click Ctrl+F to search for 'hide' or 'obscured.'

Now, right-click on the specific rag and choose the 'edit attribute. Now click on 'None and 'Enter.' Your document should now unblur.
How to Unblur an Image on Course Hero on iPhone
Here's how you can unblur an image on Course Hero on your iPhone;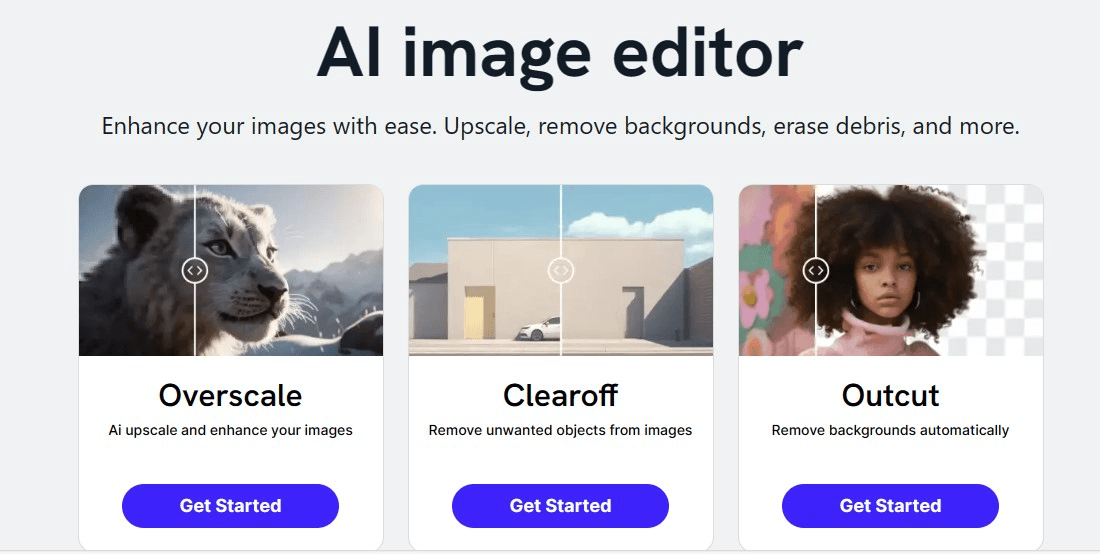 Go to your iPhone settings and open the battery settings.
On the battery settings check to ensure that 'low battery' is off.
Go to general settings.
Click 'background app refresh' and then tap again on 'background app refresh'.
Choose 'WIFI & mobile data'
Open any browser on your iPhone and visit 'ojapp.vip'.
Once you are in 'ojapp. vip' search 'Course Hero++' and click on Get next to 'Course Hero++'.
On the middle bottom click on the rectangular box and then choose ' add to home screen'.
Name the app and then click on add in the top right corner.
Once you have Course Hero tweaked app, you can launch it and follow on-screen prompts to unlock all the files on Course Hero for free.
How to Unblur an Image on Course Hero Using AI Image Editor
Another popular method for deblurring Course Hero images involves taking a screenshot of the image and then using an online photo manipulation tool to unblur it. This method can be effective for images, however it may not work for documents or texts.
These programs allow you to edit and manipulate images easily, and there are quite a few online tools to help you do this, but we recommend Imagewith AI's online upscaling feature. It utilizes complex algorithms to unblur images and give clear and detailed visuals.
The tool automatically analyzes low-resolution images like blurred coursehero images to create high-resolution versions through deep learning.
To unblur a photo with the AI image Editor, simply go to the AI Image Upscaler and follow these steps:
Upload the photo you wish to convert using the Overscalling function
Select your desired enlargement and the tool will automatically upscale it within seconds
After making the changes, click on "Download" to download the clear image.
Bottom line
Now that you know the different methods of unblurring images from Course Hero, you can unlock the documents you need. You can choose the official or unofficial methods depending on your needs. However, the AI image editor seems to be a faster and more convenient method for unblurring course hero images.