How about being the trendsetter, having an iPhone with an optimized camera yet clicking a blurry, pixelated, or grainy picture? Or did someone else send you your picture, which has a lower resolution? Even clicking images with shivering hands or in a hurry renders low-quality photos. Often, your iPhone camera hardware develops a fault, giving you low-resolution shots.
In either of the the situations, you would search for how to increase resolution of photo on iPhone! Whether you have already clicked a picture or are yet to click, I've covered the best methods to fix the resolution of an image on an iPhone.
Why Should You Increase Resolution of Photo on iPhone?
iPhones are distinct from normal smartphones due to their OS and, most notably, software optimization. Therefore, their cameras are made and integrated with the iPhone hardware, giving pictures with clearer pixels. But a blurry shot doesn't necessarily depend on the camera.
Sometimes improper lighting gives poor pixels while clicking pictures, which does matter. Moreover, you cannot avoid the fact that sometimes you receive photos from social media that are already of low quality.
In either of these cases, whether you are sharing a selfie, a document, a professional image, or a special moment, you cannot upload or share it. Besides, the quality often worsens while sharing, especially if it isn't FHD. This affects your reputation and makes the photos less appealing.
Hence, it's essential to increase the resolution of photos on the iPhone.
Can You Change Photo Resolution on iPhone?
Yes, you can change the photo resolution on your iPhone. iOS supports a feature that changes resolutions by changing the image format. Thus, when you capture more pictures, they will have a higher resolution.
How to Change the Resolution of a Picture on iPhone?
iPhone has integrated a feature that lets you choose whether you want the Most Compatible or High-Efficiency image. By default, it captures with compatible image formats and with 24 MP in usual. Yet, you can change it to 48 MP or in a greater resolution by setting it into HEIC.
HEIC is Apple's version of High Efficiency Image Format. Here, the image is converted, increasing the resolution of capturing images. You can change them into JPG format for export.
Step 1: Head over to iPhone Settings and scroll down to Camera
Step 2: Tap on Formats and navigate to Camera Capture
Step 3: Select the High-Efficiency option to capture photos in high-resolution
It will capture high-resolution images, yet the HEIC format isn't compatible with uploads. Though there's a conversion option, it often hampers the image quality.
Moreover, this workaround won't enhance the resolution of existing photos. Plus, this doesn't apply to the images that you get from social media or any platforms.
After rigorous testing, I have outlined the form methods for the process. The following section will help you with it!
How to Increase Resolution of Photo on iPhone?
To increase the resolution of photos on the iPhone, you can use an app or a desktop solution. The one you should go for depends upon the existing image quality, effectiveness, efforts, and time.
Method 1: Convert iPhone Photos to High Resolution using iOS App
There are several apps to convert iPhone photos to high resolution. One is Remini, which is effective but not in all situations. It reconstructs the details, which can refine your image with AI so much that it sometimes renders them an artificial look. Besides, it isn't suitable for text as well.
Here's where Canva helps to enhance the image for clarity!
Follow the steps given below:
Step 1: Download and install Canva from the App Store
Step 2: Sign up or log in with it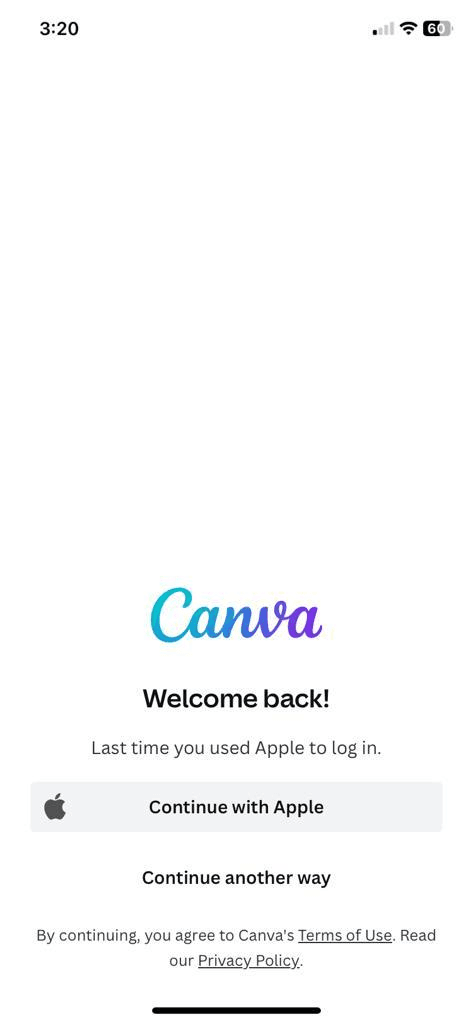 Step 3: Tap the + icon from the bottom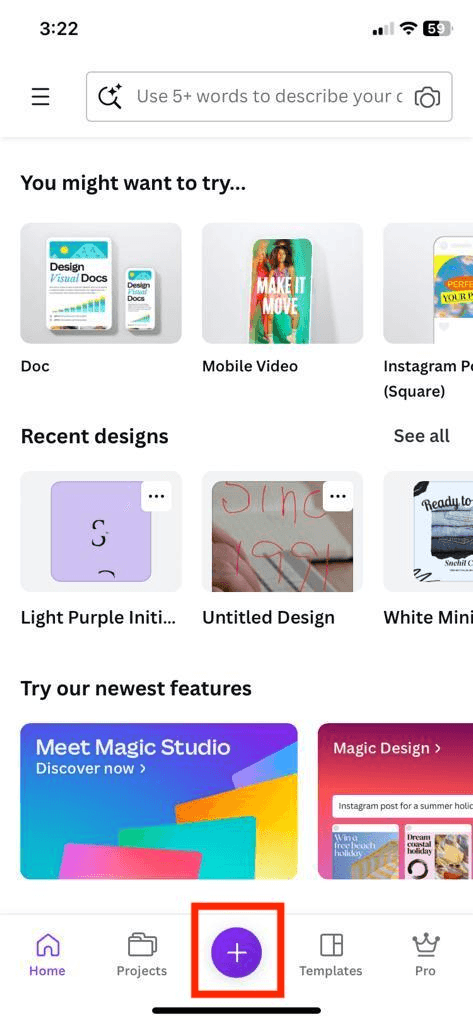 Step 4: Tap See all from the Start Creating from your media ribbon, select the image, and press the Add button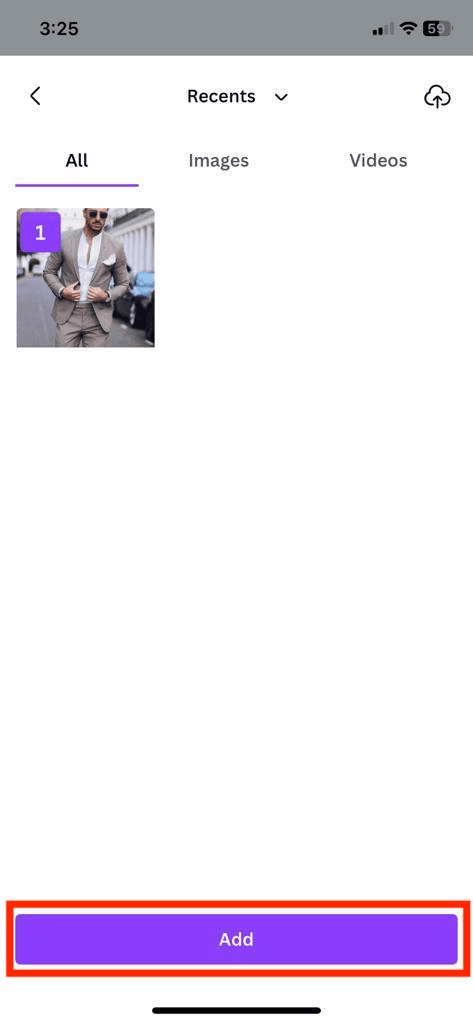 Step 5: Click Edit Photo from the top-right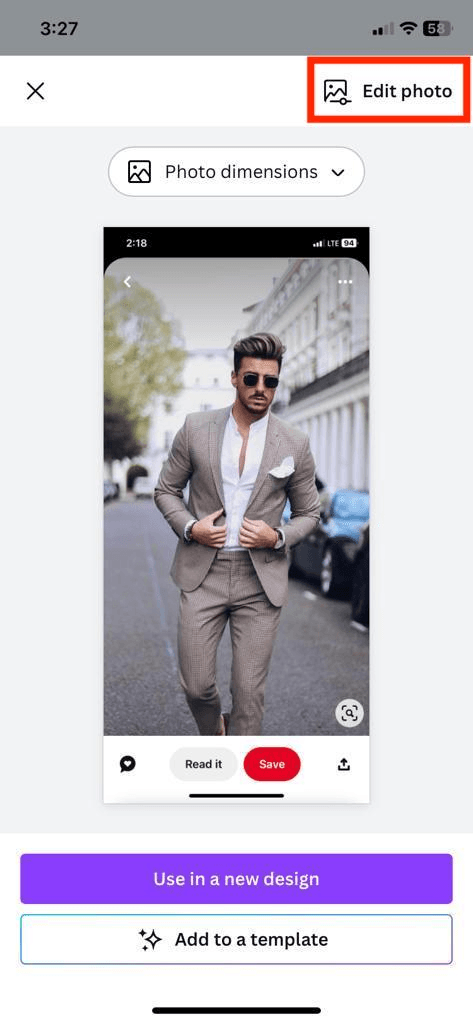 Step 6: A pop-up screen appears; select Adjust from the options given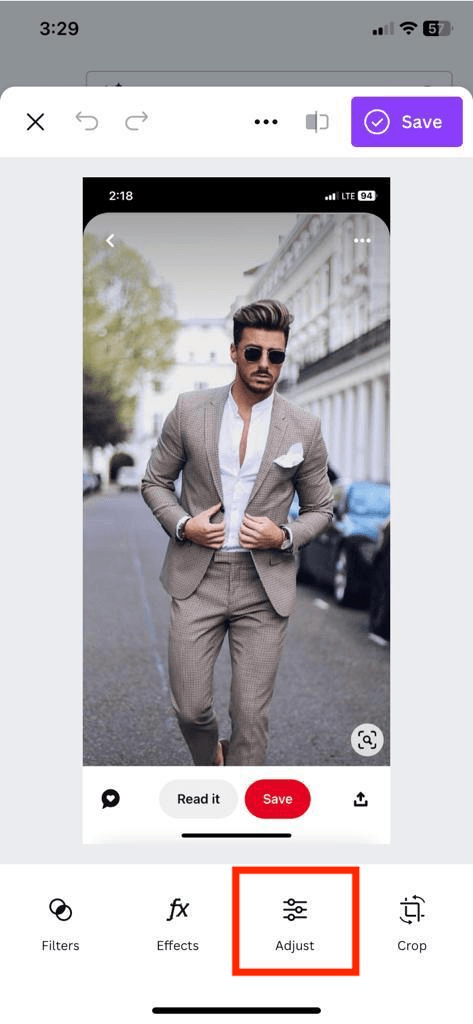 Step 7: Click the Auto-adjust option or navigate to Clarity and adjust its slider to convert it into a high-resolution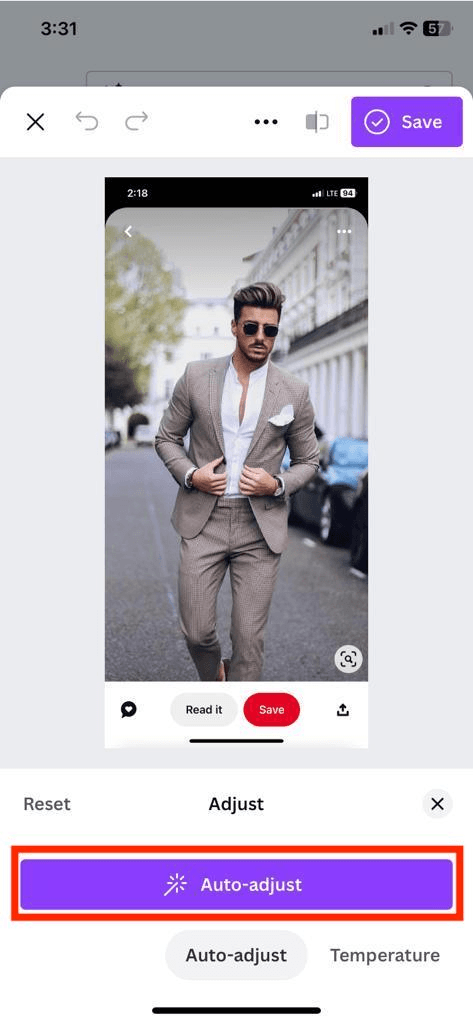 Step 8: Tap Save and select the Download option from the drop-down menu
It saves the image on your Photos app. The Auto Adjust feature automatically retouched the image for clarity, sharpness, colors, and similar. Yet you might feel that it has made any notable difference in clarity if your photo was of moderate quality.
Therefore, you can use the Clarity slider and adjust it per your preferences. However, dissatisfaction and not a significant difference in resolution can exist. So, for a profound difference and effective results, use an online tool.
Method 2: Change iPhone Photo Resolution using an Online Tool
There exist plenty of online solutions that you can leverage, but choosing the most effective and reliable one is a daunting task. After testing various tools like Adobe Online, Pixlr, and similar, I have jotted down the ones that met my expectations.
Did you know that you can make your pictures in 2k or 4k simply on your iPhone? The tool lets you do it as well!
Here's how it works:
Step 1: OpenOverscale AI from the link given
Step 2: Click Upload Image and choose the photo for which you want to increase the resolution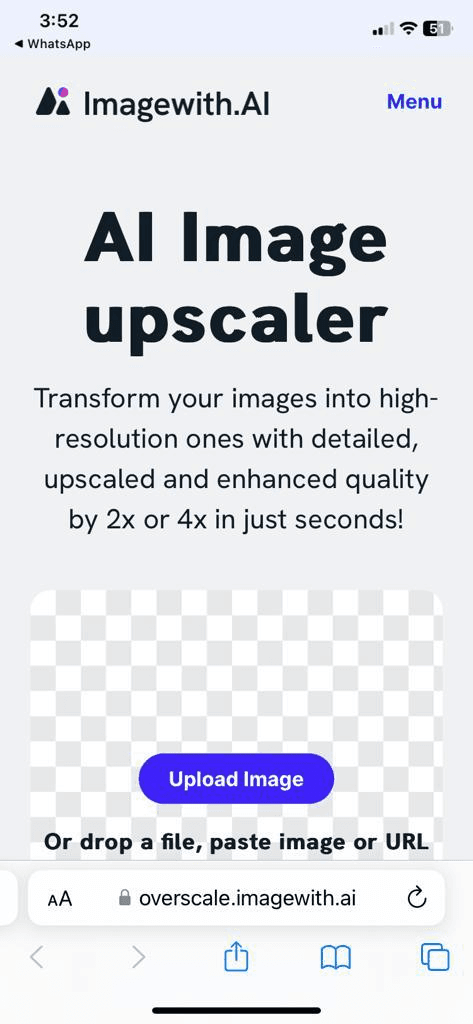 Step 3: Tap on 2x or 4x, depending upon your requirement, and tap Overscale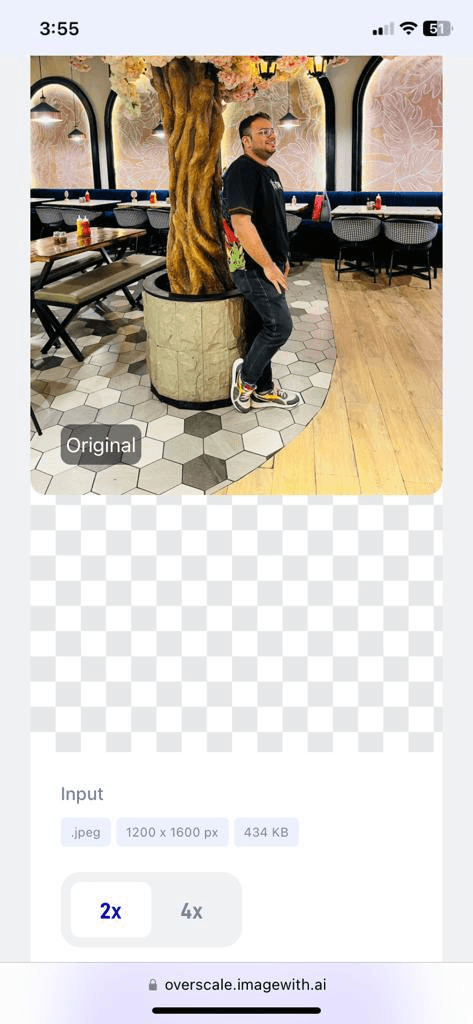 Step 4: The upscaled image appears; Download it
Alternatively, if you have any specific format in which you want the image, then tap the arrowhead icon beside the Download button. Further, choose the format and click Download.
It increases image resolution more significantly into 2K by setting the option to 2x by default. Whether it be blurry, pixelated, distorted, or any resolution from low to medium, Overscale needs a fraction of a seconds to give it a high resolution of 2k. Besides, it is even suitable for text.
Similarly, 4x gives your photo a 4K resolution, and for it, you can use Overscale Pro!
What To Do Before iPhone Photo Resolution?
Before iPhone photo resolution, check the image format in which you entered the high-quality image. Besides, for more focus, you should crop the unwanted areas. Changing the image color isn't required as Overscale enhances, uses filters and eliminates grainy texture as well.
But have you ever clicked a picture with an unwanted object in it, and you cannot crop it, or else it might spoil your image? Well, it's pretty sure, so you should remove unwanted objects from your photo.
Remove Unwanted Objects from Photo
Removing unwanted objects from photos on iPhone is a challenging aspect. This is because the variety of object removal tools claims to be better, yet few work. But you can use the best object removal tool for photos on your iPhone.
Here's how to do so:
Step 1: Open Clearoff on your iPhone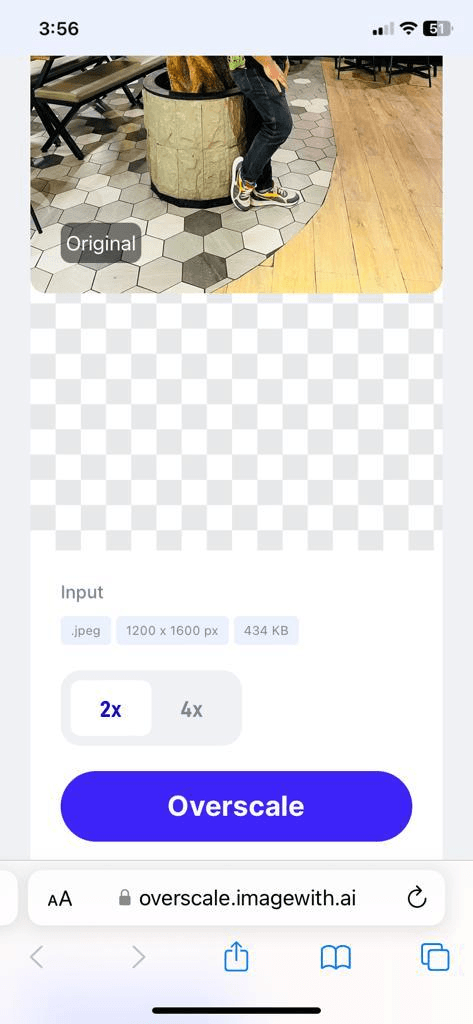 Step 2: Click the Upload Image button and choose the photo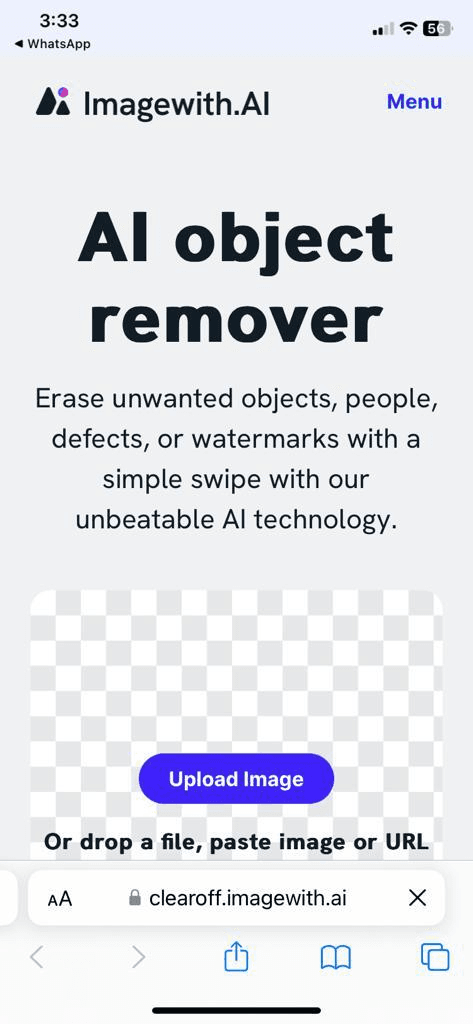 Step 3: Tap the object you wish to eliminate
Alternatively, you can instead choose the Draw option. Select Draw and use the brush to mark the object you want to remove
Step 4: Click the Download button to save it on your iPhone
Thus, in a few clicks, your unwanted objects get removed from the photo. Similarly, you can tap more to eliminate more things.
Remove Background from Photo
Who doesn't like a perfect picture? For that, you would be taking plenty of them, and you then find only a handful of them worth uploading. But what if the background isn't to your liking? Or do you wish to remove it for a more professional appeal? Some of you would even use it for your social media profile picture. Therefore, you would look for methods to remove the background from the photo.
Follow the steps given below to do so:
Step 1: Open Outcut AI in your iPhone browser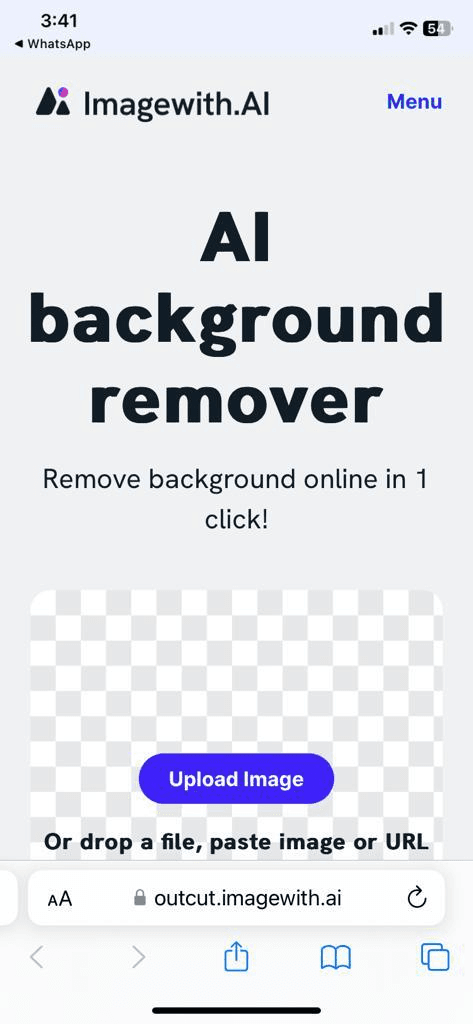 Step 2: Choose the image you wish to remove the background from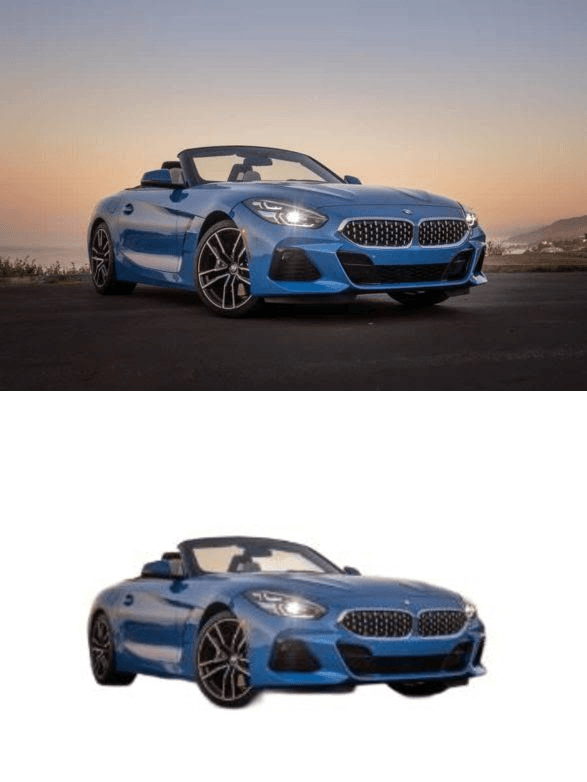 Step 3: Click Download to save it locally on iPhone storage
Plenty of background removing methods like Remove.bg, and even Canva provides it. However, the former needs a subscription to download the transparent background image in HD. Besides, the latter one's background removal is a paid feature. Free ones do exist, like PhotoRoom, but they do generate watermarks.
It's noteworthy that you can use remove.bg, but the low-quality output, when enhanced to 2x, might render the original resolution. This is because the loss of quality is tremendous with remove.bg. Therefore, Outcut AI, with one click, is undoubtedly a rescue.
After removing the background and refining the image with Outcut and Overscale, you get the perfect picture with sharper bezels. The resolution is enhanced after the process.
The Final Word: How to Make Pictures High Resolution on iPhone
If you were looking for how to increase resolution of photo on iPhone, then you would have got your answer! If you want your iPhone to click high-resolution pictures, tweak the Camera Settings and use High-Efficiency mode.
Yet, you can skip this method if you have any issues with the HEIC format or want to increase the existing photos' resolution. In such a scenario, you can use Canva for moderate-quality images to increase resolution. But if you don't know how much to adjust the slider, use an online tool.
Overscale AI works well as it lets you increase resolution to 2K and 4K. Besides, its advanced algorithms automate the process, and in a few seconds, you get an image that is sharper and has greater resolution.
Further, to get a more ideal picture, use Clearoff to remove any unwanted objects. If there are too many unwanted objects or the background isn't that perfect, remove it online using Outcut AI.
Upscaling after removing the background is more effective for increasing resolution, especially if you need it for social media.
However, tools like remove.bg and Remini add a black background to enhance images with transparent backgrounds. Even Canva doesn't let you download such enhanced images for free. Therefore, Overscale AI is your ultimate solution!
Frequently Asked Questions?
Does the iPhone have a 1080p Camera?
Yes, you can capture videos at 1080p using the Action mode of the iPhone Camera.
What is the best method to improve photo resolution on an iPhone?
To improve photo resolution on iPhone, go to Overscale AI, upload your image, and click Overscale. Your photo will be processed to 2K resolution in seconds and then downloaded in your preferred format. Alternatively, you can even upscale to 4K.
What is the free app to improve photo resolution?
You can use Remini AI to improve photo resolution effectively. You can use it for free with the workaround of watching ads. Yet it's noteworthy that the app has limited credits for fixed hours. After they finish, you have to wait for them to restore.
If that doesn't sound good, you can use Canva for moderate improvement in photo resolution. Yet, if that doesn't work, go for an online tool like Overscale AI.