Have you ever been in despair because one of your precious videos turned out blurry? Whether you hope to repair a painfully fuzzy video or simply breathe a little fresh air into your slightly misty artwork, worry no more! This essential guide will explain how you can remove even the most severe blur and make your video shine in all its splendor.
In this comprehensive tutorial, we have carefully selected the best software and online apps in 2023 to help your video become crisp and clear! Get your quick, easy and practical tips on how to remove blur with your iPhone, video editing software or a free online app!
Ready to know how? Let's get started!
Part I. How can I remove blur from a video on my iPhone?
Before you look into online tools to repair your video, start with your smartphone: it can be your best ally! Adjusting the settings can help you solve the problem in the first place.
Here's our pick of the top 3 problems that you may solve with your smartphone.
How to make video clearer on iPhone?
Here's a 3-step guide on how you can unblur the video using your Photos app.
First, open the 'Photos' app and choose the video you want to unblur.
Tap on 'Edit' andgo to the Adjustment panel below.
Search for 'Noise reduction' and 'Sharpness' in the adjustment panel. Test these two labels until you get the desired result. We recommend increasing the noise reduction label up to 100, and 'Sharpness' up to 20/30.
These easy adjustments will not perform miracles, but your video will certainly be sharper and shinier!
2. How do I fix blurry videos sent from my iPhone to Android?
IPhone and Android use different hardware, so it's common for an iPhone video to look blurry on Android. Here's what you can do to fix the problem.
This is a quick, easy and free app allowing you to share a large number of files without losing the video quality. It is compatible with both iPhone and Android devices.
Here's how you can use it:
Install the app on your device and allow access to your media library.
Select the video by tapping the circle to the left of the video.
Hit 'Send'. Hooray, your video will be sent intact!
b) Use a cloud service to transfer videos.
Old good cloud-based services, such as Dropbox or Google Drive, can also do the trick. Free and easy to use, they can help you save the quality of your video when you share it. All you have to do is upload your it and share it with the receiver!
3. How do I fix the blurry issue on my iPhone?
Here's what you need to know in order to say goodbye to blurry videos in the future!
Carefully wipe the iPhone camera. It may be all you have to do to get rid of the blurry issue!

Adjust your settings to increase your video quality.
Here's how you can do it:
Go to 'Settings' and choose 'Camera'.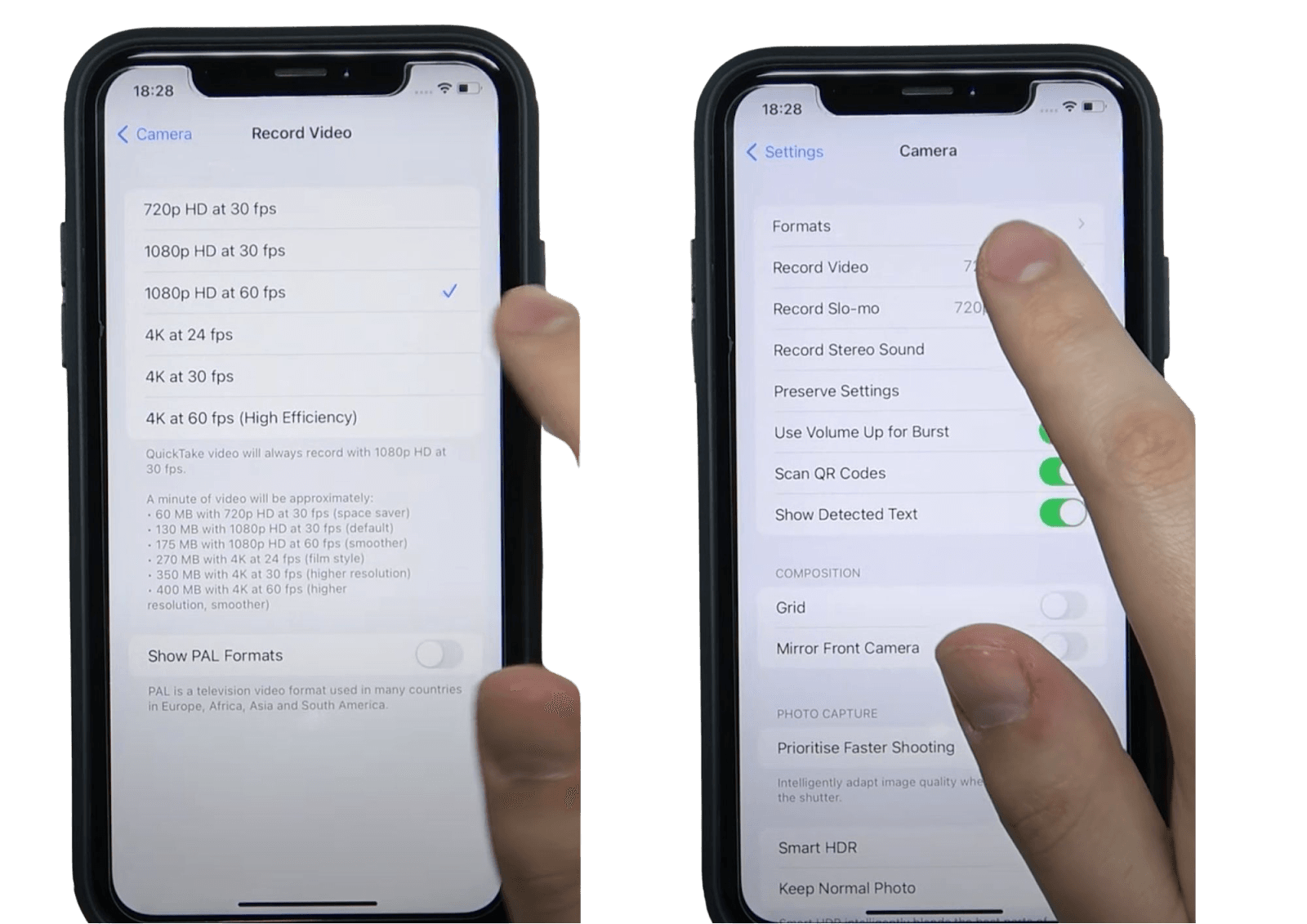 Click on 'Record video'. Choose a high resolution, such as '1080p HD at 60 fps' and say goodbye to the creepy blur!
Part II. What software makes videos clear?
So far, we have looked at how you can use your iPhone to make your video clearer or prevent potential blur. But what if you need a more powerful software to help you remove blur from your video more efficiently? Keep reading!
Here's our selection of 3 top Video Editing/Repair software, which will help you unblur your masterpiece.
Part of Adobe Creative Cloud, Premiere Pro is widely popular with professional video editors. If you use Adobe suite, it may be an interesting option for you to explore. How do you make a blurry video clear in Premiere Pro? Here's a short step-by-step guide on how to do it.
Open 'Premiere Pro' and add your video to the timeline.

Click on the 'Effects' panel and type in 'Unsharp mask' effect in the search box.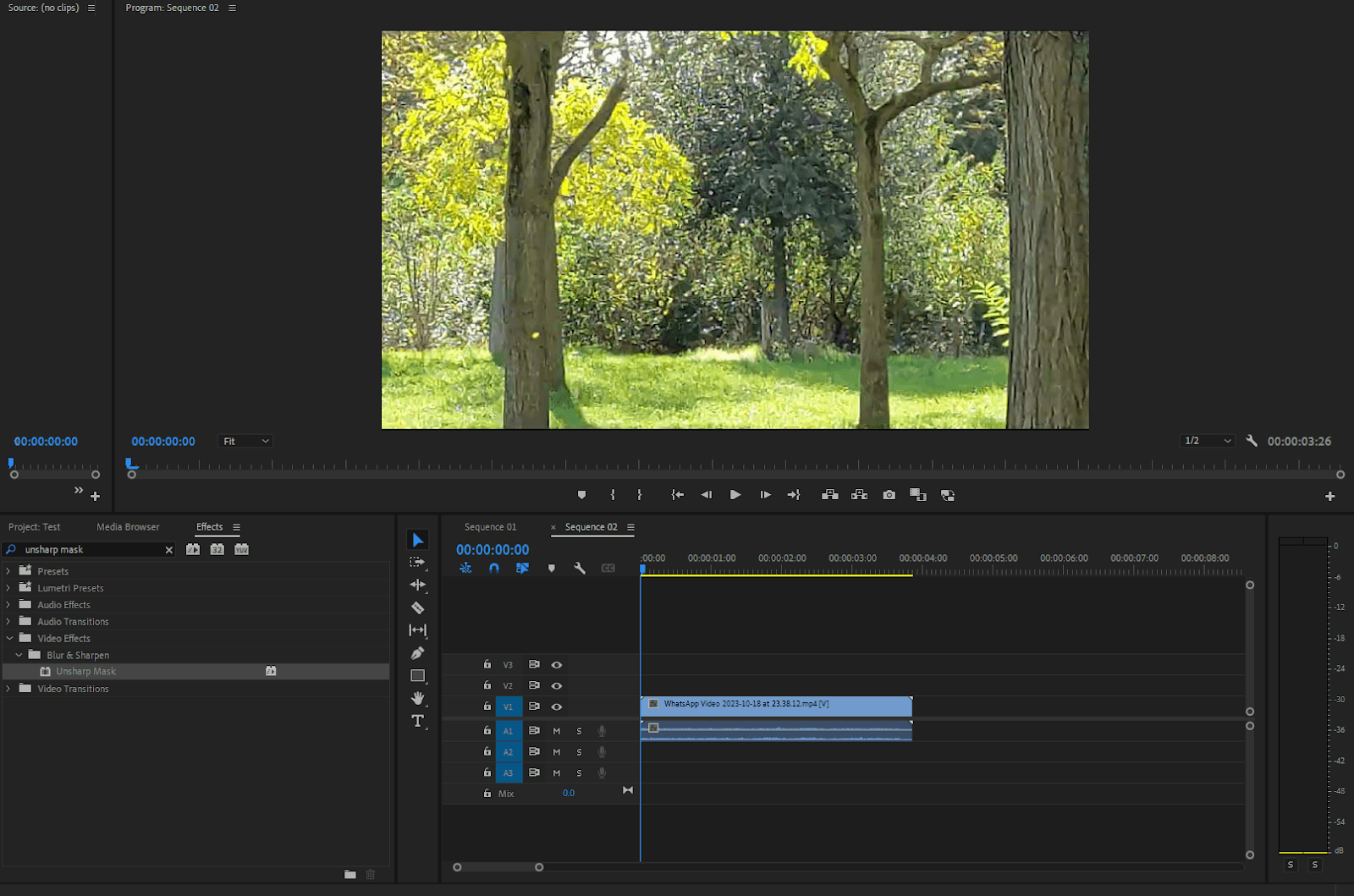 Click on the effect and drag and drop in onto your video. Now you can start experimenting with the settings!

In the left corner, try out the 'Amount' label. Don't set a very high number as your picture would look very unnatural. The key is to keep in the range of 50-100. Test it until you find what works best for you.

You can also change the 'Radius' label, which will increase the contrast in the picture. Keep in the range from 1 to 10 for the best effect.

Now your video will already become sharper than before. You can adjust the sharpness by testing various parameters to achieve the ideal result.
Main features:
a wide range of professional video editing tools

various filters allowing to sharpen a video sharpen your video with a very high degree of precision

impressive color correction and grading tools

allows you to create a high-resolution video up to 8K and more

works on all formats and devices.

AVCLabs Video Enhancer AI.
Powered by AI technology, HitPaw Video Enhancer allows you to automatically upscale a video in 1 click. It enhances low-resolution videos and brings back the quality of a compressed video, removing the fuzzy outlines and edges. You can explore its main features in a free trial, which is quick and easy to download.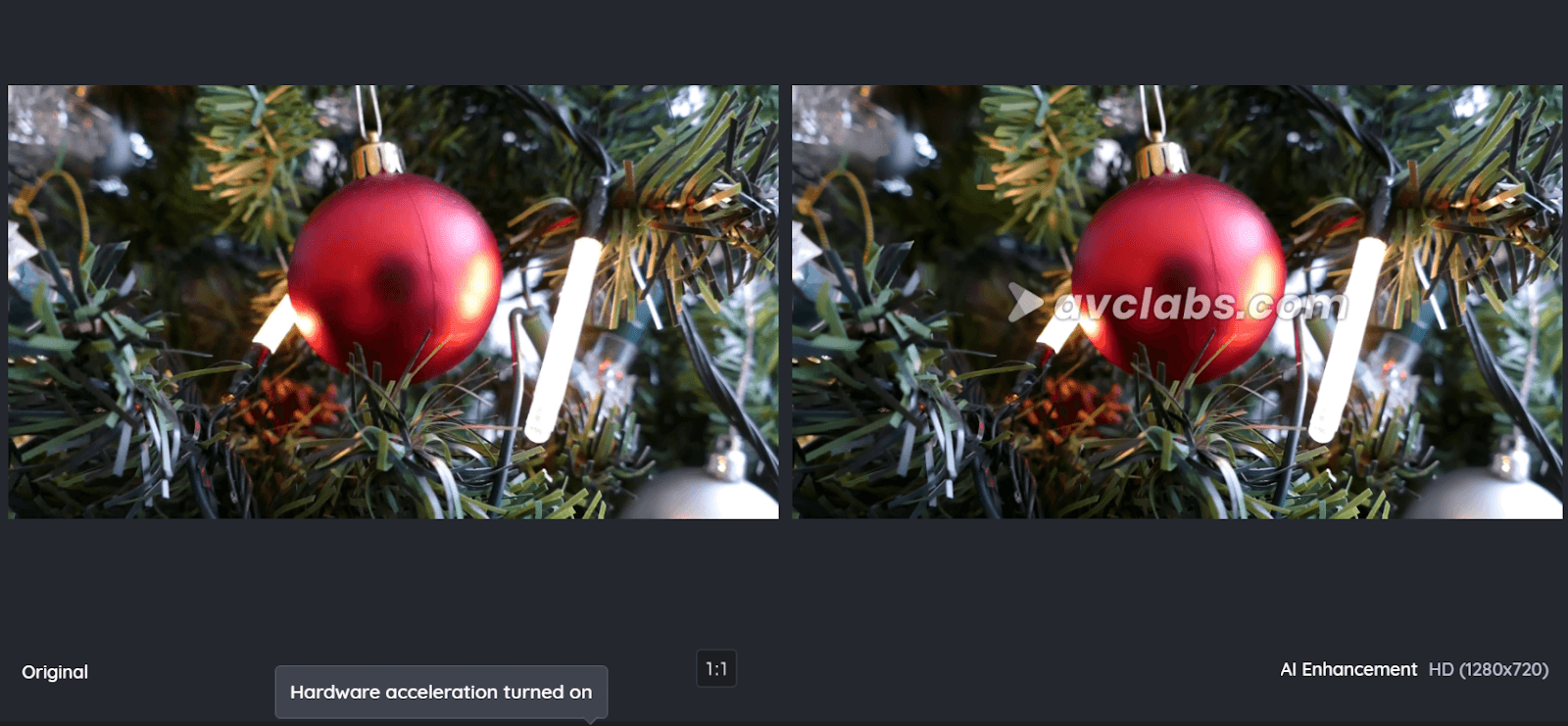 Main features:
powerful AI algorithm able to reconstruct blurry edges with a high degree of precision

significant increase of video quality (which may take time)

balance and saturation adjustment for a clearer video

Face Enhancement a clearer, less pixelated or grainy face

Motion Compensation to clear up the blur from an action picture

compatible with Windows and Mac.

Reparit Wondershare
With its easy 3-step repair process, Repairit Wondershare is another popular software for clearing blurry videos. Its user-friendly interface has made it popular with many creative professionals looking for a quick and efficient solution to remove the blur.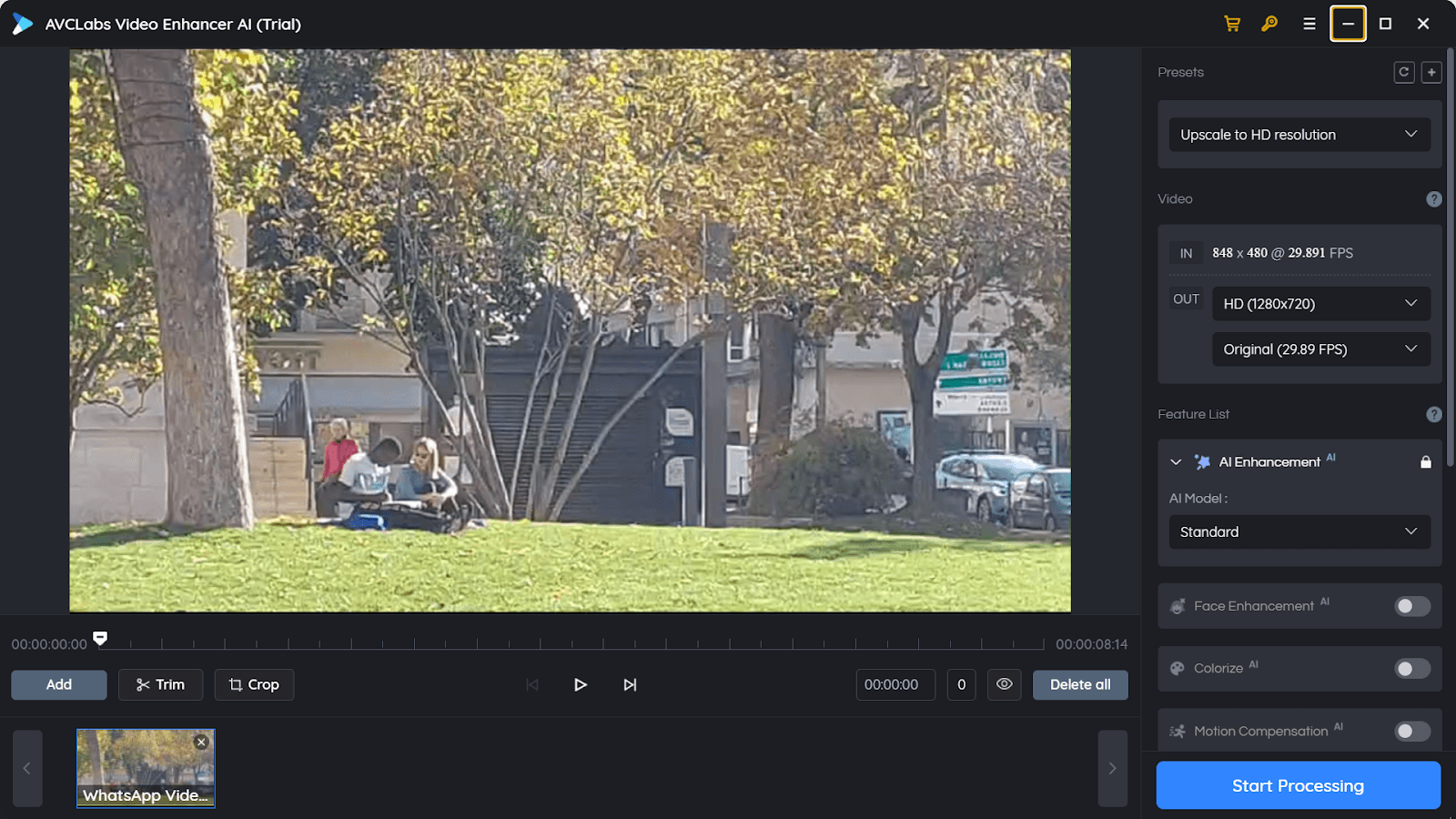 Main features:
easy and straightforward UI, which is easy to navigate even for beginners
Advanced Repair feature allowing a quick repair even of the most corrupted videos
supports an impressive range of formats, including the latest INSV format
quick processing time
a free trial, with a possibility to buy a perpetual license or only a Video repair sub-product.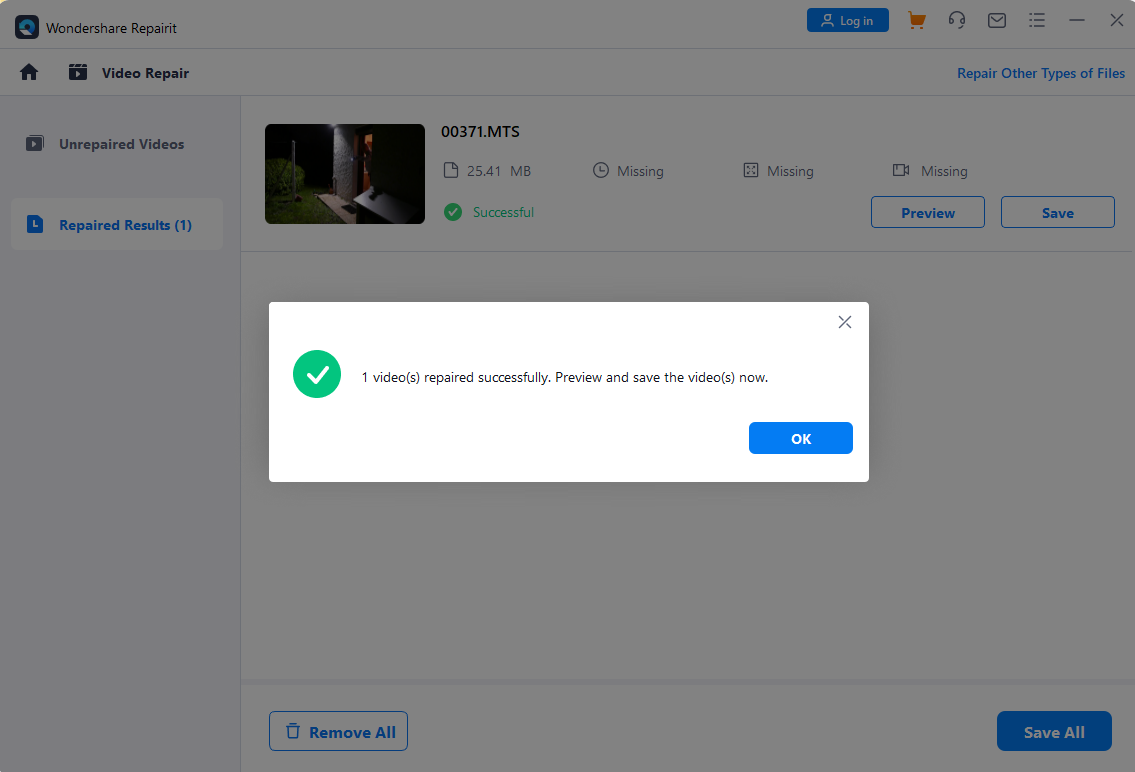 Part III. How to remove blur from a video online?
And what if you don't feel like installing any dubious software on your device? Are you looking for a faster way to fix the blurry video online? Or maybe you want to remove the blur from your YouTube video? In that case, we have selected the best online solutions to unblur your creative work!
Is there an app to clear up blurry videos?
Let's dive into the ways you can get rid of the annoying blur online in a quick and easy way. Here's our pick of 3 free online apps to make your video sharp and shiny!
a) Flixier.
With its online Video Clearer, Flixier gives you control over the blur in your video. You can adjust Contrast and Brightness to improve the video quality or make a dark video look brighter. While these settings will not make a blurry video perfect, they will help it be visually more enticing!
Main features:
detailed interface, allowing you to experiment with various features, such as brightness, vibrance, contrast, saturation and HueRotation.
while it may look rather technical in the beginning, the interface is actually very user-friendly
gives you an opportunity to test basic color adjustments to find the perfect solution for the blur.
b) Clideo
Like Flixier, Clideo allows you to adjust brightness and contrast. While both apps do not provide a magic solution to the problem, they help you regain control over your video and test a wide range of settings. In a few easy steps, your video can become sharper and clearer!
Main features:
quick image processing time, giving you a swift access to color settings
user interface is simpler than in Flixier and more suitable for beginners
allows you to save your adjusted video in Google Drive or Dropbox, which you can easily share without quality loss.
c) 4DDiG Free Online Video Repair.
A quick tool allowing you to fix the blurry video in 3 easy steps. This could be a perfect solution if you are looking to enhance your video quickly without spending extra time adjusting it manually.
Main features:
a simple and very user-friendly interface
a delightfully quick processing time
Advanced Repair feature, giving you a chance to repair even the most corrupted videos.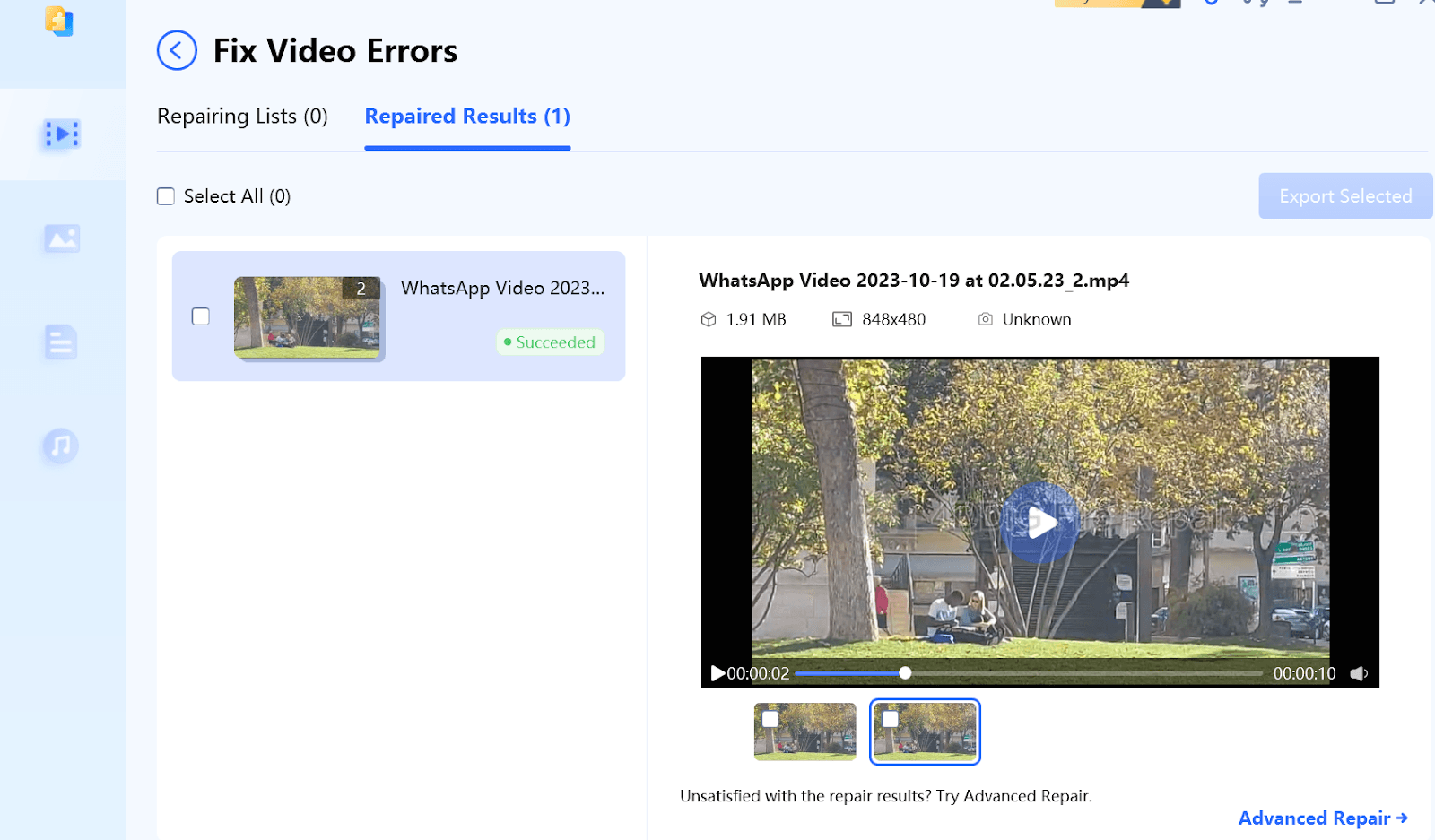 Which app is best to remove blur from video?
Confused with so many similar apps? The choice of the best app will largely depend on the problem you are trying to solve. If you are looking for a dramatic transformation, then you could try Premiere Pro, with its rich palette of professional settings. If you are looking to reduce some blur that crept in into your video due to the lack of light, then Flixer or Clideo may do the trick.
Here are the 3 top problems that we paired with possible solutions:
Problem 1: How can I improve video quality for free?
While most software and online apps offer a free trial, 4DDiG Free Online Video Repair is completely free and could be your best option.
Problem 2: Can you Unblur a blurred face in a video?
Your best companion could be HitPaw Video Enhancer, as it offers an advanced Face Enhancement feature.
Problem 3: How do I manually change video quality?
If you want to have full control over your video, you could try Premiere Pro. As a leading software for video professionals, it gives you a wide range of settings to unleash your creativity.
How to remove blur from a YouTube video?
And what if you've noticed that the annoying blur has crept into your YouTube video? What your audience is looking for is a clear and sharp video on your YouTube channel. Let's see how you can correct it and retain your viewers' attention.
Go to your YouTube and choose the video you want to correct.
Click on the 'Settings' icon.
On an iPhone, go to 'Quality' and increase itto 1080p.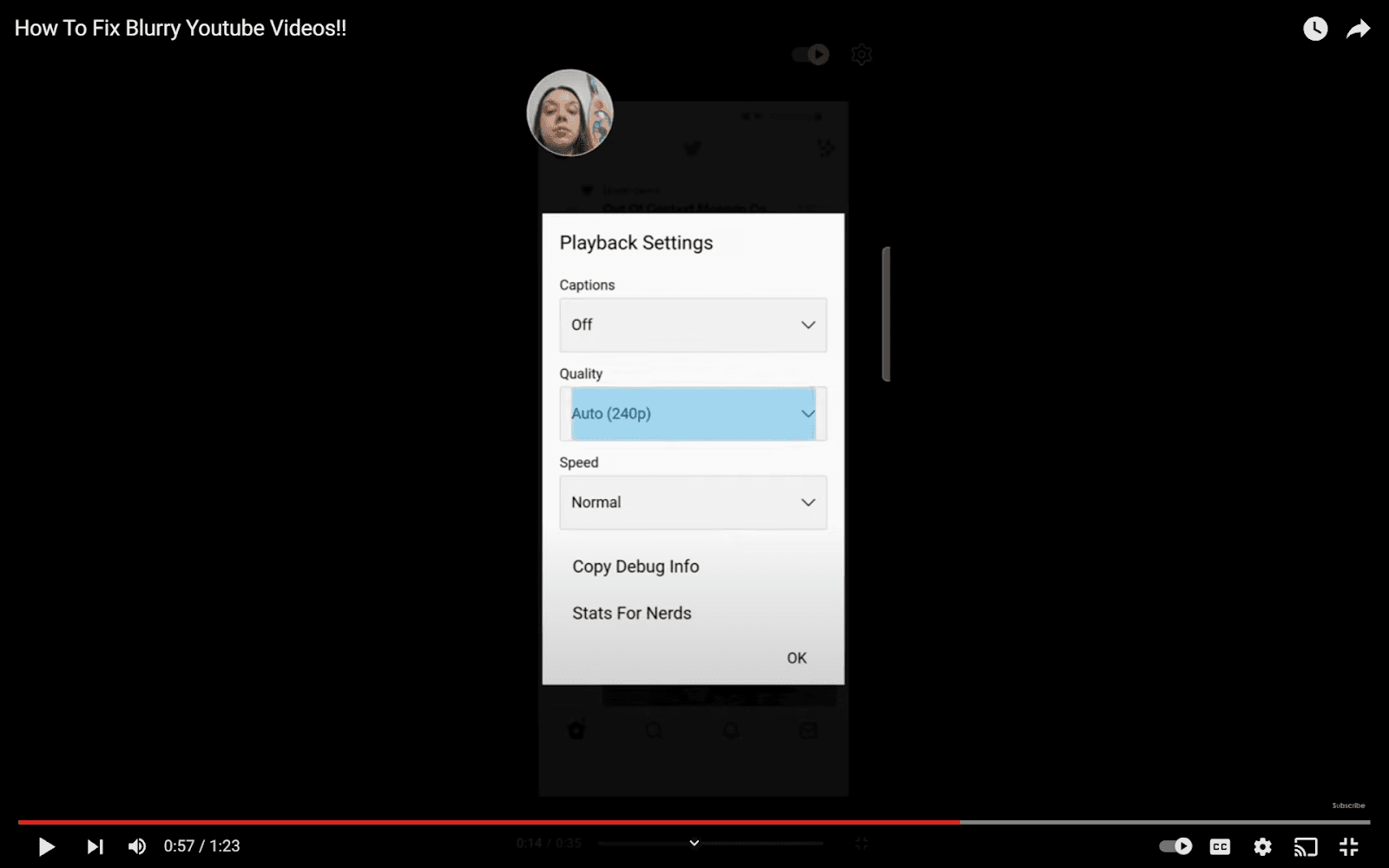 If you have an Android, choose 'Higher picture quality'.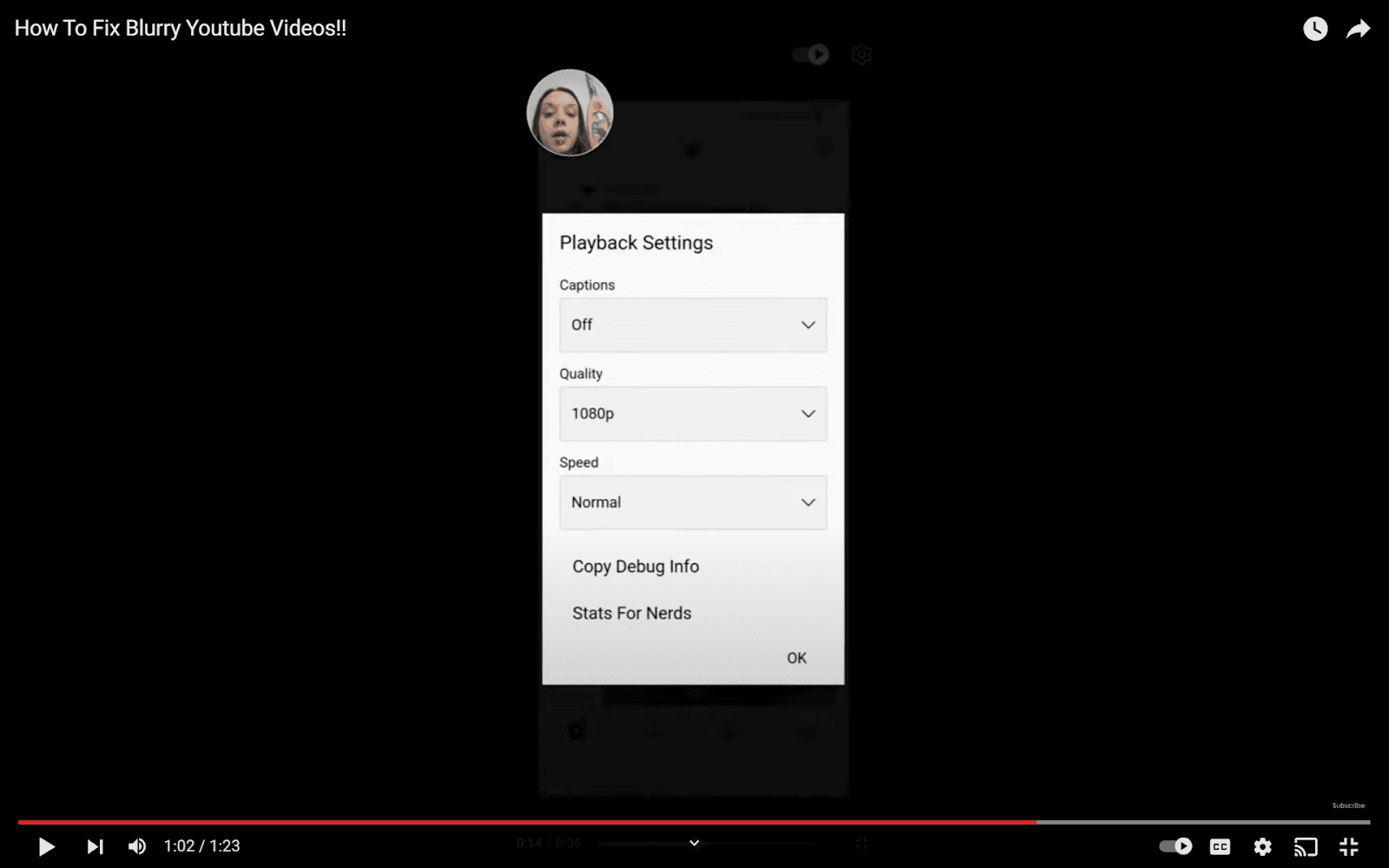 Now your video must be much clearer and sharper!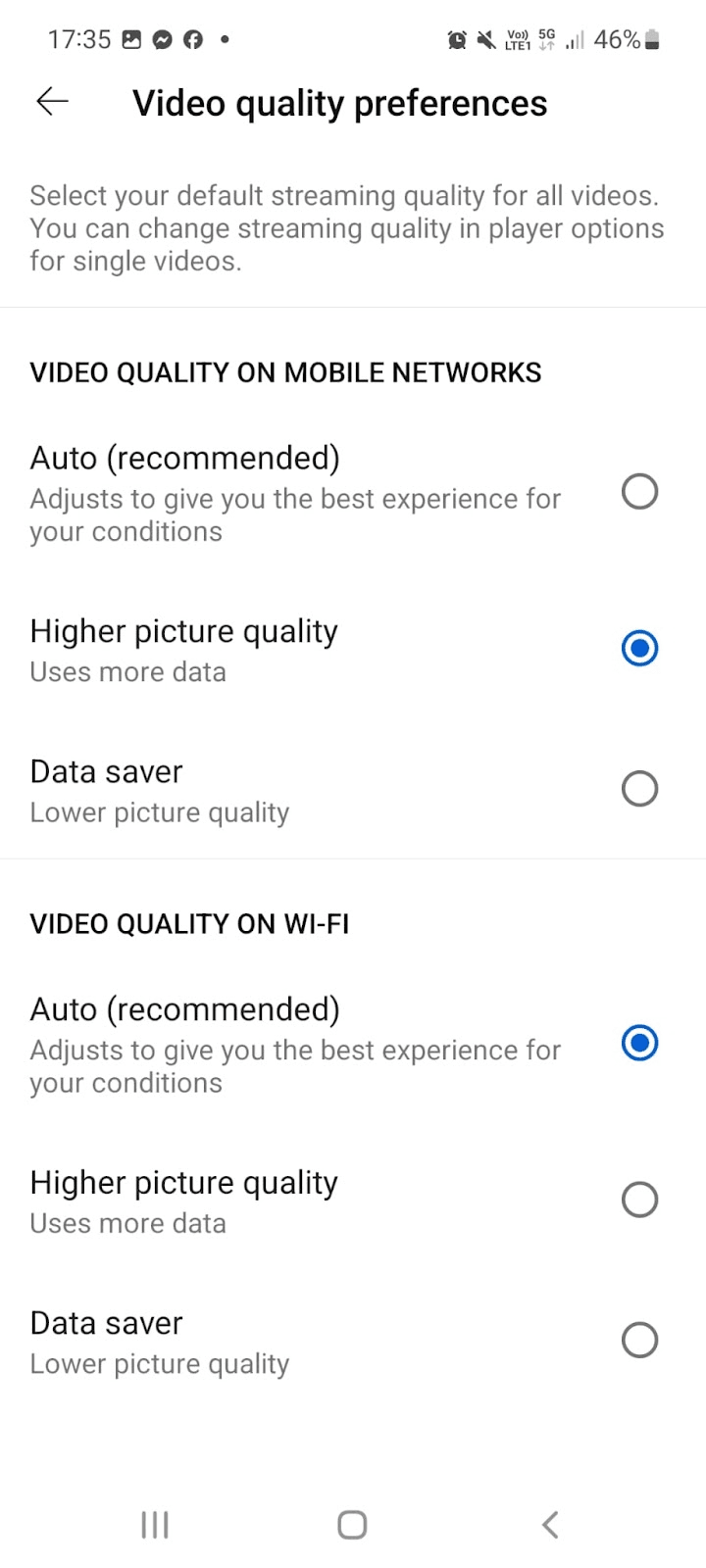 b) Wondershare Filmora - YouTube Video Editor.
If you are looking for a more powerful alternative to enhance the quality of your YouTube Video, this software may be an interesting option. It offers a wide range of tools to create a compelling story on your YouTube channel.
Main features:
fast editing process
Video Stabilization feature, allowing you to remove the blur from a video
opportunity to instantly upload your videos to Social Media
a wide range of editing tools
compatible with Windows and Mac.
Part IV. How to upscale a picture for my video project?
Now you know the ins and outs of how to remove a blur from a video online. But what if you want to add pictures to make your video project complete? Whether the culprit is a shaky camera or low-light environment, a low-quality photo can ruin the success of your creative project in the same way as a fuzzy video.
Whether you want to add a photo in the beginning, in the middle or at the end of a video, your visual has to be clear and compelling. If you are making a YouTube video, a high-quality picture in your video thumbnail will be the first thing that your audience will see!
Since photos are such an integral part of a video making process, knowing how to remove the blur in both types of footage can stand you in good stead.
Here are the reasons why both your videos and photos may be blurry.
Your camera is consistently out of focus.
This may affect the quality of both photo and video footage, making them blurry. If you don't have the right lens, the blur may equally affect your photos and videos.
You tend to shake your camera.
If you often accuse yourself of shaky hands, chances are your photos will suffer from the blur in the same way as your videos.
You tend to work in a low-light environment.
If your working environment is darker than usual, you will notice that both your photos and videos are blurry. Darkness makes autofocus more difficult, resulting in fuzzy and unclear footage.
Your object is constantly moving.
Whether you work with young children or pets, chances are your subject will be in constant motion, resulting in a blurry picture.
Your subject is too far away.
If you are located at a significant distance from your subject, they are likely to be blurry and indistinct. If the subject is too far away, no app or software may be able to help.
Knowing the common reasons why videos and photos are blurry or low-quality boosts the chances of success of your creative projects.
But what if you already need to enhance some photos for your video or YouTube project? Keep reading!
What is the best online app to upscale a photo?
With its cutting-edge AI technology, Imagewith.AI makes your photo crisp and clear with the lightning speed. It breathes new life into your photograph by turning the opaque outlines into a captivating visual artwork. Powered by a fast and intelligent algorithm, its three main features - Overscale, Clearoff and Outcut- fully complement each other, letting you create a breathtaking visual story.
What is Imagewith.AI Image Editor?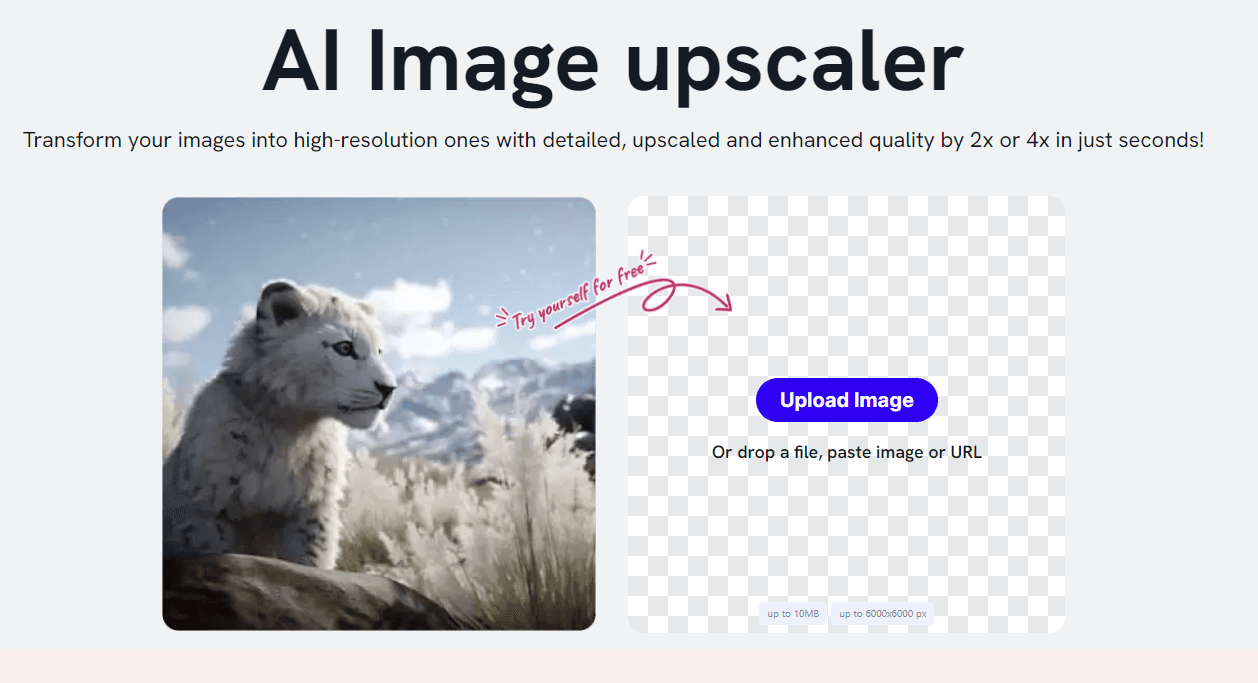 Meet a remarkable trio powered by state-of-the-art AI technology, put at the service of your creative talents! It can help you enhance your video story by creating high-quality built-in visuals. Here's what it does:
Imagewith.AI Overscale: upscale your picture to create a stunning first slide or YouTube thumbnail. .
Imagewith.AI Clearoff: erase unwelcome objects or people that take your audience's attention away from your video story
Imagewith.AI Outcut: remove noisy or distracting backgrounds to showcase your subject in its full glory.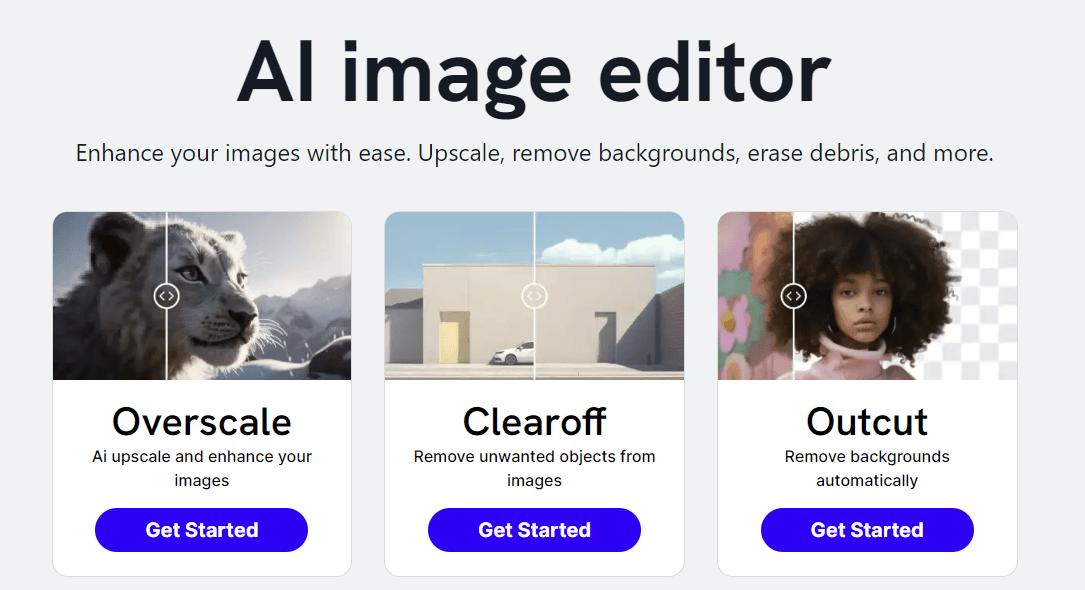 Why is it the best photo app in 2023?
simple, straightforward and user-friendly interface, suitable even for complete beginners
intelligent machine learning algorithm correcting the tiniest imperfections
significant noise reduction, making your picture clear, sharp and bright
fast speed paired with high efficiency for the best and quickest result
compatible with a wide range of formats
requires no software installation
is free to use.
Conclusion
Knowing how to create a high quality video and photo footage empowers you as a creative professional. It may be hard to choose between various options that are available online. This guide aimed to give you a complete tutorial on the leading software and online apps to help you make the right decision.
While the choice is large, not all online video and photo editing services are tested and trusted in the same way as others. Some photo editing apps, such as Imagewith.AI, sets an example in terms of speed, performance and efficiency. There are many options that can enhance your artwork, but there are few that make it crystal-clear. Test them and take your creative editing process to a new level, creating a cherished long-lasting memory!