Transforming your images for marketing your brand has become essential. Thus, you need to ensure that the quality of your product photography remains top-notch even when enlarged. Imagewith.ai has cut the hassle and made it easier to upscale any image by retaining the quality without requiring prior experience and saving time. It caters to the need of every user with simple procedures, and your photo is processed with its intelligent AI algorithms in no time. Once the image is upscaled, you can easily download and save it.
Here you will learn about the upscaling procedures, facts, features, and queries for Imagewith.ai. So, let's get started from scratch.
What is Image Upscaling?
Image upscaling is a process of photo enlargement without deteriorating its resolution quality. This can be done by processing it through traditional downloadable software or using the latest AI tools.
AI Image Upscalers have gained popularity due to their features and efficiency. They have minimized the risk of losing clarity and sharpness when details.
When the image is upscaled, the DPI (dot per inch) is increased alongside its resolution. In a nutshell, the photo will not be pixelated, and every detail will be preserved.
Image Overscaling with Imagewith.ai; A Quick Brief
If you are tired of trying different ai tools that claim to be perfect but, in reality, are not, then it is probably time to switch to a better option.
Image.ai is a trusted source for transforming your images with high-resolution and crisp detailing. It will enhance your image to 2x or 4x within a few seconds, up to 16000 x 16000 pixels maximum.
This image upscale tool online has the potential for visual enhancement with the leverage of cutting-edge ability to improve your landscape, portraits, or even artifacts.
Imagewith.ai also comes in handy for avid photographers and digital artists too. You can enhance your website by adding stunning visuals to portray your aesthetics.

How Does Overscale Work?
The overscale uses artificial intelligence and programmed algorithms with different learning techniques. When the image is uploaded, its innovative algorithm detects the low resolution, learns its patterns, and processes it to generate a high-quality photo by filling in the missing gaps.
How to Upscale a photo in seconds with Overscale Imagewith.ai?
Imagewith.ai offers easy photo upscaling efficiently in a few seconds. Here is how you can do it. You can do it.
Step 1: Go to the Imagewith.ai
Visit Imagewith.ai. You will land on the homepage. There, click on Overscale from the menu bar to Click on the Get Started button under the Overscale tab.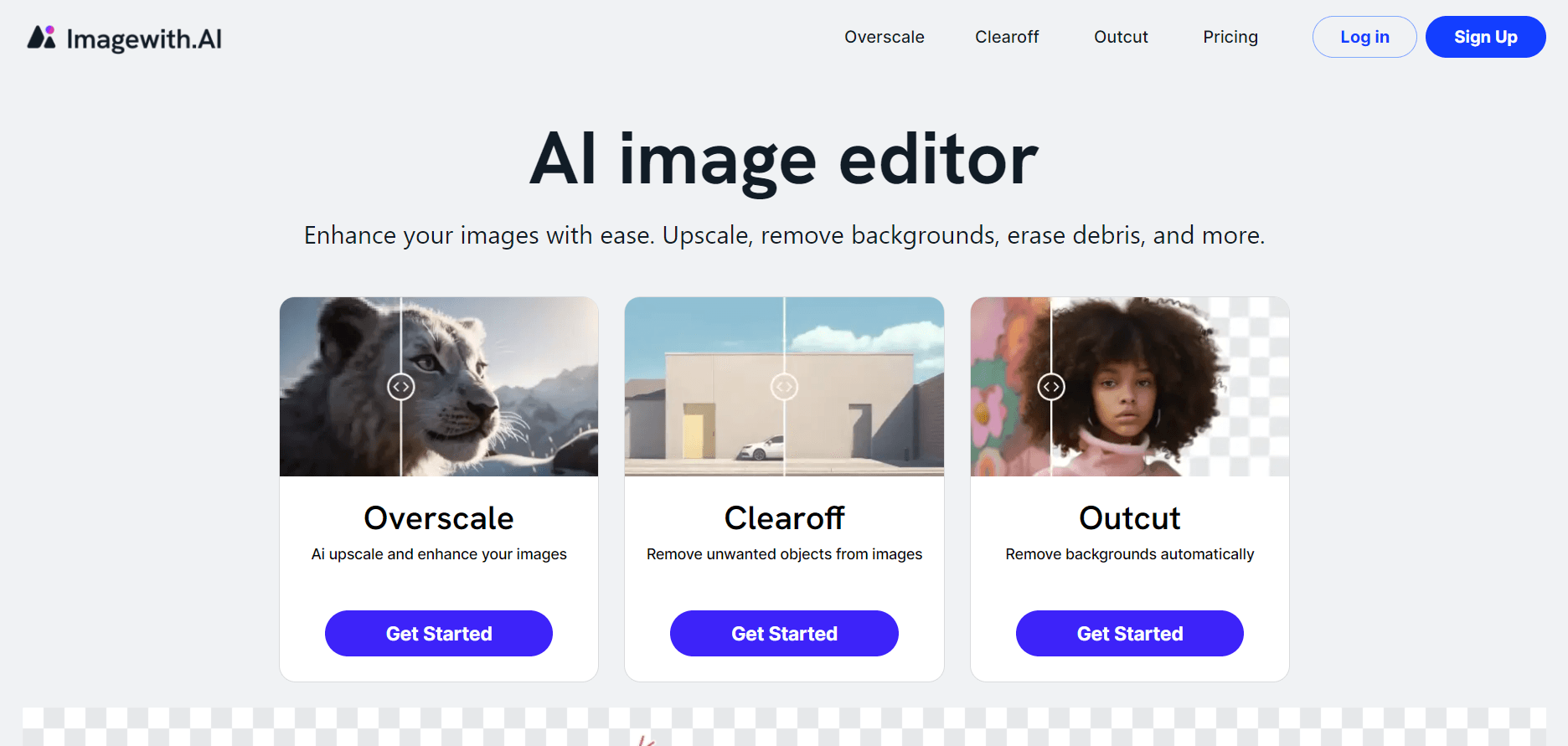 Step 2: Upload Image
The next step is to upload the photo. You have the option to upload or drag the image that you want to resize.
To upload your image by clicking, Click on the uploaded image and select your file from the folder.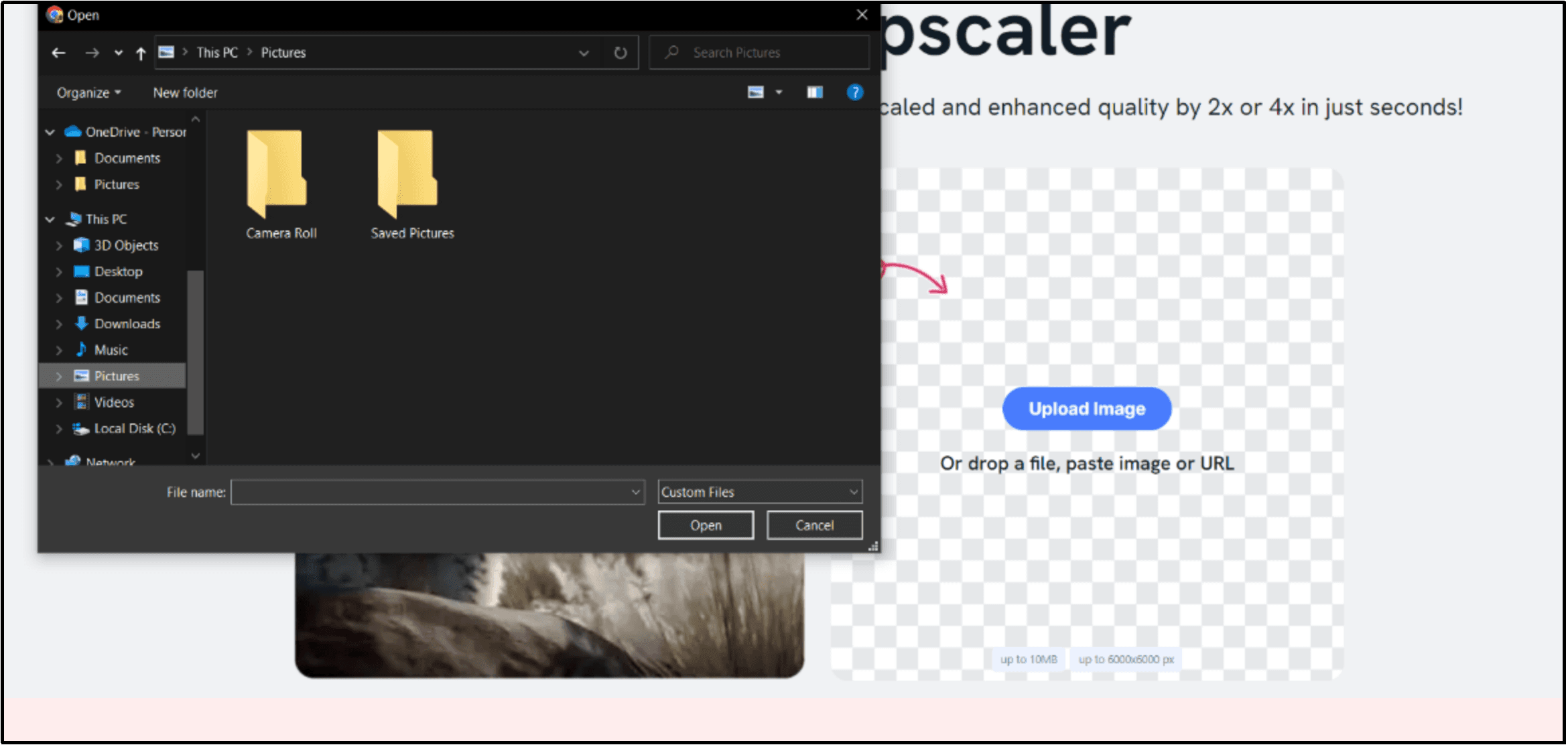 Click on open, and your image will upload in 2 to 3 seconds, be processed automatically without any additional command, and take you to the editing page. The other method is, Select the image, drag it, and release it in the working area. Your image will be uploaded.
Step 3. Select Your Requirements
Once the image is uploaded, select your required style. This will allow you to resize the image 2x and 4x. and proceed by clicking Over Scale. Your image will be resized.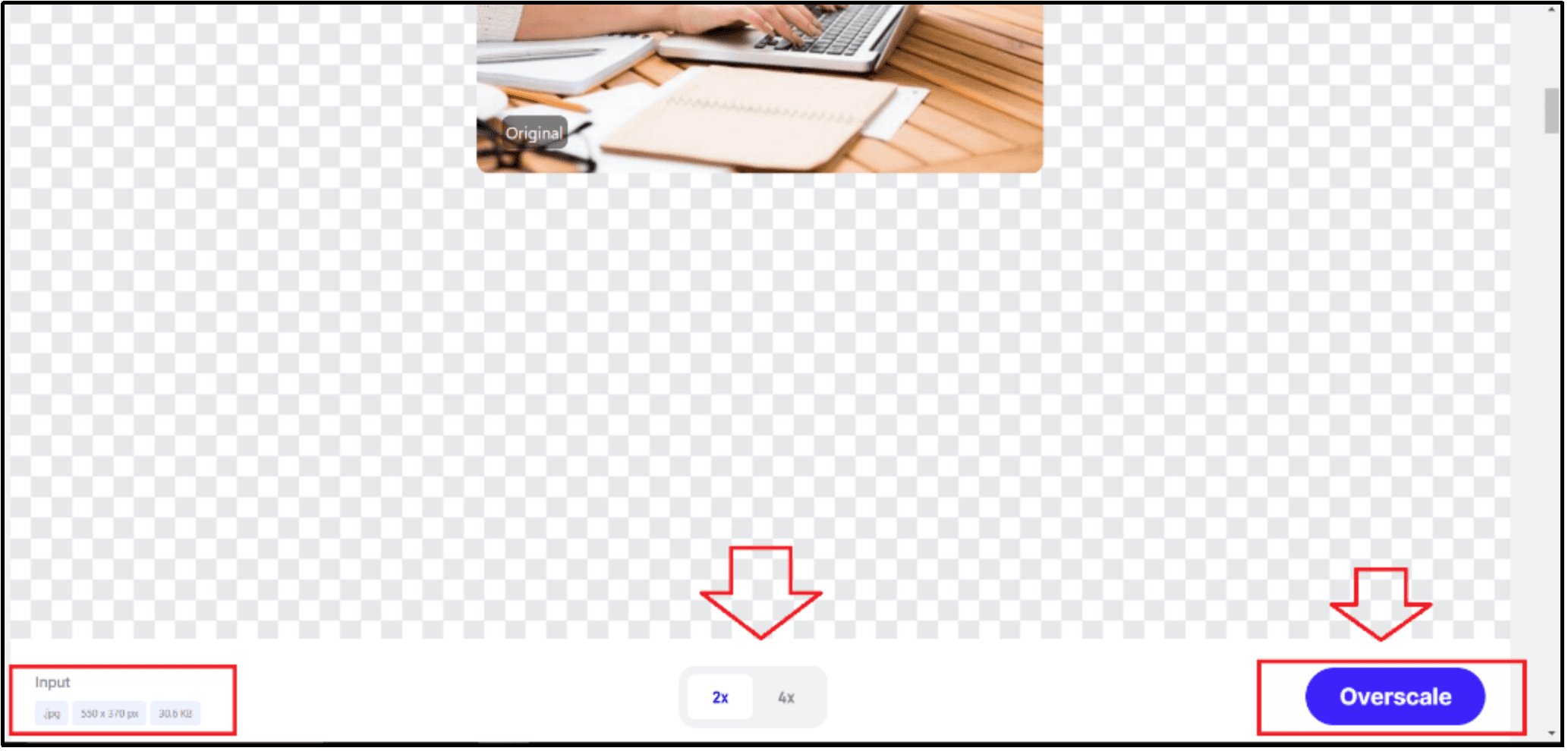 The best part about Imagewith.ai is that this scale will let you compare your original image with the resized version like this.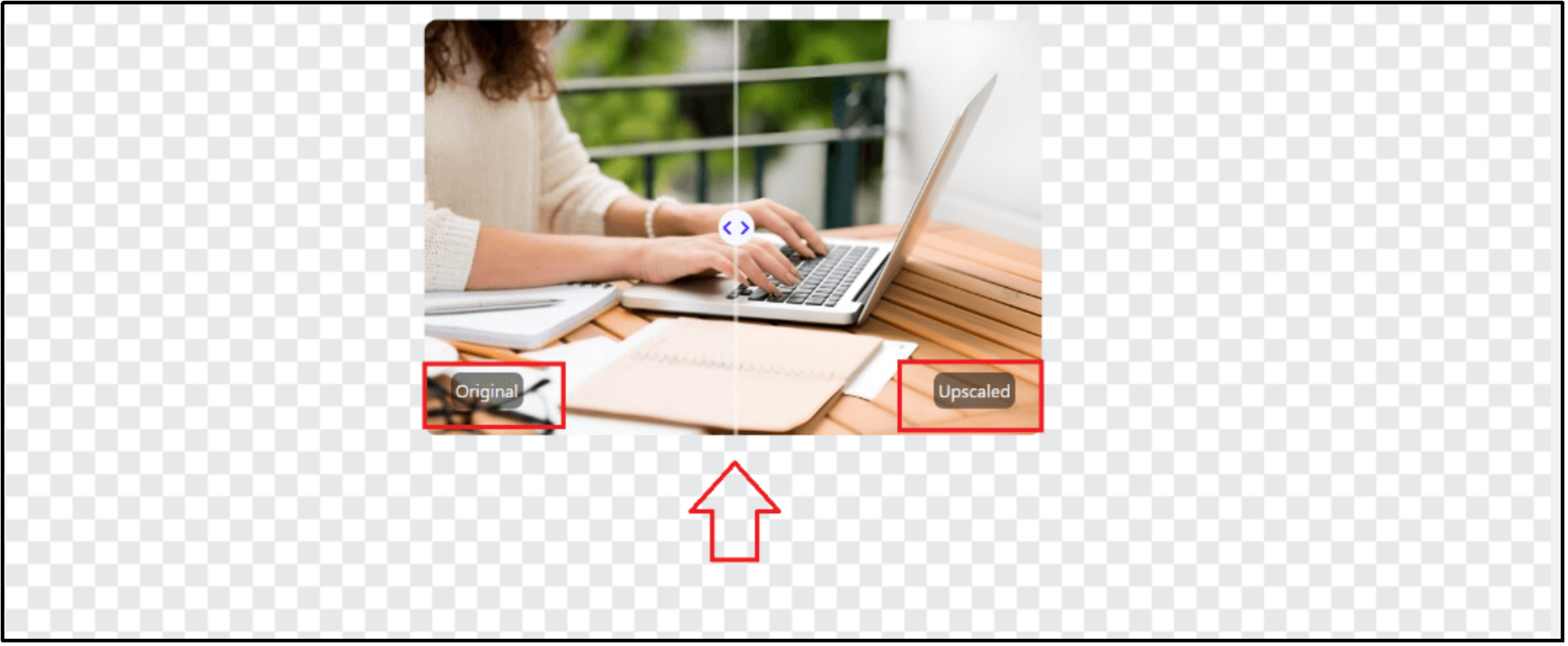 You can compare the original image with the processed one by simply dragging the cursor on the image.
Step 4: Download and Save the image
You can download the image and save it in your system when it is processed.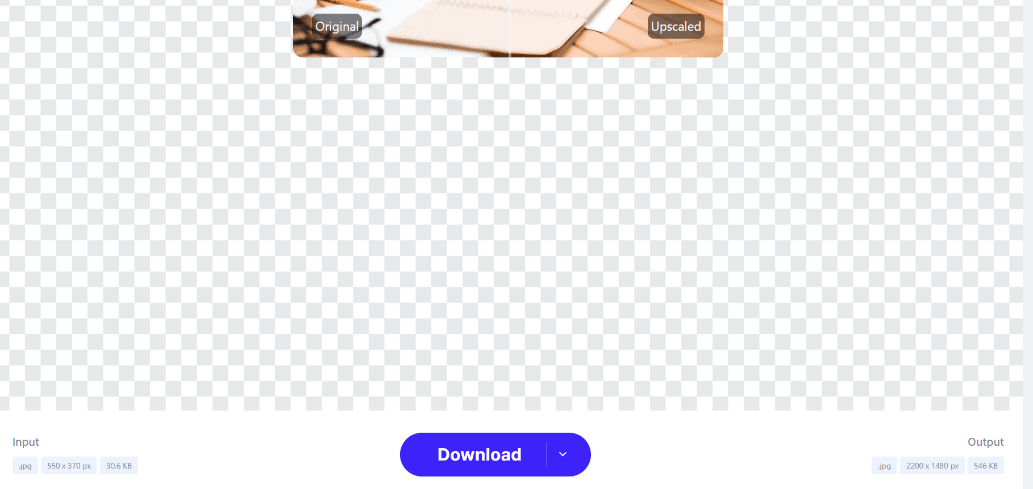 How Overscale Will Upscale the Photos?
Overscale leverages advanced artificial intelligence that helps enhance an image's resolution and quality. Its cutting-edge technology sets it apart from traditional upscaler as it offers a variety of other features due to its versatility.
What file formats does Overscale support?
Unlikely other online AI tools, Overscale supports more image formats. This includes JPEG, JPG, PNG, and TIFF. This will allow the user to upscale images without creating an issue, ensuring convenience and efficiency.
What are the benefits of using Overscale?
If you are using it to overscale, then you can take benefit from it, such as,
High-quality image upscaling
You will get sharp and detailed results
It will remove artifacts
Reduces noise
Process the image efficiently
Has a user-friendly interface
Allows cloud-based accessibility and supports various file formats
Frequently Asked Questions | How to Upscale a Photo in Seconds with Overscale
1.Why use AI for Upscaling?
With the advanced and innovative technology evolving day by day, AI is gradually taking over the majority of jobs like this to save more time.
Similarly, using traditional tools for image upscaling takes much time due to manual work to increase the resolution. However, this has been reduced with AI upscale tools like Imagewith.ai.
Upscaling harnesses the remarkable capabilities of AI to address this challenge effortlessly. With cutting-edge AI technology, upscaling has become incredibly accurate and almost instantaneous.
For instance, the Overscale AI can upscale a photo to 2x and 4x to its original resolution in just a few seconds, not more than a minute.
This starkly contrasts manual upscaling, which could demand hours of continuous work. The efficiency and precision of AI-driven upscaling significantly streamline the process, allowing users to achieve impressive results quickly and without the burden of extensive manual work.
2.Is overscale free?
Yes. Overscale is available in free and paid versions both. You can purchase the plan on monthly or yearly packages. All you have to do is Sign Up and get started with your desired plan.
The free version will give you ten daily credits (images) with 2560 x 2560 px with a maximum 5 MB file. However, the paid version offers more features starting from $9.00/ month for 100 credits. If you are in a printing business, 1000 to 5000 credits will be more suitable for you.
If you purchase a yearly package and you will get the two months for free.
3.Who can use overscale?
Imagewith.ai is for everyone. It caters to the requirements of every person. This will help
1.Photographers: Professional photographers can utilize the Overscale AI tool to upscale and enhance the resolution of their images while maintaining crucial details, resulting in high-quality prints and visual content.
2.Graphic Designers: For graphic designers, you can use Overscale AI to improve the resolution and clarity of images used in various design projects, such as logos, banners, and illustrations.
3.Artists and Illustrators: Overscale allows digital artists and illustrators to upscale their artwork and print in larger formats or showcase their work with higher resolution online or in galleries.
4.Content Creators: Video creators and producers can benefit from Overscale AI upscaling still frames or images used in their videos, ensuring a consistent and visually appealing output.
5.Printers and Publishers: Professionals in the printing and publishing industry can use Overscale AI to enhance the resolution of images used in magazines, books, brochures, and other printed materials.
6.Web Designers and Developers: Web designers can upscale images used in websites, ensuring a better user experience with sharper visuals on different screen sizes and resolutions.
7.E-commerce Businesses: Online stores and e-commerce platforms can use Overscale AI to enhance product images, providing customers with more explicit and detailed visuals of their products.
8.Archivists and Historians: Archivists and historians can upscale old and historical images, preserving and presenting them in higher resolution for archival purposes and public access.
9.Social Media Influencers and Bloggers: Influencers and bloggers can enhance the resolution of their images for social media posts and blog content, creating more captivating visuals for their audiences.
Are there any limitations for upscaling the image through Overscale?
Yes. Overscale does have a restriction on image size and resolution for upscaling. It offers an image size of 5MB only. Thus, this is also a drawback that it will not support heavy files.
Does Overscale allows image preview?
Yes, Overscale allows its users to preview the image before downloading it. It lets the user compare the original image with the processed one with a partition slider. You can easily drag the slider from left to right to preview the image.
Conclusion | Overscale AI
The overscale ai is an efficient and user-friendly solution to upscale the images with lightning bolt speed with exceptional precision. With a simple procedure, any user can transform low-quality photos into crisp visuals by harnessing the power of advanced artificial intelligence.