Visual aids like videos and images are the core of marketing. Hence, they must be of top quality with crisp colors and pixels. Many online AI tools today claim to offer image resizing efficiently, but there are chances that you will lose the quality during the process. Here, in this blog, you will get to know how to resize an image without losing quality online from scratch.
So, let's get started.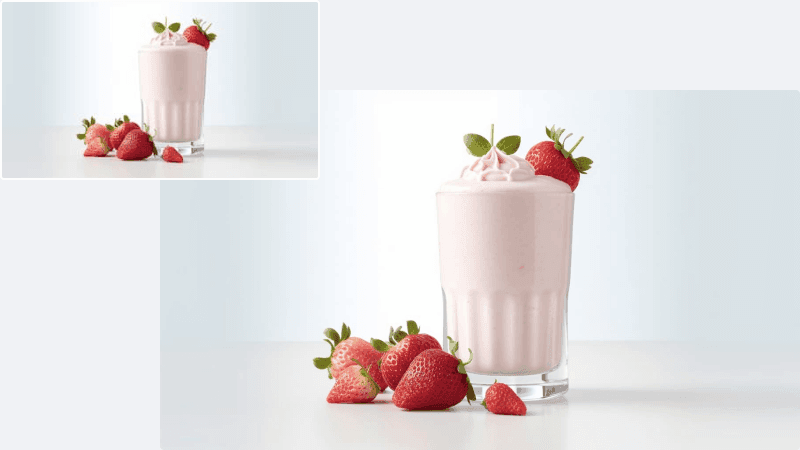 Image Resizing, Why is it Important?
Eye-catching content can generate leads fast compared to simple marketing methods. Thus, the photography and the images used in the branding (no matter what medium you use) must be crystal clear, mentioning every minor detail.
Most of the time, when processing images to upscale 2x or more, it loses its quality, resulting in blurry photos. Here is when image resizing tools come in handy. A well-formatted image will retain the quality of your image, depicting your professionalism. Whereas the blur product photos can make your buyer distrust your brand.
Ensure that while fitting the banner/post, the pixels in your images are not compromised.
Another reason for resizing your image is to fit into your website without affecting the loading speed. A large image file with crisp and sharp colors does look attractive; in reality, an oversized image in the back end takes much time to load on the browser.
How Can I Resize the Image? A Quick Guideline
Resizing an image could be easy and tricky, depending on the method you opt for. Usually, you have the choice to upscale and resize your images.
1.To do it manually with downloadable software. 2.To use an online AI tool (free/paid).
Using an AI tool, the second option is a more convenient and time-saving option to process your images in seconds. However, you have to be very picky and vigilant about it when selecting the tool, as many online tools claim to resize images without losing quality, but actually, they are not worth it.
Other than that, here are a few guidelines to help you with the image resizing.
1.Image dimensions and Pixel Size
When resizing an image, there is no specific set of rules for a standard height and width; the factors vary, including the positioning on your website, regardless of their traffic source. However, every screen's suggested and most compatible image size is between 600 to 1200 pixels.
2.Compressing an Image with a KB File
Generally, the accepted image file size is less than or equal to 100 KB. During the image processing, there are chances that you may lose the quality a little, but if you use it properly or a good software, it will remain unnoticeable.
3.File format while resizing the image, JPG, and PNG
Resizing JPG format images is easier than other files, especially PNG format. To resize PNG, converting your file to JPG is suggested first. This way, the image quality will not deteriorate and reduce the file size in KB.
In all cases, you should maintain the original file type when compressing images, except when dealing with transparent PNG images. In such situations, retaining the PNG format is essential but can modify the image's pixel size.
These are the core factors in resizing your image; here are a few tools to do the job efficiently.
How to Resize Image Without Losing Quality Online? Imagewith.ai, Best Online Image Upscaler Free tool
It could be crucial to count any online tool when working on a large scale when every other tool claims to be the best. However, after researching and evaluating different resizing software, we have narrowed down the Imagewith.ai online free tool.
To resize your image on Imagewith.ai, here is how you can process your image.
Step 1: Go to the Website
When you visit Imagewith.ai, you will get this interface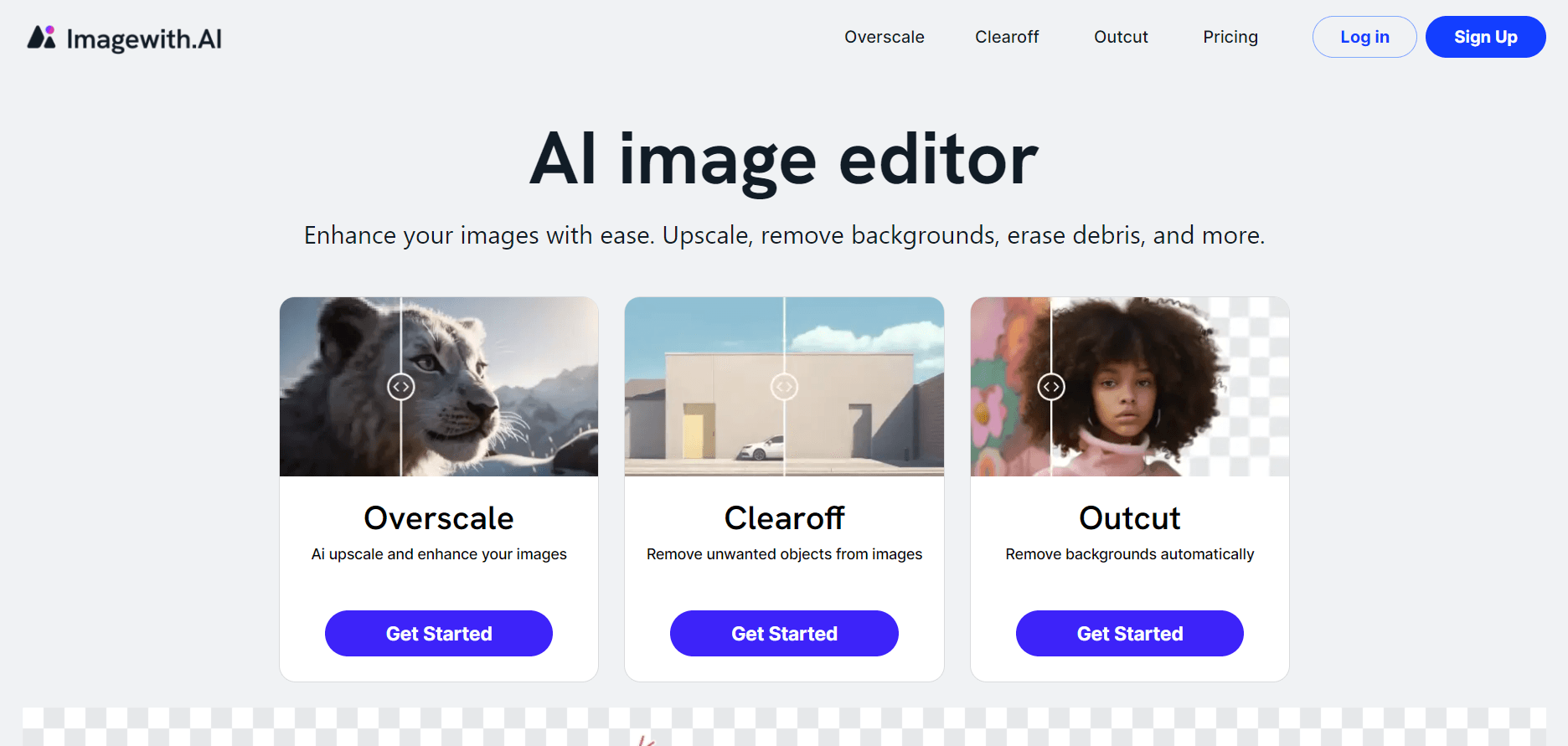 Depending on your requirement, you can go for free or sign up for a paid version. In the free versions, you can get only five images. However, the paid version offers more features and image resizing.
Step 2: Upload Image
Upload/drag the image that you want to resize. You can upscale your image with 2x and 4x.
To upload your image by clicking, Click on the uploaded image and select your file from the folder.

Click on open, and your image will upload in 2 to 3 seconds, be processed automatically without any additional command, and take you to the editing page. Another method, Drag and release the image in the working area. Your image will be uploaded.
Step 3. Select Your Requirements
Once the image is uploaded, select your required style and proceed by clicking Over Scale. Your image will be resized.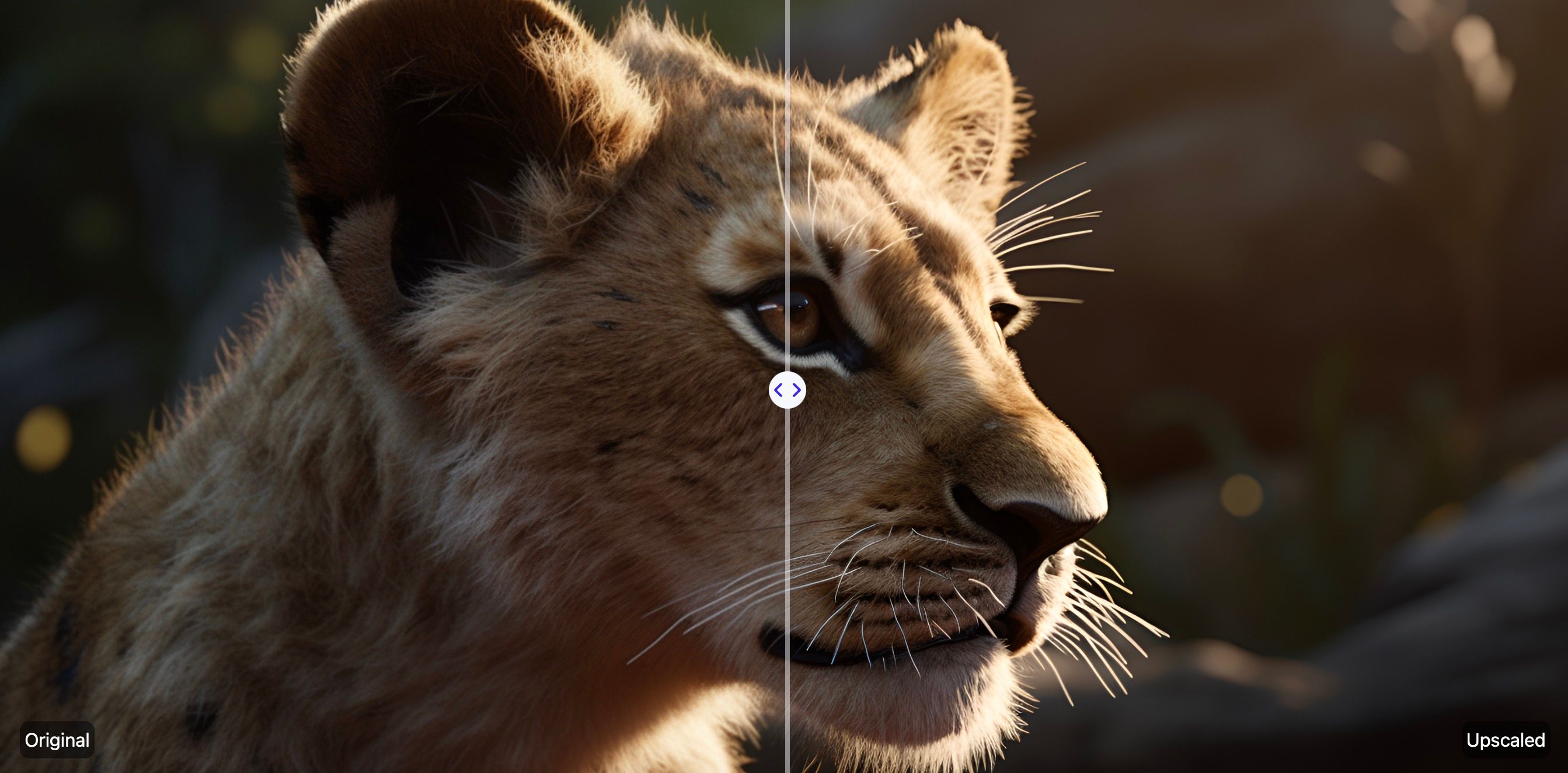 The best part about this scale is that it will let you compare your original image with the resized version like this.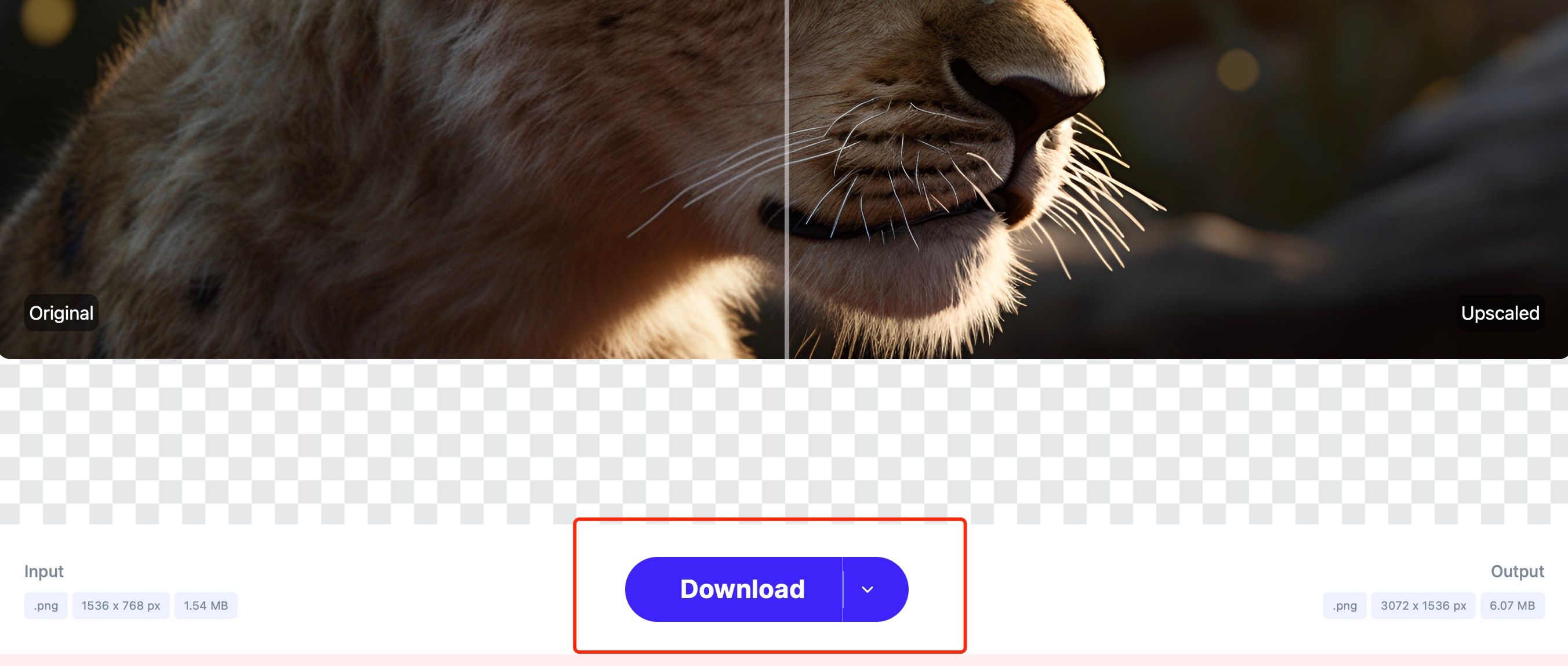 You can compare the image by simply dragging the cursor on the image.
How to Resize Image Without Losing Quality Online? Canva Manually
To resize your image from Canva in JPG.
Step 1: Select an image from your device
Open your Canva, click Create a Design in the top right corner, and Upload your image. Select the image you want to edit; the image will be uploaded.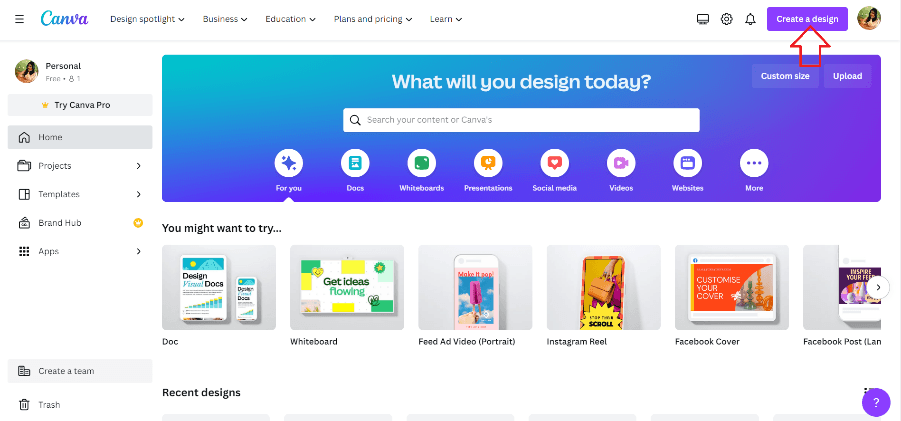 Step 2: Use in a design
Once the image is uploaded, you will get a menu with an option to Use in a New Design and Use Template. Continue with Use in a New Design, and you will access the editing menu and features there.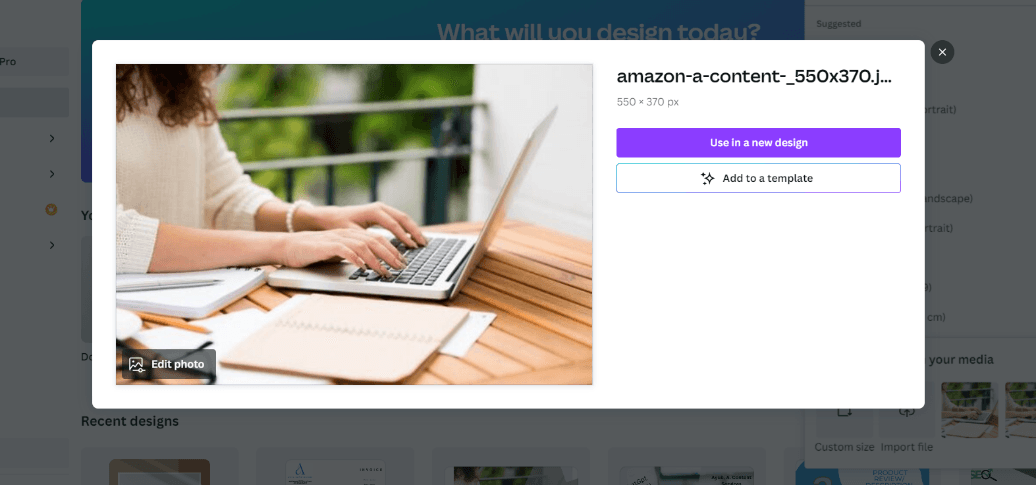 Step 3: Resize the image
Select Custom Size, which will lead to a drop-down menu. Here you can change the dimensions by writing manually or selecting your template. Once it is done, you can Save your design.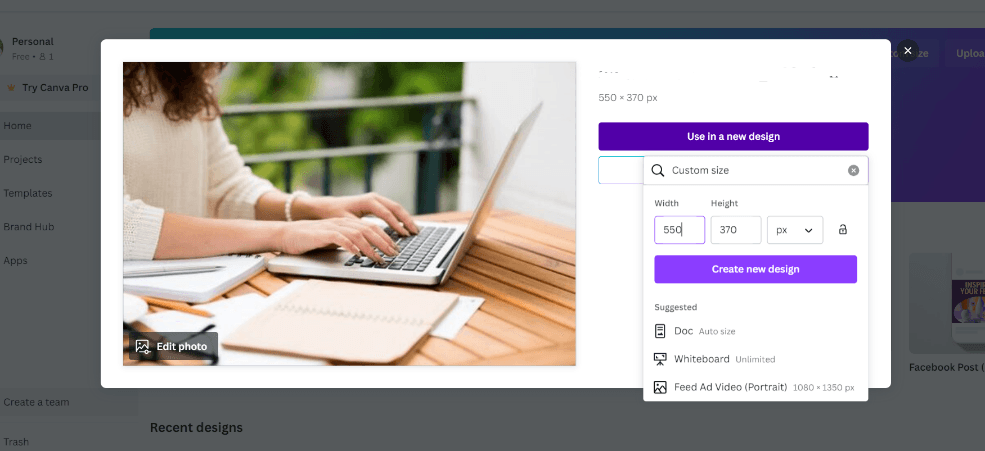 How to resize an Image without losing quality on Adobe Express
Another popular tool to resize your image is Adobe Express. Here is how you can do it.
Step 1: Create a Project in Adobe Express
Create a new project by clicking on the plus icon on the homepage. You will open a new quick action menu and select the Resize Image.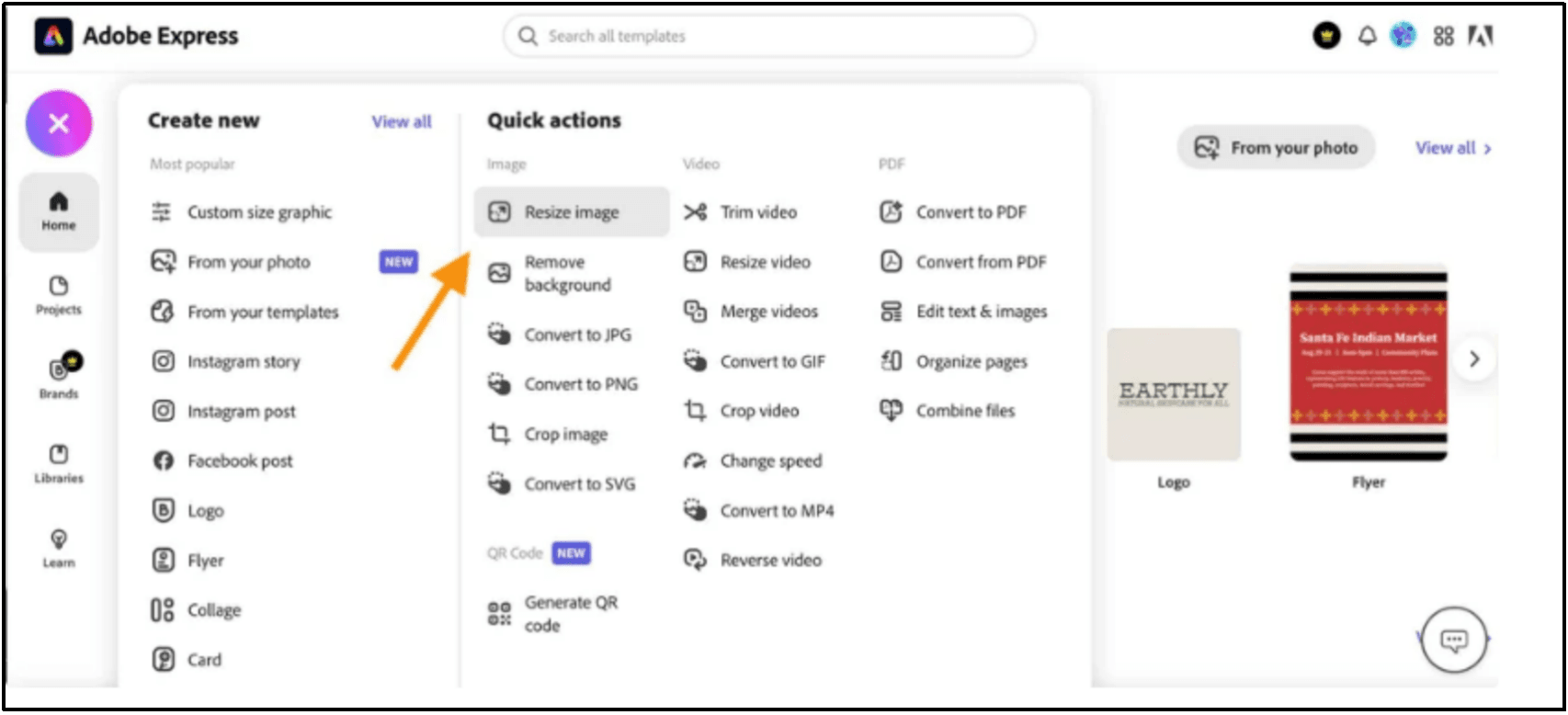 Step 2: Upload the Image
After that, a pop-up window will appear where you can upload the image that you want to resize. You can do that by dragging and dropping it in the dotted square or browsing through your system.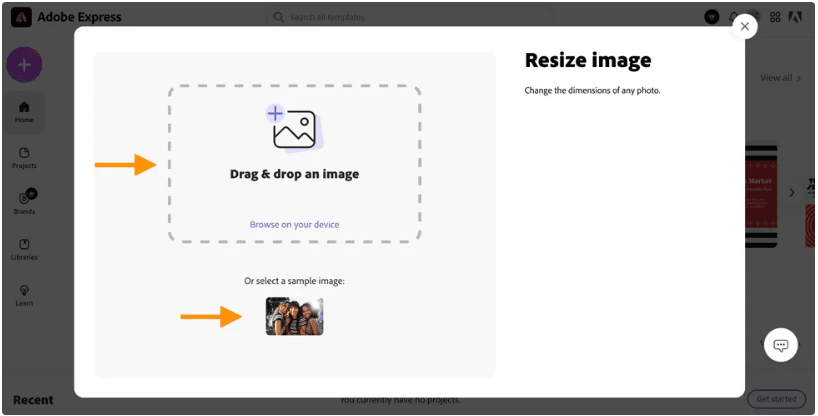 Step 3: Resize the Image
You can resize your image by adding your required custom dimensions or using an existing template. Mostly, these websites have set dimensions for various social media platforms.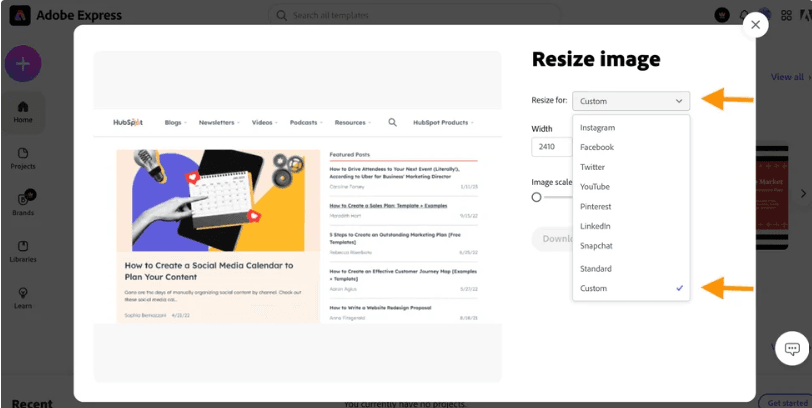 Step 4: Adjust the Image
If the set dimensions are not up to your mark, you can crop your image by panning the image and dragging from left to right to change the scale of the image with the help of a slider.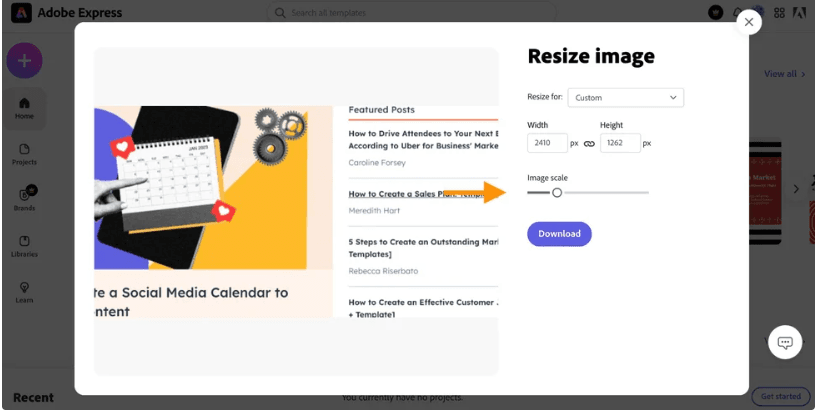 Step 5: Save Your Image
Once the process is resized, download and save your image. It is ready to be uploaded.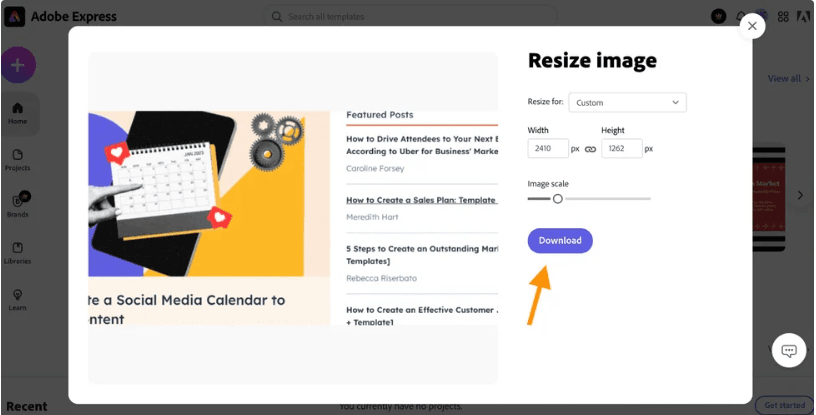 How to Reduce Image Size in Photoshop? (Manual Method)
To resize your image using Photoshop, you need to
Step 1: Open and Import the Image
Open the photoshop and import the image by clicking on File > Open > and import the image that you want to edit.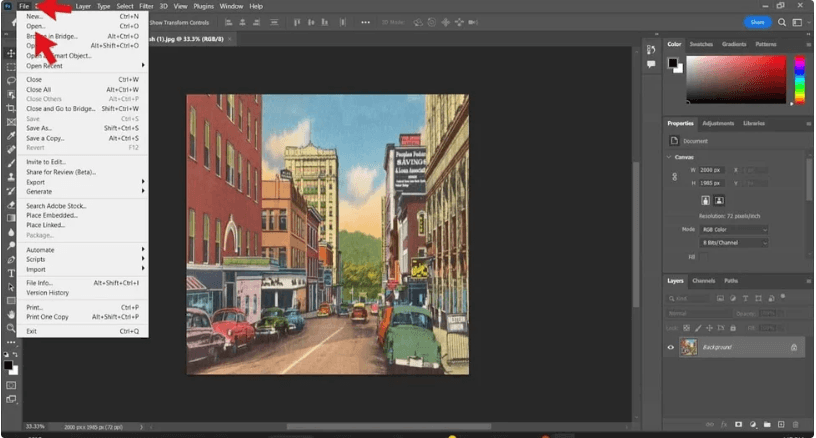 Step 2: Unlock the background layer of the image
Search on the right-hand panel and unlock the background layer. This will allow you to edit the image.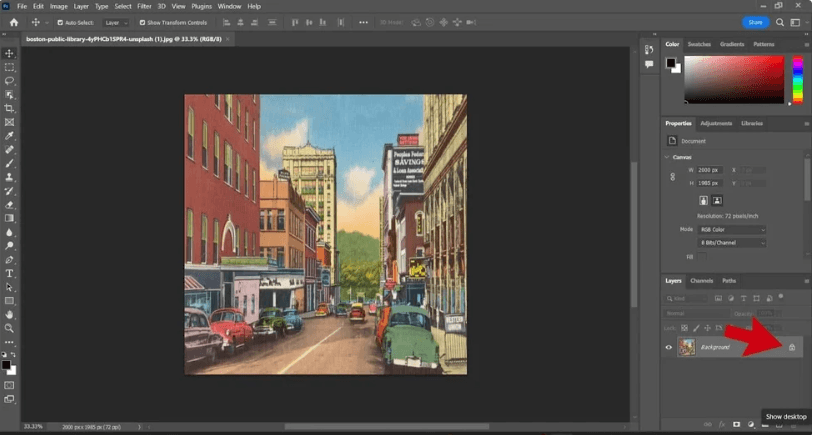 Step 3: Select and change the image dimensions
Go to the Menu Bar in the top left corner of the header and click on the Image. Find and select Canvas Size from the drop-down menu. This option lets you change the canvas dimensions in a New Size selection from the pop-up box, select your required dimensions, and then Click OK to proceed.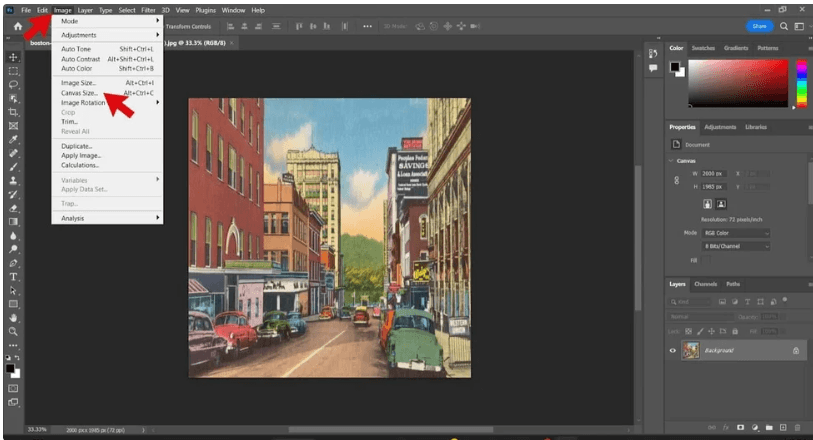 Step 4: Adjust the Image
Adjust the edges on the image by dragging it till it fits in the new dimensions of the canvas and press Enter Key. In the meantime, make sure that the 'Show Transformation Controls' box is checked. This will help you to edit the edges properly.
Step 5: Save your Final Settings for Image
When the whole procedure is done, save your resized image. Go to File from the menu bar, select Export > Export, and select the required image format. Click Export and save to your system.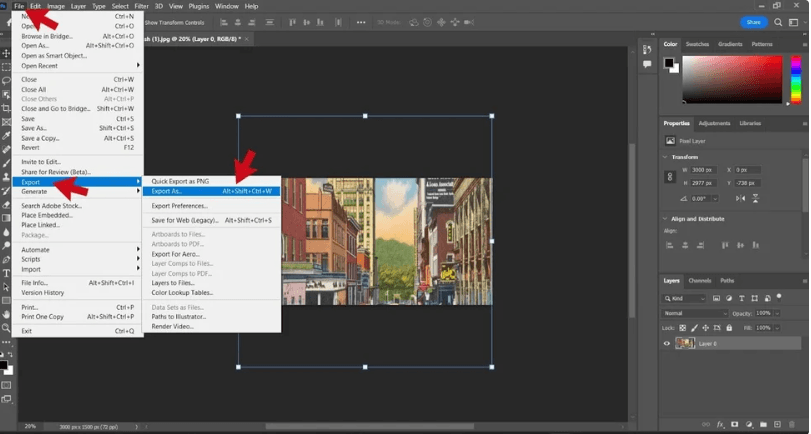 Conclusion | Resize your Image Without Losing the Quality
Resizing an image for a banner or other platform for marketing means has become significant; hence, many tools are allowing you to upscale your photo while retaining the quality. This blog is written to ease the reader to select the best possible solution for your images. I hope it will help.